A small Canadian town of about 2,000 people is apparently hoping to reach the final frontier of crowdfunding: A cool $2 trillion—yes, trillion—to build a life-size, fully functional USS Enterprise.
The project is being headed by the town of Vulcan in the Badlands area of Alberta, already a staple of Star Trek fandom due to its name and numerous annual Star Trek-themed celebrations. These ceremonies have attracted the likes of Leonard Nimoy, Walter Koenig, and other Star Trek staples to the otherwise unremarkable area. 
Obviously, plans to create an actual NCC-1701 are just a far-fetched fantasy, like William Shatner's hair. Instead, according to the town's website, the campaign is designed to raise awareness of Vulcan's tourism bureau.
"The campaign is meant to be filled with fun, fantasy and generate discussion and attention," the town's website states.
So far, backers have pledged more than $2,000 toward the out-of-this-galaxy goal. Fortunately, since the project is being hosted on the Indiegogo's "fixed goal" imperative, no one will actually spend a dime unless the entire amount is raised—something which seems to be about as likely as a Star Trek Netflix series.
First of all, there is the question of physics. According to an article from Gizmodo, the original USS Enterprise that Kirk, Spock, Bones, and others took around the quadrant on their five-year mission was approximately 288 meters, or about 945 feet, in length (presumably so it could comfortably house William Shatner's ego). That's roughly the size of three football fields, end to end. Currently, the largest man-made object ever launched into orbit is the International Space Station, which was a mere 239 feet in length. So it's a little difficult to fathom how a crowdfunded starship designed by people in a small Canadian town is going to travel above the local power cables, let alone to the Gamma Quadrant.
Oh, yeah, and what about the warp core, that rather necessary feature of any starship that allows it to travel at and beyond the speed of light? According to the campaign, development of the technology is one of the first goals of the overall project. A sketch of potential development based on current understanding of physics is provided.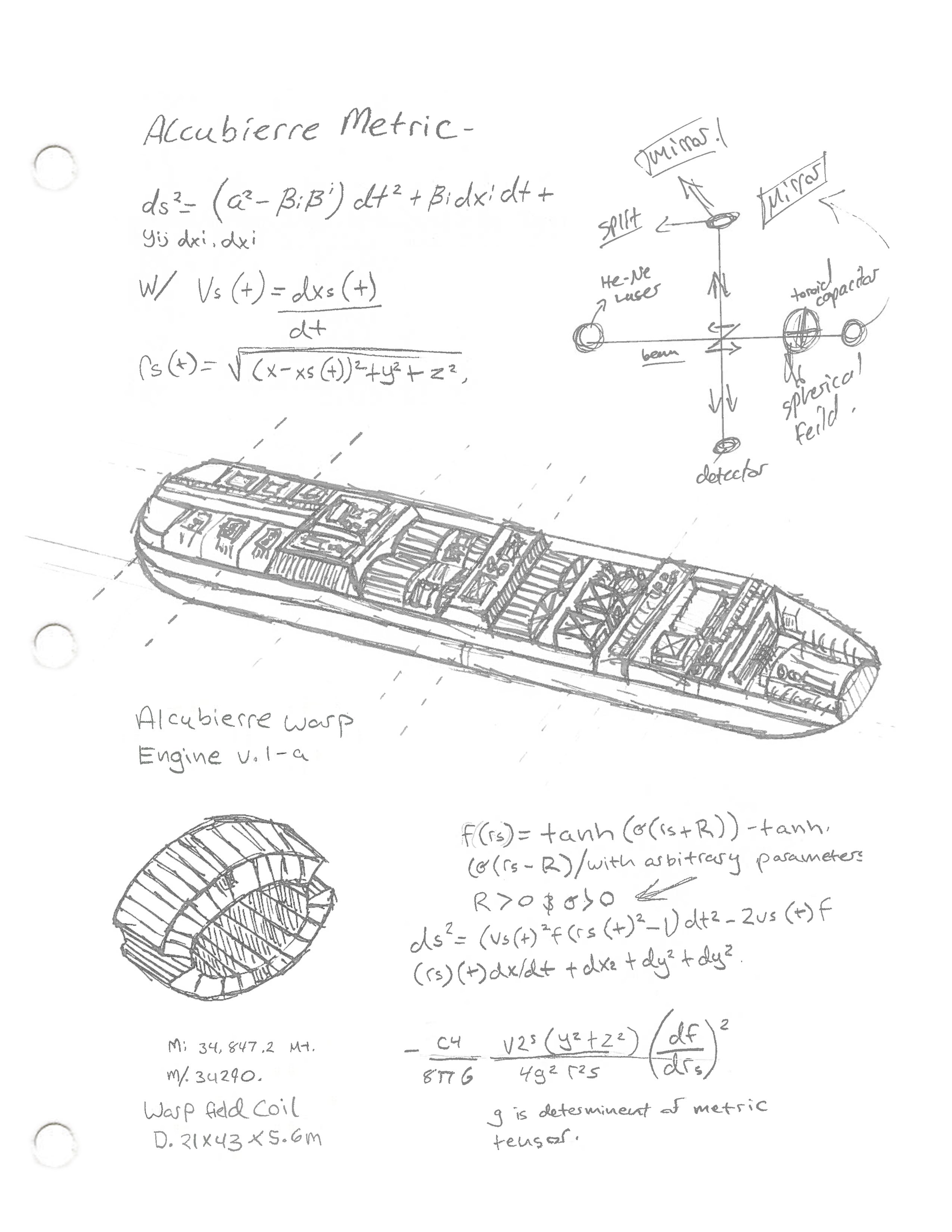 Image via Indiegogo
Well, glad we got that cleared up.
There is still little more than a month left in the campaign to secure the remaining $1,999,999,998,000 (and dilithium crystals). While a uniquely extravagant marketing concept—and no doubt representative of a more important message about ramping up space exploration and the future in general—a crowdfunded USS Enterprise is nothing new. In December 2012, thousands of people signed an online petition to see the U.S. government fund and build its own starship, a project which was quickly introduced following a similar petition to create a Death Star (the online petition for which received enough signatures to force an official government response).