When it comes to fighting games, it's all about the moves and the duds.
In Mortal Kombat, Raiden obliterates enemies with bolts of lighting while dressed in a white robe, blue vest, and straw hat. Chun-Li , from Street Fighter, knocks her opponents out with a barrage of kicks while sporting a double bun hair style and blue dress. And in Ultimate Gay Fighter (UGF), a drag queen named Carrie Cupcake forces her foes into "GAYTALITY" (a play off of Mortal Kombat's "Fatality") with a microphone, purple boa, and wig.
Cupcake is one of 10 playable characters in UGF, the "world's first gay themed video game" from Handsome Woman Productions.
The game pits LGBT characters like "Bisexual" Jaqlyn Daniels and Timmy Spears, "the Asian Twink," up against the League of Oppressive Self Righteous Zealots who want to destroy and brainwash the gay community. There's even a Sarah Palin-inspired villain named Anne Paylin who mutters things like "hockey" and "Alaska."
The 2D fighting game features a hodgepodge of homages to classic games like King of Fighters and Mortal Kombat. For example, each UGF character has a set of catchphrases they say when performing a special attack, including "Move in with me," "That outfit, those shoes, bad idea," and "You're ugly." Here's what you see after you win: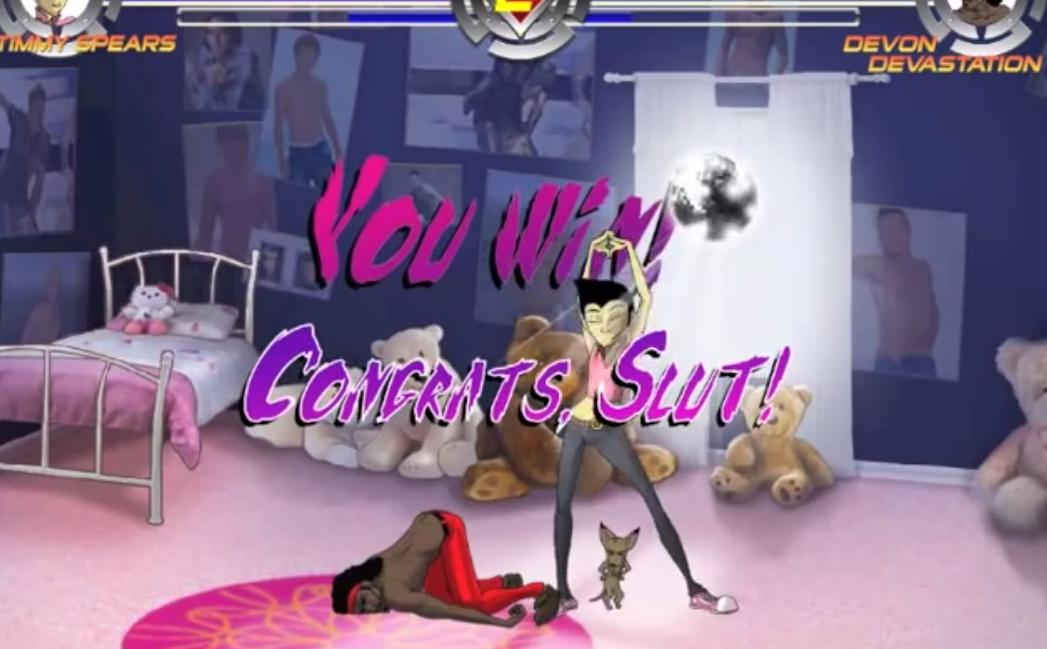 "We are never the kick-ass fighters, the bad-asses who rescue you and save the day," Ultimate Gay Fighter creator Michael Patrick told The New Civil Rights Movement
"The goal of this game is to enjoy the humor that my gay family brings me. This game is my love letter to my gay family."
The game is due out this month for Android and iPhone. It looks fabulous.
H/T The New Civil Rights Movement | Photo via Ultimate Gay Fighter