Popular videogame-streaming service Twitch has added a dress code to its " Rules of Conduct" in an attempt to cut down on sexy streams that could tarnish its brand image.
It's an open secret among Twitch users that some of the top streamers on the site happened to be gaming in some rather revealing clothing. When paid subscriptions and ad revenue are on the line, views are everything. But Twitch wants to be a service focused solely on gaming and commentary, and its rules change reflects its disdain for gamers who use cleavage and pasties to rack up paid views.
Dress…appropriately Nerds are sexy, and you're all magnificent, beautiful creatures, but let's try and keep this about the games, shall we? Wearing no clothing or sexually suggestive clothing – including lingerie, swimsuits, pasties, and undergarments – is prohibited, as well as any full nude torsos*, which applies to both male and female broadcasters. You may have a great six-pack, but that's better shared on the beach during a 2-on-2 volleyball game blasting "Playing with the Boys."

* If it's unbearably hot where you are, and you happen to have your shirt off (guys) or a bikini top (grills), then just crop the webcam to your face. Problem solved.

We sell t-shirts, and those are always acceptable. #Kappa
Kappa is slang for sarcasm.
Scantily clad streamers have been something of an embarrassment to many Twitch users and to the company itself. Twitch wants its users to focus on gameplay and commentary, but it's worried that streamers are being overlooked due to their lack of sex appeal.
In the aftermath of the rules change, Twitch apparently threatened to ban Rooster Teeth personality and Know It All Leaderboard co-host Meg Turney.
Tell me this bullshit isn't serious, @Twitch @TwitchSupport. pic.twitter.com/2v1gs0Rebu

— Meg Turney (@megturney) October 27, 2014
I will henceforth be known as Meg "Too Hot for Twitch" Turney. *trumpets*

— Meg Turney (@megturney) October 27, 2014
Meg has mostly taken the threat in stride, tweeting the hashtag #TooHotforTwitch and censoring her Twitch profile page accordingly.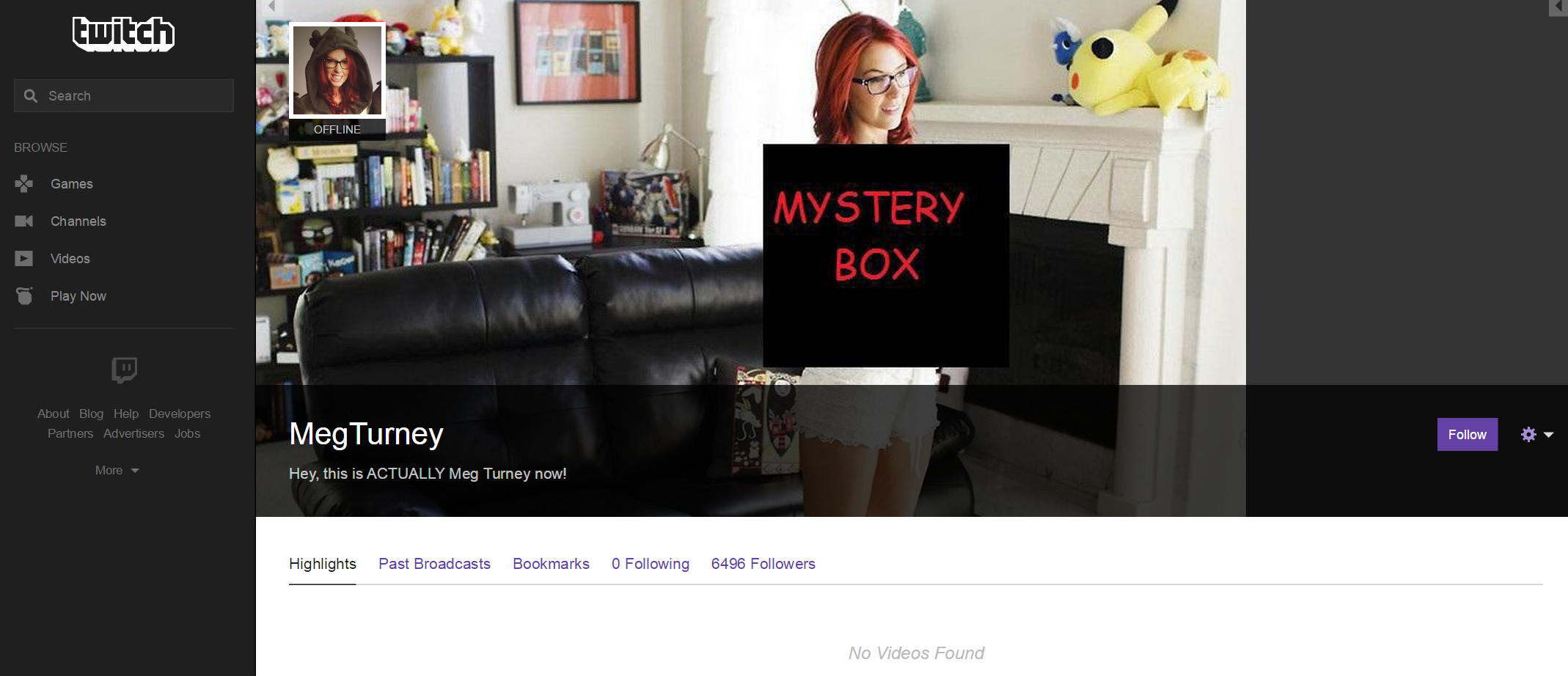 Fans have already given her a SFW treatment:
@megturney Fixed. It was #TooHotForTwitch pic.twitter.com/F2WZKav5uh

— Rynoballs (@Rynoballs) October 27, 2014
H/T Polygon | Photo via Sergey Galyonkin/Flickr (CC BY-SA 2.0)