It's often said that adult entertainment thrives on—or even drives—the cutting edge of technology. So we're not all that shocked that someone had the bright idea to use their Twitch-enabled PlayStation 4 to broadcast an alarming, apparently non-consensual strip show.
With partnerships struck this year between gaming broadcast service Twitch.tv and console competitors Microsoft and Sony, Twitch is poised to capture a far wider audience via the Xbox One and Playstation 4. Both devices can be used to view gameplay streams or share one's own. Of particular novelty is the "augmented reality" game Playroom, which scans your living room (or whatever space your PS4 sits in) and renders it a virtual sandbox. A clip of a man frolicking with small robots went viral early on, though he maintains he recorded and shared it by accident.
Update: Twitch is putting a stop to the homemade porn.
The next idea to capture the gaming community's attention was The Spartan Show, a bit of live call-in programming from a husband-and-wife team in Washington, D.C., that drew 200,000 viewers. Even Adam Boyes, PlayStation U.S. publisher and developer relations specialist, got in touch to commend the "pretty rad" concept. "We always just thought people would do streams," he said. "We never thought people would do them with Playroom."
But who wouldn't want their own TV channel? Cue sleazy porn music.
Across message boards, gamers who had picked up on the trend predicted the appearance of inappropriate or disturbing content, freely available to countless underage console owners. They didn't have long to wait. Sexually suggestive material began cropping up, with a full-blown scandal unfolding this weekend: A user with the handle Darckobra captured a marathon drinking session with his wife, who eventually fell asleep on the couch, only to have Darckobra lift up her shirt and expose one breast to the world. The channel then went dark for 15 minutes or so, with Darckobra's unconscious wife completely naked when the stream continued.
Darckobra's account was more or less instantly zapped, as Twitch maintains fairly stringent control of its hosted content. In fact, some of the site's admins have been accused of banning anyone who makes a joke at their expense and making further efforts to sweep all such internal drama under the rug. Aside from such "libelous" comments, Twitch officially prohibits anything "defamatory, obscene, pornographic, indecent, lewd, suggestive, harassing, threatening, invasive of privacy or publicity rights, abusive, inflammatory, fraudulent or otherwise objectionable," which gives them a pretty wide net as far as deletions go.
Nevertheless, Kotaku wondered if Sony and Twitch—whose spokesman noted that their users were unusually vigilant about reporting service violations—might revisit certain features or disable video sharing for Playroom to nip the problem in the bud. But just a casual perusing of the people broadcasting their Playroom escapades at the moment reveals the problem goes deeper than objectionable imagery. Here, for example, is what was being said in a chatroom by people watching an African-American family's innocuous broadcast: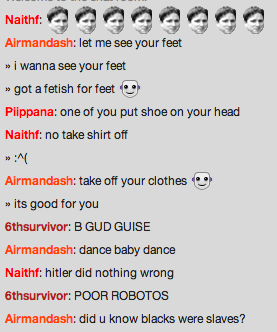 Strange: It's almost as though you can't draw a line in the sand without someone on the Internet scrambling to cross it.  
H/T Game Revolution | Photo by gecitharun/Flickr