In the world of fanfiction, when life gives you lemons, it's actually giving you porn.
The fanfic "citrus scale" had its heyday in the mid-2000s, using "lemon" as a code word for explicit content. According to the fandom archive Fanlore, the citrus rating system began in anime fandom, popularized on fanfic mailing lists and supposedly originating with the hentai series Cream Lemon.
Nowadays most writers just use an MPAA-style content rating, but lemons are making a comeback thanks to Tumblr's draconian new content restrictions. The word "lemon" trended on Tumblr earlier this week, and its related search results currently look like this:

Oh, and some of those search results are indeed NSFW. A lot of the lemon-related posts are jokes and conversations about 2000s-era fandom, but some people are genuinely using the tag to post explicit material alongside the unsuspecting posts about, you know, actual lemons.
ppl in tumblr are tagging nsfw as lemon again and im suddenly back in 2009

— Zel (@toffee_arts) January 31, 2019
People stopped referring to erotic fanfic as lemons about a decade ago, so in 2019, the citrus scale is basically a fandom in-joke. Until recently it was one of those "you're old if you remember this" memes, with millennial fans expressing semi-ironic nostalgia for the bad old days of Fanfiction.net and niche anime fan sites. But when people started joking about bringing back the citrus scale last month, they realized it could serve a real purpose. With Tumblr blocking certain keywords, slang terms like lemon and lime could help people avoid the tag purges. It's an efficient way of sharing NSFW content without getting flagged.
What is the citrus scale?
Since the citrus scale is a fan-created system, there's no official version. The one thing everyone can agree on is that lemon means explicit content. Lime is generally less explicit (ie. an R-rating instead of NC-17), with orange denoting family-friendly romance. Some people used grapefruit as a tag for kinky content, but as you can already see on Tumblr, this isn't a universal term. One viral post with over 150,000 notes lists orange as the word for "weird fet shit," which is going to cause some confusion.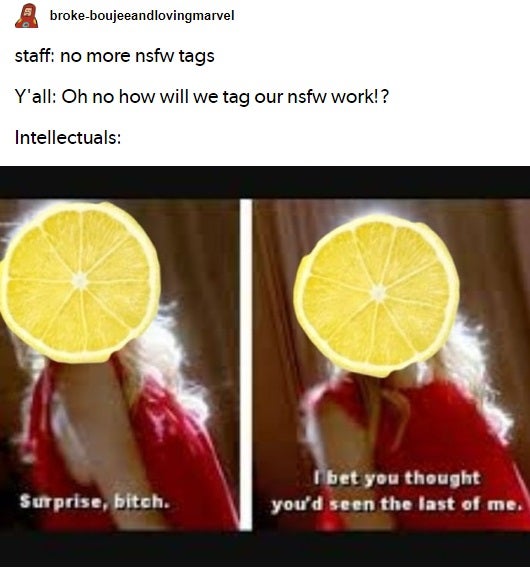 The key difference between fanfic in 2019 and fanfic in 2005 is the advent of Archive of our Own. Created and funded by fans, it's a well-organized site that allows people to post content with easily searchable tags and ratings. Early-2000s fanfic was much less centralized—and more susceptible to puritanical content purges from hosting platforms. So the return of the citrus scale isn't just a retro meme, it's an echo of similar content purges we saw on Fanfiction.net and LiveJournal, where creators were penalized for posting adult-rated or LGBTQ-focused content.
READ MORE: