Popular YouTuber TotalBiscuit posted a video Tuesday that offers a soliloquy on the state of the video game press, what the audience wants, and what the press ought to provide.
His sentiments will be familiar to readers who want mostly or entirely consumer-facing news from the video game press—by which we mean news about upcoming games, previews with still images and/or video of games in progress, and reviews focused on purchasing advice, rather than being concerned with broader criticism.
While it's clear different readers want different things from video game news sites, there isn't much to point to in terms of data on the issue. Conventional wisdom nowadays is that the audience for video-game news has diversified, much in the same way that the audience for video games themselves has diversified. But this Reddit thread in response to TotalBiscuit's commentary includes some insightful, pointed discussion about traditional attitudes toward gaming coverage versus new schools of thought.
There is plenty of traditional discussion in the thread about video game reviews and how they ought to be structured, but then there is also this: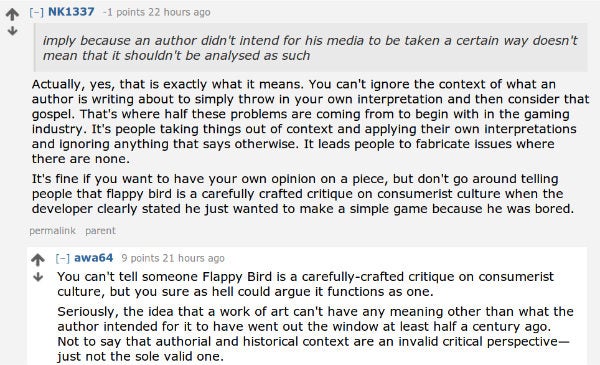 What game reviews ought and ought not to be is one of the most common audience discussions about the video game press. The eventual recognition of multiple, valid approaches will help to quell some of the discord within the online video game community.

It's important to note that most self-identified "gamers" may not be reading the video game press at all, and that a larger conversation about games is taking place all around us.
According to Nielsen Games:
"27% of Gamers 13+ (consumers who claim to play games for 1+ hours a week across any/all systems) claim to typically become aware of video games via reviews (online and/or print)." 

This final comment raises an important point in defense of those in the video game community who feel unjustly tarred when trolls use situations like Gamergate to spew misogyny and hate speech.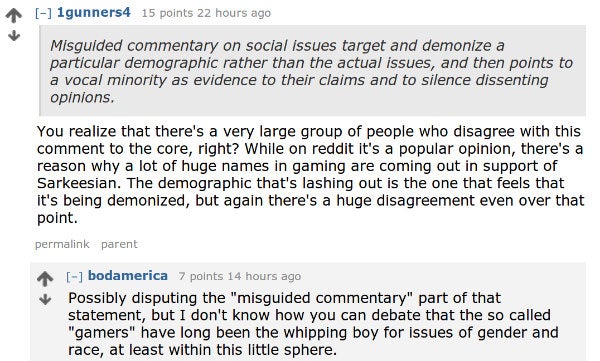 It's true that pundits and commentators are well-served to look for and find the good within the traditional video game audience. Only wanting to relate to video games as purely consumer entertainments does not mark someone as intrinsically hostile to other types of discussions.
And it needs to be made clear that choosing not to participate in those other types of discussions is also OK. Respect for both spaces, matters.

Illustration by Jason Reed