The Daily Dot makes a point to focus on those points of fandom that intersect directly with Internet culture, so you won't find a lot of reporting on the parts of fandom that happen offline. But that doesn't mean we haven't been paying attention. Now, at the end of the year, we celebrate a collection of our favorite moments that made everyone in fandom happy, online and off-. As you'll see, this year's list is all about unexpected surprises and eager anticipation for 2013.
1) Sailor Moon gets a reboot.
Few fandoms have the staying power that this iconic magical-girl series has had ever since it premiered in 1991. But Sailor Moon has spread into a worldwide cultural phenomenon, and in July, coinciding with the 20th anniversary of the anime, creator Naoko Takeuchi announced plans for a new reboot of the series. Sailor Moon joins other popular classic series that have already gotten revamps, like Neon Genesis Evangelion and Kenshin, which finally got a live-action film earlier this year, along with a new manga. Could another classic genre-defining series, Utena, which started streaming for free on YouTube earlier this year, be next?
2) StarKid reunites for one last show.
Team StarKid could have rested on their laurels and continued to reap the love from the fanbase they garnered from 2009's A Very Potter Musical and 2010's A Very Potter Sequel. The viral YouTube phenomenon that parodied Harry Potter in fine musical fashion began as a project by a University of Michigan acting troupe and ended up launching several careers and making Darren Criss into a Hollywood heartthrob. But fans attending Harry Potter convention LeakyCon in August were treated to StarKid's own kind of magic as Criss and the entire ensemble returned one last time in 2012, with AVP3D: A Very Potter Senior Year.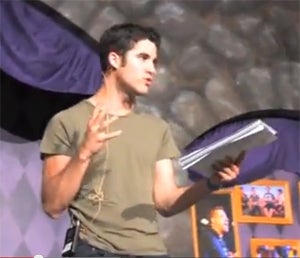 Screengrab via Vanessa Criss Anderson/YouTube
​
Though the production was just a staged reading, fans were overjoyed at getting to see nearly every StarKid member who'd been involved in the production company over the last three years onstage and celebrating. Last week StarKid released the soundtrack and the script on YouTube, hopefully in preparation for eventually releasing an edit of the production itself for everyone to enjoy, like they did with the previous two musicals. In the meantime, StarKid has already positioned itself to expand its fanbase even further, with a comedy sketch scheduled at legendary comedy circuit Second Story next month.
3) Coulson Lives!
Step one: Take a beloved minor character and elevate him into an avatar for The Avengers fans everywhere. Step two: Give him a heroic, but suspiciously ambiguous, death. Step three: Watch as fans launch a summer-long campaign to honor his memory and bring him back from the dead. Step four: Announce what you'd planned to do all along: to feature the character in your new TV series. Step five: PROFIT.
Contrary to what you might think, Joss Whedon had always intended to feature fan favorite Agent Coulson in his planned The Avengers spinoff series, S.H.I.E.L.D. But the noise in Marvel fandom over his death in the summer blockbuster made the franchise's decision to revive him a huge one—especially when it was the centerpiece of Marvel Television's panel at New York Comic Con, heralded by the president of Marvel studios, Kevin Feige, sporting a "Coulson Lives!" T-shirt. Though Coulson may not actually be revived from death in the new series, in the world of comics, we all know that anything can happen; and after spending months writing "Coulson Lives!" across the Internet and even in real life, fans have proven the demand for Coulson is something that will stick around for a long time to come.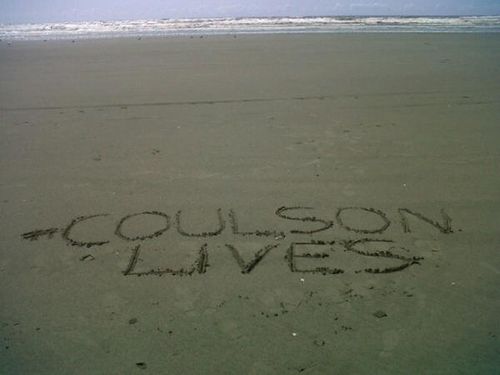 Photo via The Realm Cast
4) Dean and Castiel finally get a hug.
After coming in second on AfterElton's epic slash tourney, which got over 5 million votes, fans of the relationship between Supernatural hunk Dean Winchester and his angelic bestie Castiel needed a pick-me-up; and with episode 2 of Season 8 in October, they got it. And how: It was the hug felt round the world, or at least around Tumblr.
Granted, it was totally one-sided, but as the video's top YouTube comment points out, "We've waited years for Cas to get his hug." In the words of allavengedromance on Tumblr, "Cas just didn't get a hug… the entire fandom got a hug."
5) Darcy appears on The Lizzie Bennet Diaries.
What kind of fandom will keep tuning in for nearly six months before they ever even get a glimpse of the main character? The Jane Austen fandom, apparently; or in this case, fans of the modern Pride and Prejudice reboot The Lizzie Bennet Diaries, where Elizabeth Bennet is a vlogger who frequently mocks the iconic Mr. Darcy,but never actually interacts with him onscreen—at least not for the first 59 episodes (which is more like 80, if you count the side vlogs of other characters).
The buildup around Darcy's character was intense even for fans who had never read and had no idea what was going on. When Darcy finally did show up, his appearance made such a splash that the five-minute YouTube video gained over 250,000 views. Though the Diaries frequently get over 100,000 views per episode, the popularity of this episode probably had two causes: an influx of new viewers who tuned in because of all the buzz,and amazed fans who were content to watch the clip of Darcy, played by actor Daniel Gordh, over and over again.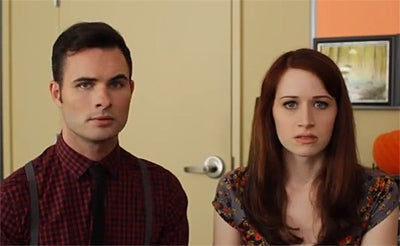 Screengrab via The Lizzie Bennet Diaries
6) Phoenix Wright returns for Ace Attorney 5.
You might not think a video game about the law would be anyone's preferred entertainment, but with its well-done humor, logic puzzles, and endearing characterizations, the Japanese adventure game Ace Attorney is a huge fan favorite. The Capcom/Nintendo-produced game series featured defense lawyer Phoenix Wright as its main character for the first three games; but when the third [spoiler alert!] ended with our hero disgraced and disbarred, it seemed likely we'd seen his last game.
Instead, the next game in the series cleared Phoenix of all charges and restored his good name and law practice. Now he's back and in 3-D: In the fall, Japanese magazine Famitsu revealed that Phoenix Wright would not only be starring in Ace Attorney 5 but that he'd be back in the defense chair. The game will be released in Japan and the U.S. and Europe in 2013.
Image scan via aceattorney/Wikia
7) TOPANGA! Boy Meets World gets a sequel.
When news broke that '90s coming-of-age classic Boy Meets World was getting a current-day reboot titled Girl Meets World, fans were excited. But when original stars Ben Savage and Danielle Fishel signed on to reprise their roles as Cory and Topanga, teenage sweethearts who grew up to become the ideal couple, fans went wild. In a touching, widely reblogged post on her Tumblr, Fishel promised the fans would get a show worthy of their affection:
"When the news leaked that GMW was in the making, literally days after I first heard about the project myself, Michael Jacobs and I had a conversation and we talked about how we were both so blown away by the reactions from all of you.  We felt honored. We felt nostalgic. We felt touched by the excitement in your comments, tweets, Tumblr, and Facebook posts.  But most of all, we felt inspired."
8) Arrested Development returns.
2012 may have been the year of cult hits with avid fan followings getting an unexpected second life, whether it was Girl Meets World, Community's surprise renewal (though it may be the show's last chance for survival), and most of all, Arrested Development. The offbeat comedy, widely considered one of television's best, has only grown its fanbase over the six years since its untimely cancellation in Season 3, with the result that not only did Netflix order a short season to debut in spring of next year, but they just expanded the episode count. If the rumors are true, and creator Mitchell Hurwitz is building up to a movie, this news makes it all the more likely that the show's fans could get even more material—perhaps even six seasons and a movie.

Illustration by Nolan Harris/Deviantart
9) Studio Ghibli is back with two new films.
Two years ago, rumors flew that Studio Ghibli, the production company responsible for Grave of the Fireflies, My Neighbor Totoro, Spirited Away, and Howl's Moving Castle, to name just a few of their beloved animated films from Japan, was in danger of shutting down. Legendary studio head, director/animator Hayao Miyazaki, may have felt that if his latest film, The Secret World of Arietty, failed to garner a positive response overseas, then he'd prefer to bow out rather than see his studio's reputation for producing brilliant films start to wane.
Instead, Arietty grossed a neat $19 million in the U.S. and nearly $150 million worldwide. And now Ghibli is back with not one but two films in the works. Miyazaki and studio cofounder Isao Takahata, director of Fireflies, plan to direct. Miyazaki's The Wind is Rising will go against the studio's usual fare by featuring a male protagonist, World War II fighter plane designer Jiro Horikoshi. Takahata's The Tale of Princess Kaguya is based on a famous folk tale, Taketori Monogatari (The Tale of the Bamboo Cutter). Japan's version of Thumbelina, this story of a tiny princess who was born in a bamboo shoot will see Takahata take the helm for the first time in over a decade.
Both films are planned for same-day release next summer in Japan. The last time that happened, according to AnimeNewsNetwork? 1988!
Illustration via Kazetachinu.jp
You'll notice that unlike all of our other end-of-year lists for fandom, this one only stops one shy of 10 items. That's because we want you to tell us: What made you really happy in 2012?
Photo via The Realm Cast