THQ Nordic, the publisher behind such games as Darksiders 3, the upcoming Biomutant, and known for high-profile studio acquisitions like Deep Silver (Metro Exodus, Saints Row) hosted an AMA ("Ask Me Anything) session (NSFW) on 8chan Tuesday.
8chan is primarily known as a central hub of activity for Gamergate, the online harassment campaign that targets marginalized people in the video game and entertainment industry, including women, the LGBTQ community, people of color, and others. In the wake of the image board 4chan removing all Gamergate threads, Gamergate supporters flocked to 8chan, which led to Gamergate-related threads going from 100 per hour to nearly 4,000 per hour on the younger site. 8chan has also been identified as an active pedophile network.
It's not immediately clear what THQ Nordic sought to achieve by hosting an AMA on 8chan. While many of the questions posed to at least three THQ Nordic representatives (identified as "THQN_Philipp" and "THQN_Reinhard" and "THQN_Fabian") were relatively tame, some comments contained images of hentai, or anime pornography; real-world nudity; or questionable language. Perhaps even weirder, the apparent THQ Nordic representatives responded to a number of these comments.
"Where them big tiddie lolis at?" one 8chan user wrote.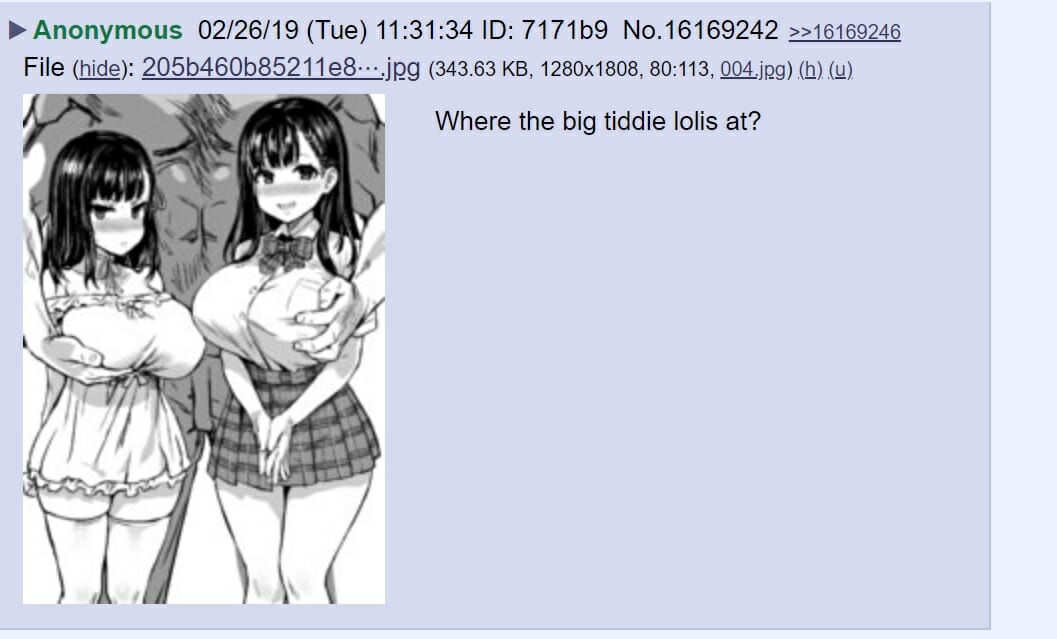 "You already got them we'd say," THQN_Philipp wrote back. 

According to Philipp Brock, THQ Nordic's Austria-based marketing director, it was all a misunderstanding. As he told the Daily Dot in a statement:
I personally agreed to this AMA without doing my proper due diligence to understand the history and the controversy of the site. I do not condone child pornography, white supremacy, or racism in any shape or form. I am terribly sorry for the short-sightedness of my (!) decision, and promise to be far more vigorous in my assessment of these activities in the future. This was not about being edgy, this blew up and I very much regret to have done it in the first place.
Elsewhere on the thread, a common theme emerged of encouraging THQ Nordic to ignore people whom 8chan deemed as social justice warriors.
"Please don't censor any games nor appeal to the [Social Justice] crowd, you guys are doing fine as is," one 8chan user wrote.
"Thanks! We'll try to stay that way," THQN_Philipp wrote.
One particularly noteworthy comment contained a picture of a medieval knight with the text "cease your [discriminatory word for LGBT people]."
"That could be from one of our upcoming games," THQN_Reinhard replied.
Not long after beginning the AMA, THQ Nordic tweeted what appeared to be an explanation for their actions.
"The opportunity was here and we took it, we got apporached [sic] in a very friendly and polite manner and were assured, said person (shoutout to Mark) will take care of the nasty stuff. So, here we are," the tweet read.
https://twitter.com/THQNordic/status/1100456177031356416
It appears that the snafu happened because these European employees weren't quite privy to the dark history surrounding 8chan and thought it was a good way into hearts and minds. Lesson learned.
Ana Valens contributed to this report.
Update 2:51pm CT, Feb. 27: Coffee Stains Studios, creators of Goat Simulator and the upcoming Satisfactory, pointed out the organizational structure that THQ Nordic and its subsidiaries follow.
"Hi for absolutely no reason at all i thought itd [sic] be a great idea to share the THQ Nordic company structure that i didnt just whip up in paint 5 minutes ago," the Twitter account posted. "Pls note that there are 2 THQ Nordics."
The tweet was made specifically from the Satisfactory Twitter account but was retweeted by Coffee Stain Studios proper.
Observant readers will note that, yes, there are two THQ Nordics: THQ Nordic AB serves as the parent company, and THQ Nordic Gmbh is the company the 8chan AMA session originated from. In fairness, the THQ Nordic Twitter account does not make any such distinction, and in fact posts content about properties both companies manage. THQ Nordic Gmbh owns the Darksiders franchise, Titan Quest, Wreckfest and others, while AB manages Gmbh and two other sub-groups, including Deep Silver, Koch Media, and Coffee Stain Studios.
This is the first public instance of a company managed by THQ Nordic sticking its neck out to do some damage control thanks to the negative association. As of yet, no other THQ Nordic-owned studio has released a statement on the matter.
Update 12:21pm CT, March 4: THQ Nordic AB, the parent company of THQ Nordic Gmbh and the rest of the THQ Nordic umbrella, has formally apologized for the event. THQ Nordic AB Co-Founder Lars Wingefors issued a public statement apologizing for Gmbh hosting an Ask Me Anything on 8chan, a board commonly associated with anti-Semitism, racism, misogyny, and pedophilia.
Wingefors' statement reads:
This letter is to offer my sincerest apologies and regret for THQ Nordic GmbH Vienna's interaction with the controversial website 8chan last Tuesday, February 26. I condemn all unethical content this website stands for. Even if no one within the THQ Nordic Group would ever endorse such content, I realize simply appearing there gave an implicit impression that we did.
As Co-Founder and Group CEO of THQ Nordic AB, I take full responsibility for all of THQ Nordic GmbH's actions and communications. I have spent the past several days conducting an internal investigation into this matter. I assure you that every member of the organization has learned from this past week's events. I take this matter very seriously and we will take appropriate action to make sure we have the right policies and systems in place to avoid similar mistakes in the future.
As a Swedish based, fast growing group, we firmly support equality and diversity. We are also working actively to combat discrimination, harassment, and misconduct. We are already in the process of developing new work processes, based on the United Nations' SDGs (Sustainable Development Goals) and using the GRI (Global Reporting Initiative) standards, and we will accelerate this work going forward.
Lars Wingefors
Co-founder and Group-CEO, THQ Nordic AB
It's unclear if Wingefors and other leaders at THQ Nordic AB will terminate the employment of anyone at THQ Nordic Gmbh, although Wingefors' language seems to indicate they won't.
READ MORE: