At this point if you don't stick around to the end of the credits in a Marvel movie, you only have yourself to blame. Every film includes at least one extra scene, tying into the future of the franchise.
Thor: Ragnarok had two end-credits scenes, one with Jeff Goldblum's Grandmaster and one with Thor and Loki. Here's what they meant!
The Grandmaster scene
This one is pretty simple. After Thor encouraged Korg's revolution on Sakaar, the Grandmaster was basically hung out to dry. His post-credits moment is an epilogue to the revolution, with the Grandmaster confronting a crowd of rebels among the trash heaps of Sakaar. It's basically a joke scene, but there's one key thing to remember: the Grandmaster doesn't die. In fact, Goldblum has actually described the character as "immortal."
We're definitely going to see Goldblum at least once more in the MCU, because he's already made a short film with Thor's roommate Darryl, who previously appeared in a couple of comedy shorts by Taika Waititi. That puts the Grandmaster in Australia, so he could potentially have a cameo in Avengers: Infinity War.
We may also see a meeting between the Grandmaster and the Collector, Benicio del Toro's character from Guardians of the Galaxy. Speaking to Fandango, producer Kevin Feige said:
"We love the idea that they're brothers. If you go on the Guardians of the Galaxy: Mission Breakout attraction at California Adventure in Anaheim, you will see a picture on Collector's wall of he and the Grandmaster playing some sort of a space chess game, which right now is the only place you can see the two of them in a frame together, but let's hope that changes someday."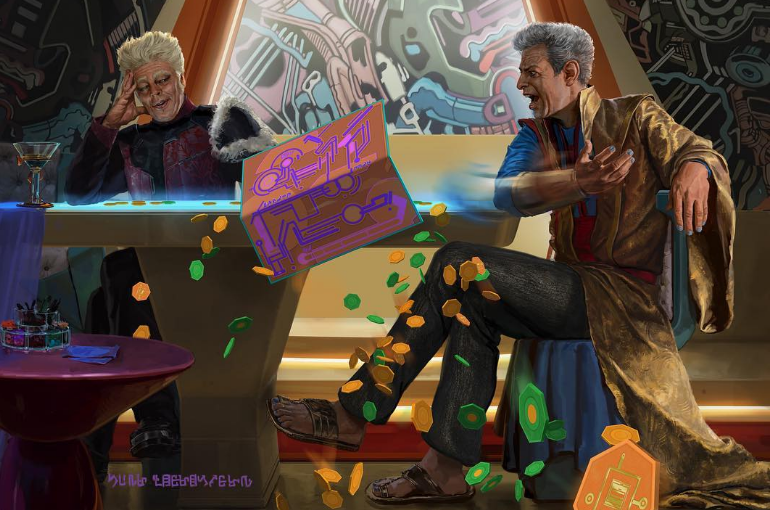 Thor and Loki
Thor and Loki's final scene calls back to The Avengers, with Loki pointing out that he's probably not welcome on Earth. Unfortunately for him, the Asgardians are heading straight for Earth on their new refugee ship, accompanied by Korg and his revolutionary pals.
Even more unfortunately, their ship comes face-to-face with an even bigger, more terrifying spaceship. But whose is it?
At the moment, the smart money's on Thanos. He's the main villain in Infinity War, which will combine the forces of Asgard, the Avengers, and the Guardians of the Galaxy. The mysterious ship from Thor: Ragnarok is massive, intimidating, and arguably bears a resemblance to Thanos's Chitauri ships in The Avengers. But since no one from Marvel Studios has actually discussed that scene yet, we can't know for sure.
Update 10:35am CT: Kevin Feige confirmed to The Wrap that the ship is the Sanctuary II, the flagship of Thanos's fleet. It's named after the Sanctuary, the asteroid field inhabited by Thanos and the Chitauri.