Every geek girl unfortunately knows what it's like to be called a "fake geek girl" and have her nerdom challenged by the more misogynistic elements in geek culture. So last summer when the Portland band The Doubleclicks released their track "Nothing to Prove," a song about not needing to defend your geek cred to anyone, it went viral and became a sort of call to arms for geek girls and guys who are made to feel like outsiders.
The song has more than a million views on YouTube and continues to set an example for the geek community. Earlier this month at the video game convention, PAX East, in Boston, the song was even played before a panel titled "Sex, Sexy and Sexism: Fixing Gender Inequality in Gaming" and received cheers from the crowd. Angela and Aubrey Webber, the sisters who make up The Doubleclicks, are no strangers to be challenged about their geekiness, even after playing their songs on stage.
"Afterwards somebody will say, 'So you're going for this geek thing, that must be cool.' It's like, I don't know what you think—that we just do this and then all of a sudden we are covered in money and love—but this is what we want to do and we don't have to answer your questions about Indiana Jones or whatever just because you feel like you want to test somebody," Angela said. "That's not the conversation we're going to have, so it makes me feel better now that I have thought through the whole process and turned it into a song, so now when people start talking to me I'm like, 'So this is a geek girl test, huh? How about not that, what would that be like?' I think people are learning."
There's no denying that the Webber sisters are geeks. Their interests range from Dungeons & Dragons to Star Trek, and geek culture is referenced in many of their songs. Dungeons & Dragons can even be labeled the cause of The Doubleclicks' creation in the first place. Angela said the group started sort of by mistake. After moving to Portland they began playing songs at open mics when a friend of theirs wanted to try animating one of their songs about Dungeons & Dragons called "This Fantasy World." The video ended up going viral online and soon the women were opening for comedic musical duo Paul and Storm.
"We were like, 'Oh, my goodness, this is like nerd music and there's a thing and there's an audience and we can just go hang out with nerds and everyone can be happy together,' and that's the Doubleclicks," Angela said.
So far the sisters have released two studio albums as The Doubleclicks: "Chainmail and Cello" in April 2012 and "Lasers and Feelings" in July 2013. Angela said Aubrey is amazing at creating the music, while she enjoys torturing herself into writing songs. In order to keep themselves from endlessly tinkering with their music, they make sure to set deadlines to keep motivated and productive. While much of their music makes geeky references, they don't set out to make each song purposely that way.
"Our songs are essentially about feelings and about our own experiences. It just happens to be that the metaphors we are making are nerdy ones because those are the cultural touchstones we have," Angela explained. "I like to say that if we were big into clubbing, our songs would be about clubbing, but instead they're about Dungeons and Dragons and space because that's the kind of thing we spend our days thinking about."
At PAX East, the sisters' popularity was easy to see. They performed to a packed Main Theater as the first act for the Saturday night concerts. This was their first time performing at PAX East, having played at PAX Prime in Seattle last year. They've been going to PAX conventions for years and Angela said there's no better place to play than PAX.
"It's a room full of thousands of nerds and they're all singing along and swaying and, you know, being outrageously nerdy with each other, so we are very happy and thankful that we got to play here," she said.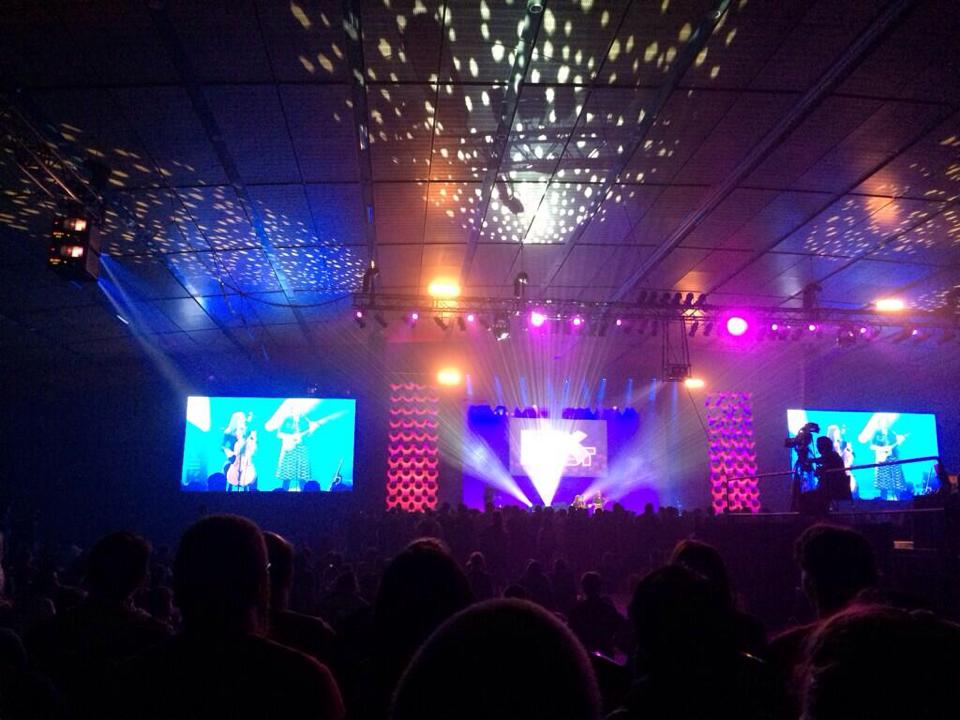 Photo via The Doubleclicks/Facebook
Outside the crowded theater, many people visited the group at their booth and talked about "Nothing to Prove," especially after it played before the gender inequality panel. The song is still making a difference for geeks, even inspiring college papers. The sisters only realized how big the song was when they were overwhelmed with responses after asking geeks to participate in the making of the song's music video.
"We wrote the song and then immediately went on tour and while we went on tour we started filming it and we were like, 'This is our song and if you have something to say, please come up and make a sign,'" Angela told the Daily Dot. "We were just hearing all of these amazing stories of women for whom this is such a passion in their lives to be geeks, and then these terrible stories of things they had to deal with because they were self identifying as a nerd in public and also as a woman."
The Doubleclicks even received responses from parents who want their kids to know it's OK to be geeky.
"I spent a lot of time reviewing these clips and wanting to hug and high five and cry," Angela said. "I did cry quite a bit while editing the video, which had not happened before, and it was amazing. So even before it went out there were like about 200 people who had actively participated in it with me and then, thanks to some of the Internet I guess, it got big and it was a really good feeling. I feel like it's less our project and more of the other people who were in it, so it feels really good to have been involved."
The Doubleclicks will be touring over the next few months and playing at various locations in Washington as well as at conventions including Norwescon and Denver Comic Con. No matter where they go, they'll most likely find more geeks who love their songs. For any geeks out there facing challenges to their geekiness or being called fake, Angela had just one message.
"Be proud of who you are. You have nothing to prove to anybody. Love what you love and be yourself."
Photo by Cahoots Photography via TheDoubleClicks.com