In the wake of Avengers: Infinity War, we had to contend with the fact that some people thought Thanos was right. As in, they seriously thought he was right to commit genocide and wipe out 50 percent of the universe's population. It turns out that no matter how apocalyptically evil the supervillain, there's always someone who thinks they're sympathetic.
Three months on, this frustrating ethical debate has given birth to something entertainingly absurd. Say hello to the subreddit ThanosDidNothingWrong.
Previously a typical meme subreddit, /r/ThanosDidNothingWrong is now home to a kamikaze community of redditors who want to get banned. Specifically, they want exactly 50 percent of the subreddit's subscribers to be banned at the same time, in accordance with Thanos's ideology. The only problem is, Reddit admins won't let them. And now more and more people are joining the subreddit, begging to be banned as well.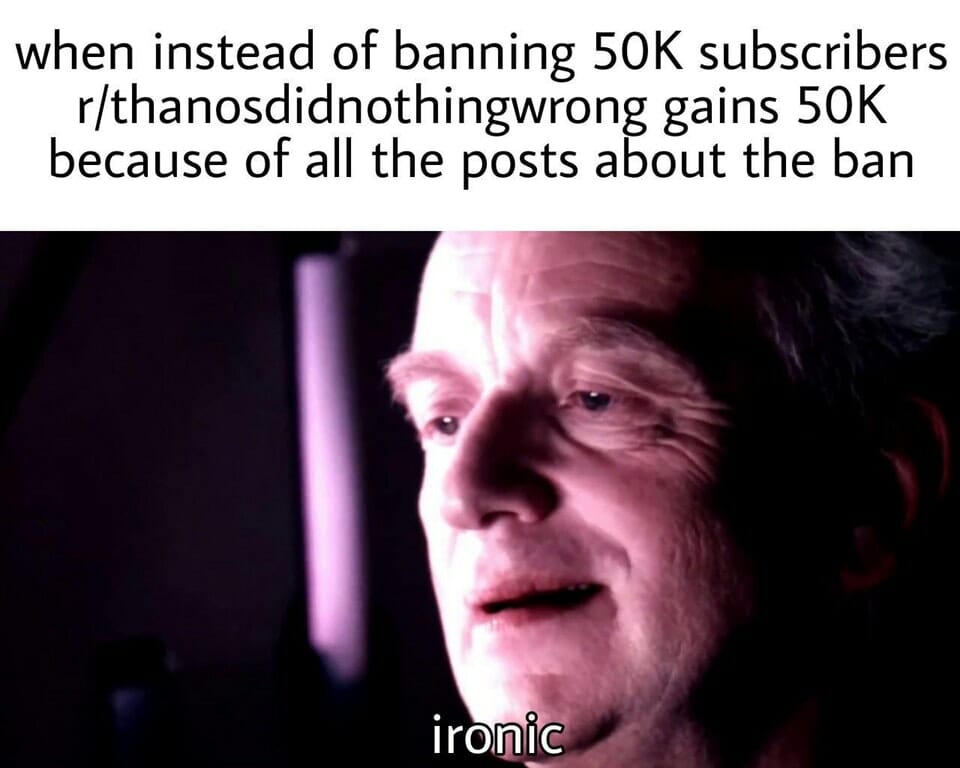 The self-obliteration campaign is being spearheaded by a mod called The-Jedi-Apprentice, who recently hit a brick wall after asking Reddit support for help. According to an admin, Reddit's engineers are concerned that /r/ThanosDidNothingWrong's ban plan "could potentially cause some headaches with our databases," partly because mods can't be banned from their own subreddits. Of course, the obvious solution there is for mods to demote themselves, allowing them to participate in the cull alongside other mere mortals.
Fortunately, a couple of enterprising redditors have created a script to mass-ban the required percentage of subscribers. Here's the deal:
"The script first scrapes the active members of this subreddit for the last 1000 submissions including all the comments and replies… Think of it like this, Thanos didn't kill plants did he? So consider inactive plebs who don't contribute to this subreddit as stupid plants, their existence is of no concern to us.

After scraping it, A mod can run the script to ban 50% of the scraped users till the day Avengers 4 releases (26th Apr, 2019)."
Once the dreaded finger-snap has been activated, all the banned users get a message beginning, "Hear me and rejoice! You have had the great privilege of being saved by the great titan."
As of Tuesday morning, /r/ThanosDidNothingWrong has 178,000 subscribers. We wish them the best of luck on their quest for self-destruction, in the grand tradition of pointless but amusing Reddit projects.
Update 1:29pm CT, July 3: After some negotiating with Reddit admins—who weren't keen on the event happening while Reddit admins were off for the Fourth of July—r/ThanosDidNothingWrong will now be able to ban half the subreddit. On July 9, the subreddit will finally get its wish for a Thanos-style banning.
#ThanosDidNothingWrong
July 9. Will you make the cut? https://t.co/PfVDN0Rcmd pic.twitter.com/p9rYcUjCfv

— Reddit (@reddit) July 3, 2018
"The admins are designing a bot for me that will allow me to do the job in a quick and easy manner," moderator The-Jedi-Apprentice explained. "So, be patient, and thank you all for your support."