Thursday was the biggest day of the year for fans of MTV's Teen Wolf. Amid a full-day of announcements related to the Teen Wolf panel at San Diego Comic-Con, MTV announced that the show had been renewed for a 20-episode fifth season. MTV also released a special trailer for the second half of Season 4. Check it out below:
Other big news was the announcement that despite speculation that he'd been written off the show, actor Keahu Kahuanui, who plays Danny, would be returning later on in the show.
The panel also had plenty of good will, like the delightful exchange between breakout actor Dylan O'Brien and a fan who got adorably embarrassed when he paid her a compliment. (She later got a hug from the man himself.)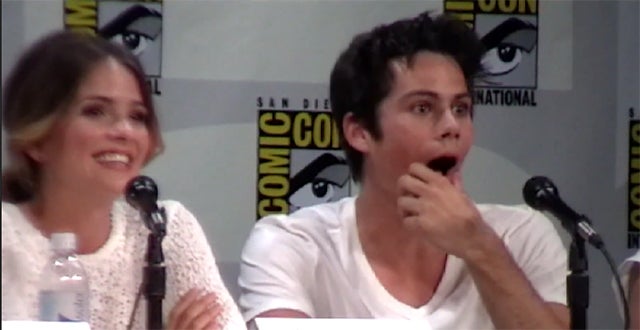 Screengrab via YouTube
But there was controversy as well. Seated next to O'Brien is actress Shelley Hennig, who plays Malia, the recently introduced love interest for O'Brien's character Stiles. But prior to the panel, the seating arrangement was different:
Look who is sitting next to each other #teenwolfsdcc pic.twitter.com/k7pfM64CZm

— Tiffany (@tifferini) July 24, 2014
Fans who ship O'Brien's character Stiles together with Tyler Hoechlin's character Derek, aka Sterek, were none too happy with the last-minute seating switchup. Many of them assumed that the move was part of the show's overall tactics of separating the two actors physically in order to help dissuade Sterek shippers. Since Sterek has been the show's behemoth slash ship since Season 1, it's a bit late for that.
"I think what really bothers me the most about this anti-sterek movement is that it's keeping Hoechlin and Dylan apart," wrote stillhalesterek on Tumblr in reaction to the change. "They are genuinely bros and now they can't even sit next to each other at cons."
In protest, some Sterek shippers subsequently photoshopped Hennig out of Tumblr photosets of Hoechlin and O'Brien at the panel, to the chagrin of fans of Teen Wolf's female cast.
Though it went unmentioned, Sterek cast an uncomfortable shadow over the panel. The final question from a fan was about shipping pairings that weren't currently happening on the show. The show's star, Tyler Posey, who has previously spoken of his discomfort with Sterek shippers, responded, "Can you think of a better question?" before going on to jokingly answer it. Numerous Teen Wolf fans spoke to the Daily Dot about being disappointed by the reaction.
"I feel very sorry for that girl who got pretty blatantly disrespected and put down about her question by people she admires just because her question was about shipping," wrote Tumblr user cottageintheclouds. "[S]haming your fans for asking you those questions kind of makes you a dick."
Sterek was also a controversial presence at last night's first annual MTV Fandom Awards ceremony, which saw a guest performance from Linkin Park. Fandom guru also received a special "Visionary" award.
Sterek was up for Ship of the Year but lost to The Vampire Diaries' popular romance Delena (Damon/Elena). Far more meaningful for Teen Wolf fans, however, was their fandom's win for "Fandom Feat of the Year." The feat in question was fundraising more than $25,000 to care for two wolves through the Sterek Campaign, a project created by Sterek shippers to show fandom appreciation to the show.
Although the Sterek Campaign was officially acknowledged on MTV's voting page, at the awards ceremony last night, Posey, who accepted the win, made no mention of the charity or the ship. He then gave the award to a fan named Tyler Villegas—much to the shock and disappointment of Sterek Campaign creator Qhuinn.
The Sterek Campaign won Fandom Feat of The Year?? 😱

— Fluent in Feels (@qhuinn) July 25, 2014
So wait. Posey gave the SC's award to a random fan? WHY?

— Fluent in Feels (@qhuinn) July 25, 2014
I… don't even know what to say.

— Fluent in Feels (@qhuinn) July 25, 2014
Though no reason seemed immediately apparent for why Posey gave the award to Villegas, Villegas seemed thrilled to get it and had no intention of handing it over to the Sterek Campaign.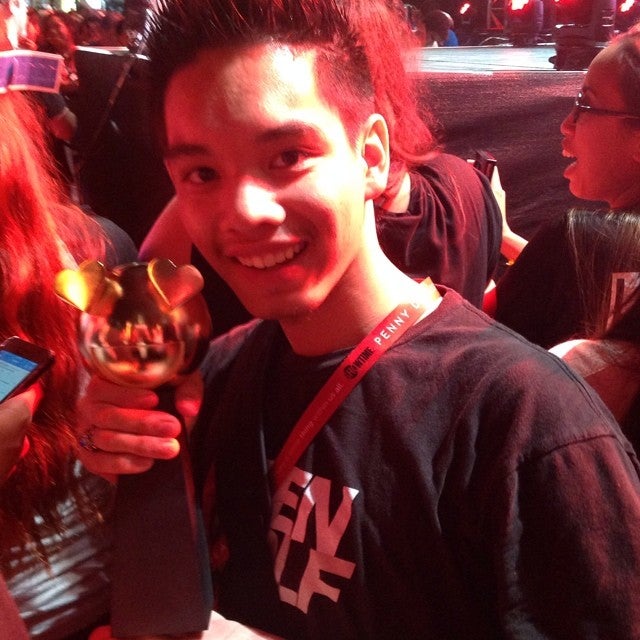 Photo via Instagram
Thank you @tylergposey for giving me this award after they won the award at #MTVFanFest!!!… https://t.co/JFKG2HbFyo

— Tyler Villegas (@TylerL_Villegas) July 25, 2014
"I'm keeping it safe for all Teen Wolf fans forever," Villegas wrote in an Instagram comment in response to fans who begged him to turn the award over to the creators of the Sterek Campaign. "Plus I'm sharing this for everyone in spirit cuz we all made it happened. Hard work. Support. And Teamwork :) #humbleandgrateful"
Sterek shippers felt further slighted when Clevver TV's Joslyn Davis decided it would be a good idea to ask the Teen Wolf cast to read Sterek fanfiction on camera. One of the fics, an Alternate Universe fic where Stiles is a gymnast, was actually a finalist in the groundbreaking 2012 Teen Wolf fanfiction contest. And though the author of the fic in question commented on her Tumblr to note that she wasn't bothered by it, plenty of other fans felt the segment was intended as a mockery. A Tumblr post by kimmi-watch that currently has more than 3,000 notes encapsulates why asking cast members to read fanfiction is basically never, ever a good idea.
"I swear to God, I am so sick of being made fun of by these people for enjoying their content," kimmi-watch wrote. "I get to enjoy it in whatever way I choose and you shouldn't be able to make fun of me for it. "
Though it's been a rough few days for Sterek shippers, there's plenty of excitement in store for Teen Wolf fans in the second half of Season 4—though with ratings on the decline from last season, the show might want to give Sterek fans a break.
The Daily Dot has reached out to MTV for comment. Meanwhile, you can catch the whole Teen Wolf panel here on YouTube. 
Photo via Instagram