Stranger Things' homage to the '80s is fueling new waves of nostalgia, leading fans to crash a museum website in search of a novelty hoodie featured in the show.
In the season 2 premiere "MadMax," Dustin (Gaten Matarazzo) is seen wearing a purple hoodie from the Science Museum of Minnesota featuring a Brontosaurus with "Thunder Lizard" in quotes, and it's a fitting outfit choice for Dustin.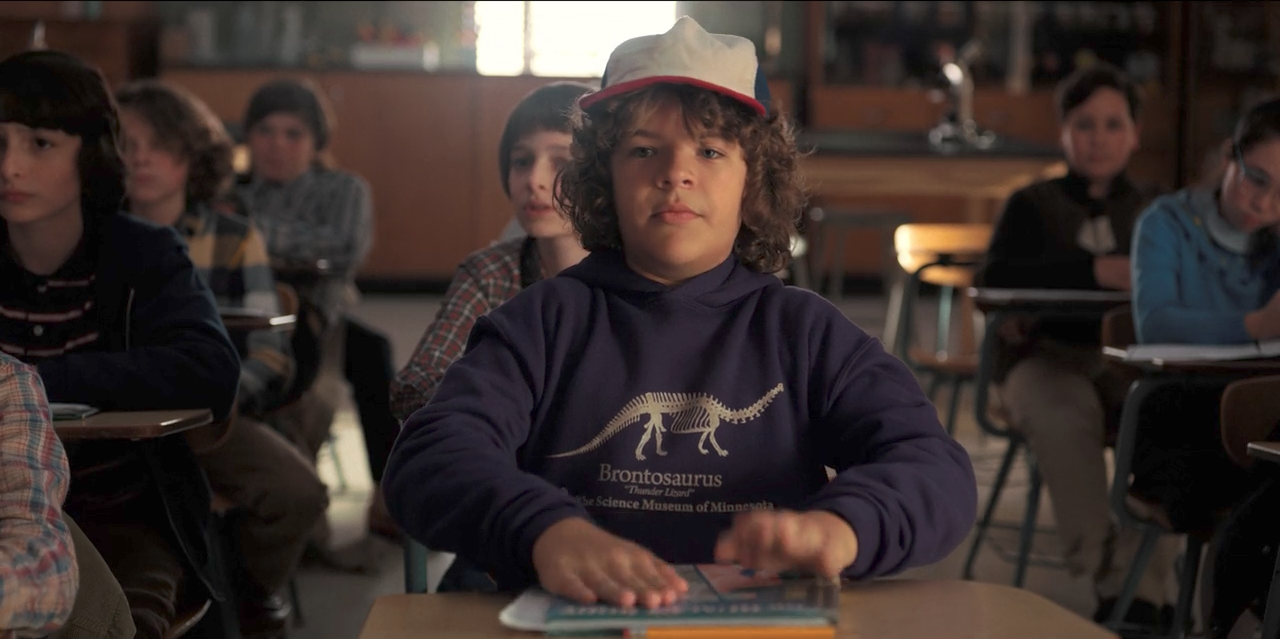 The hoodie itself isn't from the '80s, but the design itself is, according to the show's costume designer. She said that she discovered the hoodie in the midst of looking for inspiration for the show.
"I really loved the Brontosaurus for Dustin, so we bought the original," Kim Wilcox told Newsweek. "Then we made our own purple hoodie with this great dinosaur art in Gaten's size."
It didn't take long for the Science Museum of Minnesota to notice the unintentional shoutout (which it wasn't aware of prior to Stranger Things season 2 dropping on Netflix), and it quickly confirmed that it was looking to bring the design back.
The Thunder Lizard designs—which were available as hoodies and T-shirts for adults and kids as well as an adult sweatshirt—went live on the Science Museum of Minnesota's website Tuesday, with prices ranging from $14.95 for a children's T-shirt to $36.95 for an adult version of Dustin's hoodie. The site lagged after fans flocked to it to get their hands on Dustin's hoodie and those other designs, and soon it crashed after being unable to handle the increased interest.
The Science Museum of Minnesota (which is a nonprofit) sold more than 80,000 hoodies and made more than $400,000 on Thunder Lizard merchandise on Tuesday. While the museum is already sold out at its physical gift shop (more will become available late Wednesday and Thursday), fans can still purchase items online.