For the second year, StarWars.com has launched its own March Madness-style bracket called "This is Madness" featuring characters from the movies and TV. The Star Wars tournament features a few changes from last year, such as new divisions and an "Attack of the Play-Ins" round, but the one thing that hasn't changed is the lack of female characters represented in the tournament.
In 2013, there were only four women (Princess Leia, Padmé Amidala, Ahsoka Tano, and Asajj Ventress) among the original 32 competitors. Of the two that made it to the second round, Princess Leia lost in her matchup with R2-D2 and Ahsoka Tano was defeated by Chewbacca. The same number of women were represented in this year's competition of 32 contenders, but none of them moved past round two. Like last year, half of the female characters were from the movies (Princess Leia and Padmé Amidala) and half from cancelled Cartoon Network show Star Wars: The Clone Wars (Asajj Ventress and Mother Talzin). In the final 16, Princess Leia was defeated by R2-D2 again while Padmé Amidala was narrowly defeated by Clone Wars character Captain Rex.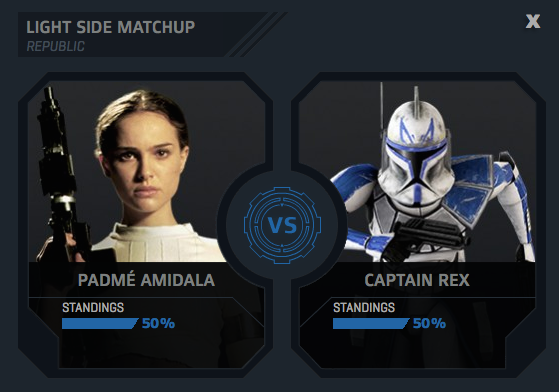 According to a tweet last week from Lucasfilm Manager of Digital Content and Community Relations Matt Martin, the matchup between Padmé and Rex was the closest matchup in "This is Madness" history. In the end Rex won, though the vote tally online remains at 50/50. The official Star Wars Twitter account later tweeted the difference was a mere 121 votes.
Out of six films and a popular TV series, it's disappointing only four women were included in the main tournament and that none advanced very far. To have Leia once again defeated by R2-D2 was also surprising, because despite the droid's strong fanbase he's still basically a side character compared to Leia.
The new "Attack of the Play-Ins" round threw 16 wildcard characters into the mix, offering the chance for two additional women, Mon Mothma and Ahsoka Tano, to be included in the main tournament. Neither advanced. Though Ahsoka was one of the most popular characters from The Clone Wars, she was not included in the main tournament this year. According to Mashable, many of this year's characters were included because they received high vote percentages last year. The exception was Ahsoka, who came out with a slightly higher percentage than Luke Skywalker. However Martin told Mashable "it just didn't seem right to put her ahead of Luke."
None of this has gone unnoticed by fans. Some asked Martin about the discrepancy between Luke and Ahoska on Twitter. He admitted the difference between them was within only a couple percentage points and that Ahsoka had easier match-ups last year.
Still, as some fans pointed out, her inclusion over a well-known movie character like Luke would have made a statement. While the general audience may not be as aware of a character like Ahsoka, it would have shown that popular new female characters deserve to be represented, too.
When Ventress, Ahsoka, etc lost, I thought it's because #CloneWars was at a natural disadvantage. But now, Rex is beating Padmé. What gives?

— Louis Ghanem (@lgghanem) April 1, 2014
So Ahsoka got a slightly higher score than Luke, but it didn't seem right to put her past him? https://t.co/3vFY9YyO05

— Johnamarie Macias (@BlueJaigEyes) March 19, 2014
@starwars Wait, Leia lost to R2?! This truly is madness.

— Dave Caolo (@davidcaolo) April 2, 2013
This is not a problem solely found in Star Wars of course, and other fandom brackets have revealed similar diversity issues. But the argument that male characters from the franchise are more recognizable to a general audience calls the question: How will female characters like Ahsoka ever gain recognition if they are not given attention at all?
On Twitter Martin pointed out that if some obscure female characters were included and lost, people might have said it showed no one cares about female characters. The inclusion of only four women, however, seems to make that statement anyway. Tricia Barr, of the Fangirl Blog, makes the point that in some divisions the argument of recognizability falls flat. In the "Bounty Hunter" division for example, lesser known characters Bossk, IG-88, and Dengar are included.
"It's worth noting that these characters owe their recognizability to the Expanded Universe and collectibles, and less so to the movies. Fans embedded deeply in the Star Wars fandom know their names and faces, but many fans of the movies simply see them as nameless background characters from a movie they enjoy," Barr wrote. "Unfortunately characters like Zam Wessell, Bo-Katan, and Aurra Sing were bypassed in favor of heavily stacking the category with fanboy favorites."
Over at Making Star Wars, a revised bracket with more gender diversity was created by
The Wookiee Gunner's Johnamarie Macias and Far Far Away Radio's Austin Blankenship.
"The purpose is to demonstrate that there are more characters in the Star Wars universe other than the popular faces known by various audiences. The character tournament should take the opportunity to introduce unfamiliar individuals and shine the spotlight on characters that would otherwise be brushed aside. Additionally, after a successful character tournament in 2013, it would have been ideal to include more women in order to reinforce that Star Wars is not just for one particular group," they wrote.
They said their alternative bracket is not meant to undermine Lucasfilm or the tournament, and the same can be said of any fan who expresses the need for more diversity in Star Wars. It is constructive criticism for something already loved by all different types of people.
There are actually quite a few recognizable female characters in the Expanded Universe like Mara Jade and Jaina Solo, but there is progress needed for what we see onscreen. Hopefully things will change with the release of new movies starting in 2015 and the premiere of Star Wars: Rebels in the fall, despite initial worries about the show's focus on its female characters. Lucasfilm employees like Martin openly taking part in these discussions is also a great sign that they are listening to the concerns of fans.
But future opportunities aside, one glance at this year's bracket shows how much improvement Star Wars still needs in the gender diversity category.
Lucasfilm did not respond to a request for comment by time of publication.
Screenshot via StarWars.com