We haven't heard much about Star Wars: The Last Jedi since the movie's Vanity Fair profile back in May and its D23 panel, but the cast and crew are revealing even more about the highly anticipated film in a new cover story for Entertainment Weekly.
Luke Skywalker and Rey are front and center on two separate EW covers, but the start of their relationship—which was teased at the very end of The Force Awakens—is far from the only thing taking place in the upcoming Star Wars movie. Given that Lucasfilm is still notoriously tight-lipped about revealing plot and details, the cover story is pretty light on actual spoilers, but fans looking to absorb as much information as possible will find plenty of morsels on the Resistance, new characters, and the very lovable porgs that inhabit Luke's new homebase of Ahch-to.
The force is strong, #StarWars fans! Grab your lightsabers and get exclusive intel on #TheLastJedi: https://t.co/vGt4Dm9pCA pic.twitter.com/TUvk9GMeSV

— Entertainment Weekly (@EW) August 9, 2017
Here's a breakdown of what we've learned so far.
Never meet your heroes
While Mark Hamill and Daisy Ridley get along wonderfully in real life, that's not necessarily the case for their on-screen counterparts. Rey arrived on Ahch-To expecting to find a Jedi Master who would join the fight against the First Order, but Luke not only wants nothing to do with that fight, he's not eager to be the Yoda or Obi-Wan Kenobi to Rey's Luke.
"[Luke] made a huge mistake in thinking that his nephew was the chosen one, so he invested everything he had in Kylo, much like Obi-Wan did with my character," Hamill told EW. "And he is betrayed, with tragic consequences. Luke feels responsible for that. That's the primary obstacle he has to rejoining the world and his place in the Jedi hierarchy, you know? It's that guilt, that feeling that it's his fault, that he didn't detect the darkness in him until it was too late."
But Rey also arrives on Ahch-To with her own baggage, which comes to the surface again as Luke rejects her after gaining a new family in Finn and the Resistance in The Force Awakens.
Luke hasn't been completely alone in Ahch-To
Fans first saw porgs, the adorable puffin-like creatures who inhabit Ahch-To, in a behind-the-scenes video released at D23, but they're not the only creatures who live there. Also on the island are the Caretakers, a group of all-female "fish-bird type aliens" who take care of the island and its structures. They reminded director Rian Johnson of a nunnery.
"You get the sense they did at some point or maybe they occasionally do [return to the sea,] but when we see them, they're land creatures," Johnson explained. "They're these big matronly creatures, but they have these little skinny little bird feet. They were really fun to work with on set."
Porgs, on the other hand, were inspired by the puffins who frequented Skellig Michael, the real-life island where Rey and Luke's first meeting was filmed. And according to Johnson, they get everywhere. And chances are, they'll be all over The Last Jedi's merchandise if the reaction to seeing Chewbacca with a porg is any indication.
https://twitter.com/ScavengersHoard/status/895337187016704000
Finn will become a reluctant hero
Although Finn  stepped up by the end of The Force Awakens, he's still having doubts about whether he wants to keep fighting for the Resistance. After recovering from his injuries after fighting Kylo Ren, Finn wants out. According to John Boyega, the events of The Force Awakens would've spread across the Galaxy so his story so far would've already been legendary. And Rose Tico, a Resistance gearhead who Kelly Marie Tran described as a "nobody," is among those who look up to Finn as a hero and give him the push to dive back in.
"He appreciates the adoration for a second, but when he meets her, Finn is trying to escape the whole war. He's trying to leave," Boyega says. "And she comes in and basically gives him a depiction of himself that wasn't necessarily true."
Together, they become part of a mission to Canto Bight, the rich city Johnson previously called "a playground for rich assholes."
Star Wars introduces a hacker
Benicio Del Toro's mysterious character DJ is officially described as "an enigmatic figure whose tattered, threadbare clothes and lackadaisical attitude conceal a sharp mind and expert skills." He's part of the Canto Bight mission, but it's unclear exactly how he comes it or whose side he's on other than his own.
It also allows The Last Jedi to explore more of the technical side of its sci-fi world as the film also dives deep into Jedi lore.
"We just need a codebreaker, and he's the best in the galaxy," Boyega explained. "Unfortunately, he's very dodgy and only in it for financial gain. He doesn't fight for any side."
We'll meet Snoke—and his guard
In The Force Awakens, we only saw Supreme Emperor Snoke (Andy Serkis) through hologram communications with Kylo Ren and General Hux, but this time around we'll get to meet him in the flesh. He'll also be flagged by his own personal guard called the Praetorian Guard. They're based off the special guard that protected Roman emperors of the same name.
Like the other characters, we'll learn more about Snoke, who's inspired more than a few interesting theories among fans. But we won't learn everything about the character Johnson called a "force of nature."
"Similar to Rey's parentage, Snoke is here to serve a function in the story. And a story is not a Wikipedia page," Johnson said. "For example, in the original trilogy, we didn't know anything about the Emperor except what Luke knew about him, that he's the evil guy behind Vader. Then in the prequels, you knew everything about Palpatine because his rise to power was the story."
Poe Dameron is a "surrogate son" for Leia Organa
Poe Dameron and General Leia Organa have already worked together in the Resistance, as both Force Awakens and supplementary books revealed. But they work even more closely together in The Last Jedi as Leia appears to be preparing Poe for a leadership role.
It's also a political one as the Resistance, a small and isolated force, faces off against the First Order after the First Order destroyed part of the Republic in The Force Awakens. The Resistance has rivalries within it, which may or may not involve Laura Dern's Vice Admiral Holdo.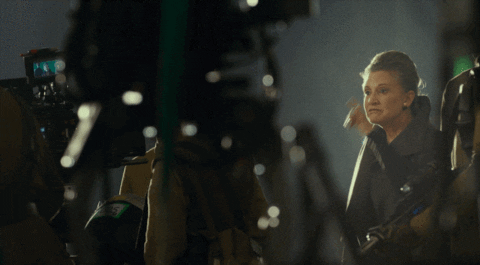 It's also the last time we'll see Carrie Fisher portraying Leia on-screen. Star Wars planned to give her a major role in Episode IX, but it was removed after Fisher's death last year. Johnson didn't plan for The Last Jedi to be Leia's final appearance, but he told EW that "there's going to be a very emotional reaction to what [Leia] does in this movie."
Fisher absence is still felt by the cast and crew.
"One of my favorite things that would happen from time to time on set would be when Carrie would sing old songs," Isaac said. "Whenever that would happen I would offer her my hand and we would waltz around the set–on a starship, in a Rebel base, on an alien planet, and she would sing and we would dance. So surreal and beautiful to think about now. For all of her delicious, wicked humor and fiery energy she also had such sweet grace. I miss her dearly."