In the run-up to Solo: A Star Wars Story, we've already got our hands on one tie-in book. Daniel José Older's Last Shot is a great Han and Lando adventure, but if you still want to see more of Lando, we have another recommendation. Marvel published a solo Lando comic in 2016, and it's excellent.
This five-issue miniseries was written by Charles Soule, drawn by Alex Maleef, and colored by Paul Mounts. It takes place before The Empire Strikes Back, meaning Lando has yet to join the Rebellion. He's just a savvy businessman who found his niche between the Empire and the criminal underworld, making him an ideal choice for a space heist story.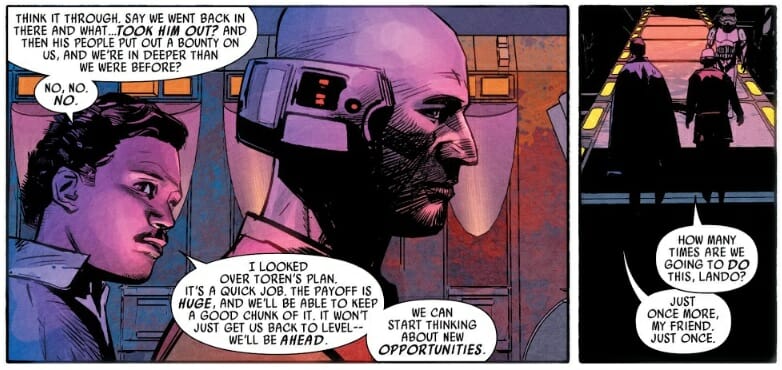 Co-starring Lando's Cloud City partner Lobot (you know, the bald guy with the cyborg implants) and a supporting cast of new characters, Lando neatly reintroduces a man who made his mark with relatively little canon screentime. In order to settle a debt, Lando embarks on some high-stakes piracy that lands him in the Empire's crosshairs.
READ MORE:
Lando's life under the Empire
While the movies focus on the war, Lando gives a more neutral view of life under Imperial rule. Lando Calrissian has no interest in rebelling. The opening scene even sees him in bed with an Imperial officer. Basically, he's living up to the cynical ideals that Han espoused before he met Luke Skywalker. Both men thrive in a quasi-legal environment where they rack up huge debts and play their enemies off against each other, but while Han is kind of a disaster area, Lando is actually good at it. He's a smooth talker who keeps his cards close to the chest, relying on a network of shady underworld contacts.

While only five issues long, Lando boasts one of the strongest of Marvel's Star Wars creative teams. The color work is especially good. Differing from Han's rather grimy lifestyle, Lando is an inherently glamorous character. He exists in a world of jewel tones and luminous sunsets, and colorist Paul Mounts really leans into the idea of space as a rainbow environment. He envisions Lando as someone who arrives with his own nightclub lighting in tow. And as we know from his stand-out Poe Dameron series, Charles Soule has a real knack for writing pitch-perfect dialogue and high-speed Star Wars thrills.
Like all good tie-in books, Lando reflects the source material while expanding things in ways we didn't know we wanted. For instance, Lobot gets a legitimately moving arc of his own. He's basically a background character in the movie, but if you rewatch after reading this comic, you'll see him in a very different light.
This is an ideal single-serving read for Star Wars Day, and to get you in the mood for Lando's return.