The Star Wars movies and TV shows have always had strong and nuanced heroines—more so in recent years—but they're finally getting to star in their own stories in a series of new animated shorts.
Disney and Lucasfilm announced Star Wars Forces of Destiny early Thursday, a new online series of animated shorts that will feature many of Star Wars' beloved female characters in new adventures that will add to established Star Wars canon. Developed by Lucasfilm Animation, each episode will be about 2-3 minutes long and feature the voice talent of many of those heroes, and they'll eventually star in books and a TV special.
The shorts will take place within Star Wars stories we've already seen and in between films and TV shows. For Rey, whose past and future are already the source of much speculation by fans, her stories will take place within the events of The Force Awakens, a couple of which will showcase fights to protect BB-8 from other scavengers and creatures who want the droid. Jyn Erso's tales will occur before the end of Rogue One.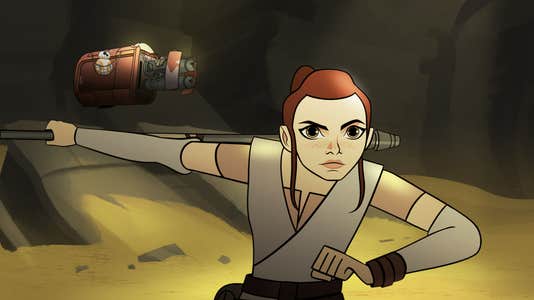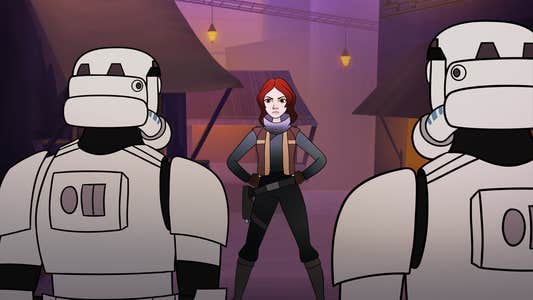 Stories featuring the Star Wars Rebels heroines will help fuse the canon between the TV series and the Star Wars films, one which will show Leia and Hera teaming up with Han Solo and a bunch of Ewoks on Endor. Leia will star in another adventure where she rescues Chewbacca, which has a basis in a deleted Empire Strikes Back scene.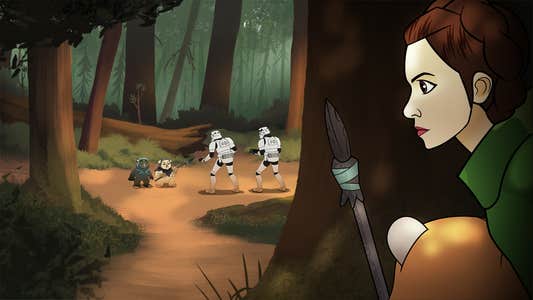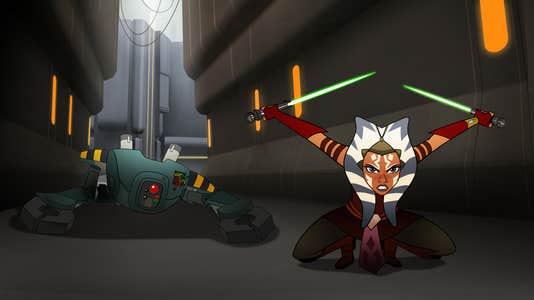 "Star Wars Forces of Destiny is for anyone who has been inspired by Leia's heroism, Rey's courage, or Ahsoka's tenacity," Kathleen Kennedy, President of Lucasfilm, said in a statement. "We're thrilled that so many of the original actors are reprising their roles in these shorts which capture the small moments and everyday decisions that shape who these characters are. It is a fun new way for people to experience Star Wars."
Daisy Ridley (Rey), Felicity Jones (Jyn), Tiya Sircar (Sabine Wren), Ashley Eckstein (Ahsoka Tano), and Vanessa Marshall (Hera Syndulla) will all reprise their roles from the films and TV shows, while Lupita Nyong'o will narrate as Maz Kanata. According to Entertainment Weekly, Shelby Young will voice Leia Organa while Catherine Taber, who voiced Padmé Amidala in The Clone Wars, will reprise the role instead of Natalie Portman.
Meanwhile, Hasbro is launching a new line of 'Adventure Figures,' which a press release describes as a "fusion between traditional dolls and action figures." These figures also include weapons the characters carry along with them, so yes, Rey will be able to hold a lightsaber. Other figures released will include villains and sidekicks, but so far the attention is mostly on the heroines.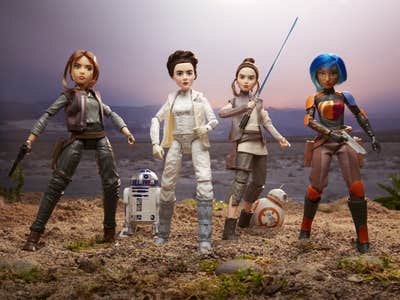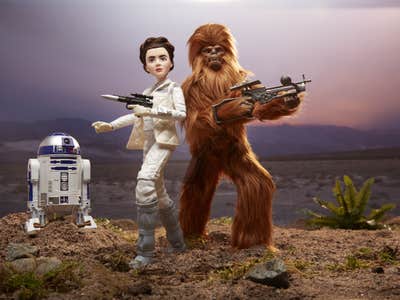 Lucasfilm has been among those under fire for its lack of merchandise marketed toward girls and women, who have always been a part of Star Wars fandom. With more heroines showing up in recent films and shows, the demand for products featuring its female characters has risen. The lack of merchandise (even when due to "spoilers") is something fans will no longer tolerate, as we saw with #WheresRey in 2015. As promotion for The Last Jedi begins, this is a step in the right direction.
Fans attending Star Wars Celebration will get a sneak peek at Forces of Destiny at the "Heroines of Star Wars" panel on April 14. Forces of Destiny will debut in July on Disney's YouTube channel and a two-part TV special on Disney will feature even more shorts.