Star Trek: Discovery is boldly going—nearly 1,000 years into the future in season 3.
At New York Comic Con, the cast and crew teased what the bold ending of Discovery's second season will mean going forward. And although the far-distant future is very much different from the Star Trek that we know—co-showrunner Michelle Paradise assuring fans that "we are married to canon"—producer Alex Kurtzman told the audience that they plan to deliver on the promises season 2 made.
"The beauty of the promise of what we did at the end of last season is that if we don't deliver you something surprising, then we have failed," Kurtzman said. "The canon has absolutely informed everything they did."
Fans caught a glimpse of that in the season 2 trailer, which features Michael Burnham and the rest of the Discovery crew 
Much of the cast, including stars Sonequa Martin-Green (Burnham) and Anthony Rapp (Paul Stamets), emphasized that the crew will have to reckon with the ramifications of traveling that far into the future—and not just on what new technology will be available to use. Wilson Cruz (Hugh Culber) added that his character is getting a fresh start with himself and Stamets. For many of them, they might be far from home after traveling to the future, but ultimately, the Discovery is their home.
But even if the future doesn't turn out the way they expected it to be, Discovery will still be a hopeful show.
"Trek is the ultimate beacon of hope, so if you go into a future you didn't imagine it to be, Trek is the anchor that brings us back to our best… It's a reminder of what's possible and what hope means," Kurtzman said.
Cruz added on that later in the panel after a question touched on the diversity within the show.
"To be part of a cast that looks like this and writers who look like they do, bringing a diverse life experience and using that experience to tell these stories," Cruz said. "Specifically, this season, how we connect with each other… We live in a moment where it's so easy to dismiss someone because they look different than you… And I think we're finding this season that we're not that different, that we're really the same. The sooner we can come together and solve these problems… we have the answers right now. We know what's right, we know what's wrong, we just have to stand up for it."
The producers of Discovery also revealed a brand new Star Trek: Short Treks starring Ethan Peck as Spock and Rebecca Romijn as Number One. Titled "Q&A," the Short Treks follows Spock's first day on the U.S.S. Enterprise, while Spock and Number One are stuck in a turbo lift. Star Trek: Picard showrunner Michal Chabon wrote "Q&A" and Mark Pellington directed it.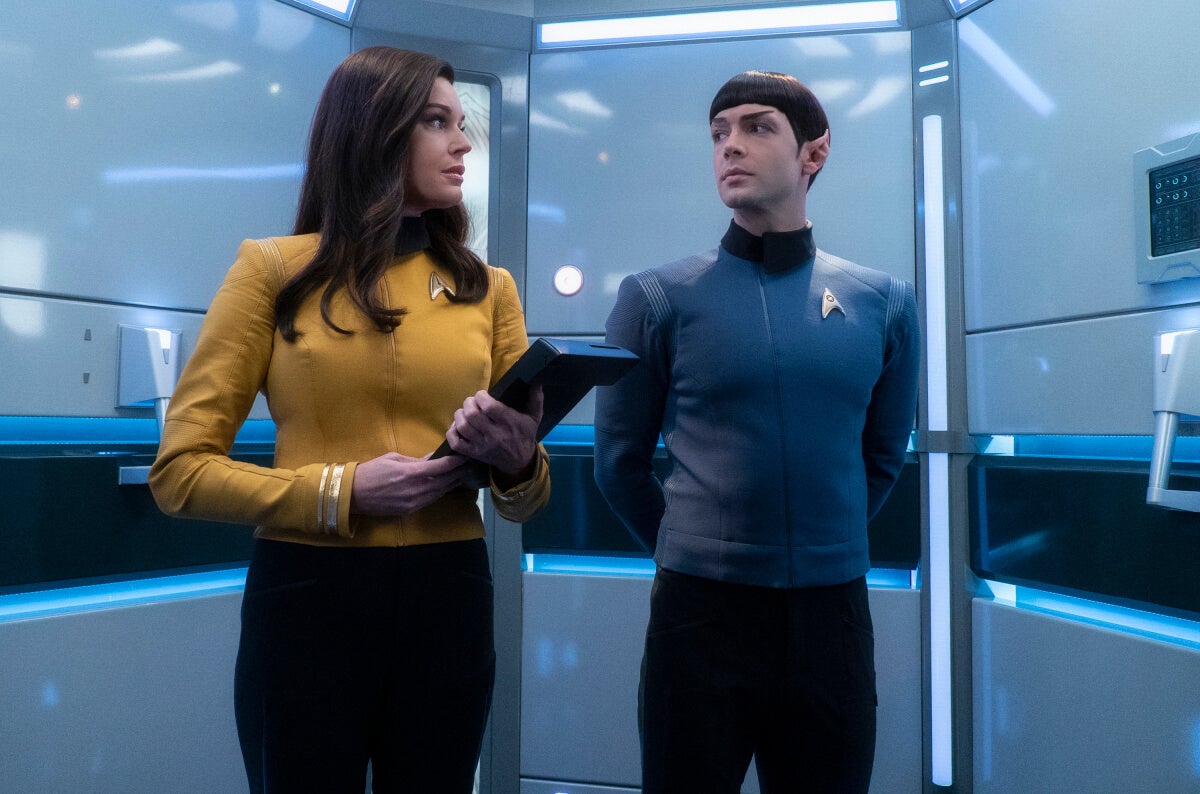 Several more Short Treks will be released on a monthly basis starting on Oct. 10 with "The Trouble With Edward." "Ask Not" will air on Nov. 14, "The Girls Who Made the Stars" and "Ephraim and Dot" on Dec. 12, and "Children of Mars" on Jan. 9.
Star Trek: Discovery will premiere in 2020.