At 21, graphic novelist Tillie Walden is already extraordinarily prolific. Along with a portfolio of webcomics and fanart, she published her debut graphic novel, The End of Summer, in 2015, quickly followed by two more comics in quick succession, and her new graphic memoir Spinning.
Spinning covers Walden's teen years as a competitive figure skater, a hobby that required her to get up at 4am and share grueling practice sessions with the girls on her synchronized skating team. Drawn in black and white with occasional highlights of washed-out yellow, it's a quiet and introspective book, with mature insight into the loneliness of the author's adolescence. It reminds us that experiences don't have to be universal to be relatable. Walden grew up in the insular subculture of competitive skating, yet her anxieties may feel familiar to any of us.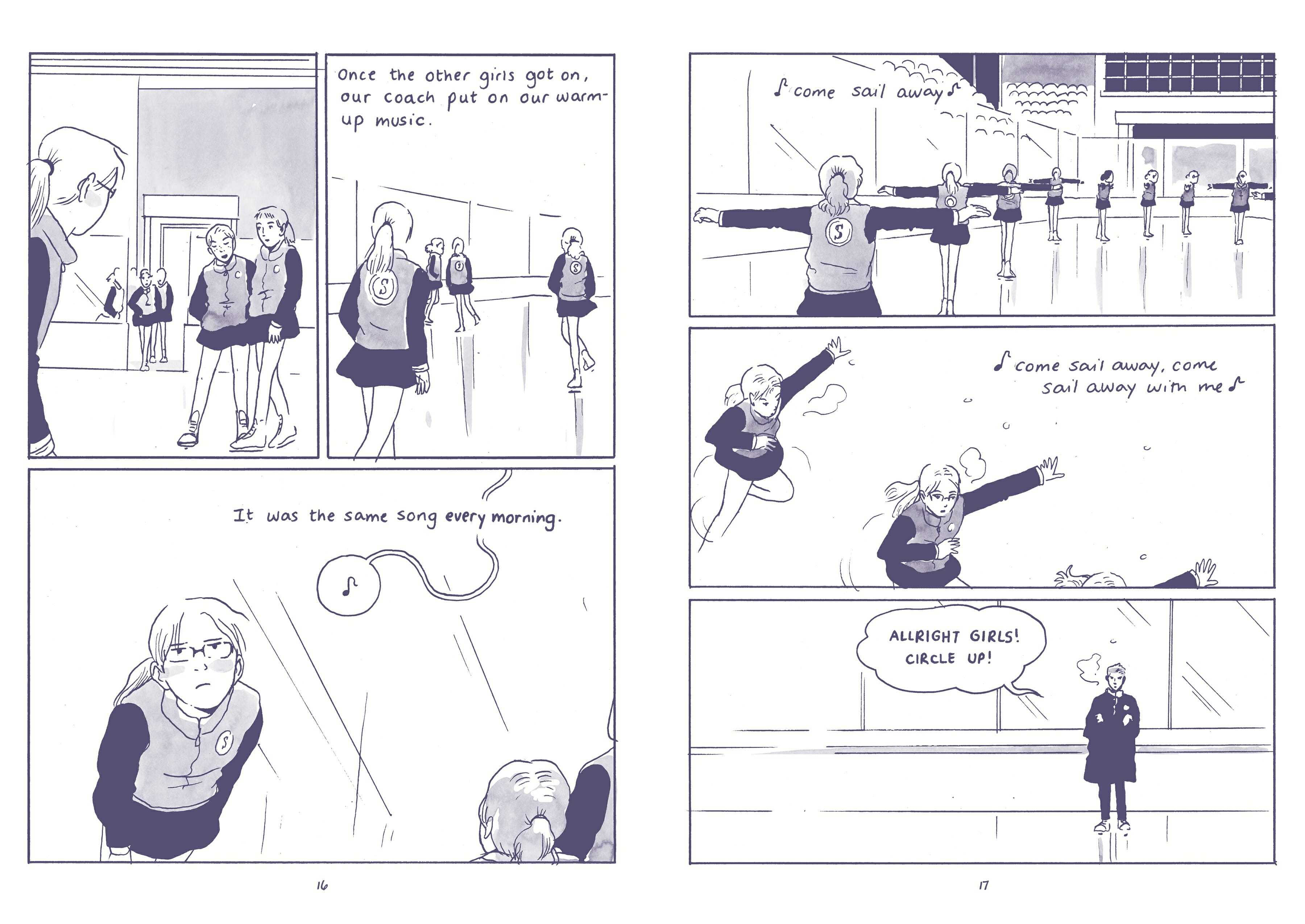 There's a lot of breathing room in Spinning, representing Walden's isolation and the blank white space of the ice rink. We know from the offset that she'll have to quit skating eventually, so there's a sense of looming inevitability. The real question is why Walden skates in the first place. For the most part, she doesn't actually seem to enjoy herself. Her routine practices feel more like a habit than a passion, compared to some of her teammates who genuinely love the sport. Maybe it's a way to escape her unhappy home life, or to carve out an identity for herself. She doesn't offer obvious answers, peeling away layers of emotional vulnerability as the years go by.
Walden's sexuality is another central theme. Aware from early childhood that she was gay, Walden develops crushes on friends and fellow skaters but stays in the closet, worried about further bullying and rejection. It's one of the most moving aspects of an already heartfelt memoir, creating yet another conflict with the restrictive world of skating.
It feels a little odd to compare Spinning with Yuri on Ice, the figure skating anime that became a massive hit last year. They're very different in tone, but alongside the upcoming Tonya Harding biopic, Yuri on Ice is an unavoidable part of the figure skating zeitgeist. While each exists in a different genre and medium, there are some over-arching themes—perhaps most intensely explored in Spinning.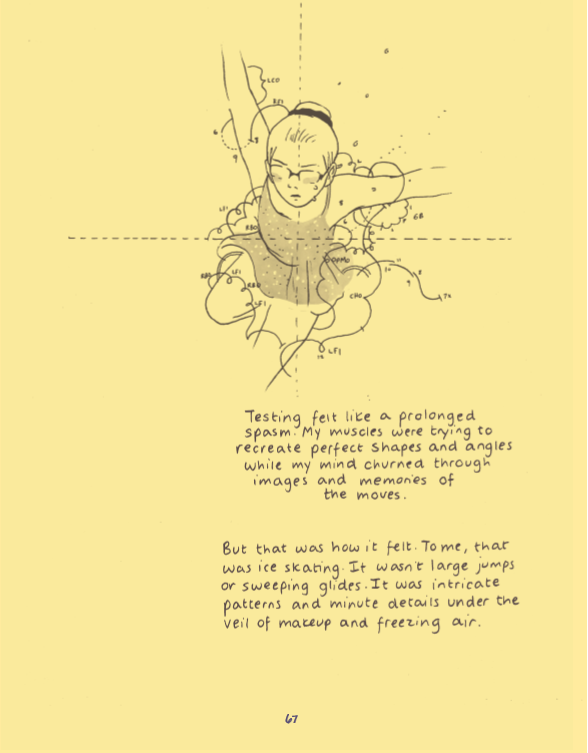 Although all competitive sports are stressful by definition, skating is uniquely anxiety-inducing. Success is tied up in the impossible ideal of perfection, with skaters expected to perform flawless jumps and spins for a panel of expressionless judges. Throughout the book, it's rare to see Walden express much joy in the artistry of the sport. Instead, her memories are colored by the terror of competition season, and the intricacy of the footwork required to pass another standardized test.
On top of the hard work and highly specialized skill involved, there's a constant pressure to fulfill expected gender roles. Female skaters must be delicate and feminine, with neat hair and makeup that Walden portrays as an awkward and painful necessity. And because it's the norm, none of them consider objecting to things like the rule against wearing underwear beneath your costume. It's an uncomfortable situation for any teen girl, heightened for Walden because she already feels like an outsider.
Spinning is a raw and intimate memoir, and likely to appear on many "best-of" lists for 2017. It's honest and sensitive, holding a different appeal for a wide range of viewpoints. As a coming-out story, it's painful and therapeutic. To figure skaters, the depictions of the sport and its culture will doubtless ring true. And for childhood overachievers, it's a firsthand observation by someone who grew up and escaped through an unexpected avenue. Each chapter begins by illustrating an increasingly complex skating move, showing Walden's improvement as a skater. Still, it's clear to us that her achievements are irrelevant to her happiness. We know that Walden will eventually become a visual artist rather than a skater, yet her journey is anything but predictable.