In today's chapter of "insanity from the video game world the likes of which you could not make up," someone is suing Sony because the fantastic graphics in a video game aren't fantastic enough.
The lawsuit is predicated on the multiplayer portion of Killzone: Shadow Fall, a PlayStation 4 launch title released in November 2013. That half of the game specifically is not running at native 1080p graphics resolution. The developer, Dutch studio Guerrilla Games explained on their website that they used a technique called temporal reprojection that takes visual elements running at lesser quality and upscales (improves) them into a 1080p screen resolution.
This, apparently, is not good enough for Douglas Ladore, a gamer from California, who filed the class action suit through the law firm Edelman PC. According to a report from Polygon, the suit seeks damages in excess of $5 million. The point of contention revolves around misleading marketing and text on the game box in regard to native graphics resolution.
When it comes to display quality, 60 and 1080 are the holy grail numbers in the video game world. Sixty frames per second and 1080p resolution are what some hardcore gamers consider minimum acceptable standards. They are appreciable performance benchmarks for video game systems when the game is technically demanding, like Battlefield 4 or BioShock Infinite, two games that are frequently used in current benchmarking tests.
Whether or not the human eye can tell the difference between an image drawn in 720p (720 horizontal scan lines) and 1080p (1,080 horizontal scan lines) depends on a relationship between distance from the screen on which the image is being drawn and the size of said screen. Ostensibly, Ladore is using a setup that falls somewhere on the purple section of this chart.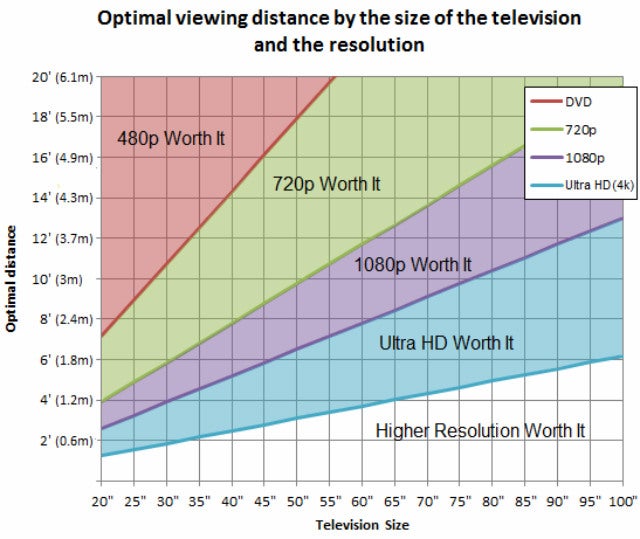 Whether gamers can or cannot perceive the difference between the two resolutions in practical terms, i.e. during the typically hyper-frenetic activity of a multiplayer first-person shooter match, the ability of the PlayStation 4 to display games natively in 1080p was considered a selling point for the console.
When news broke in Oct. 2013 that Call of Duty: Ghosts ran natively in 1080p on the PS4, and ran natively in 720p and was upscaled to 1080p on the Xbox One, it was considered by hardcore gamers as a mark of superiority for the PlayStation 4.
H/T Polygon | Chart via rtrings.com | Image via Guerrilla Games