We all go a little mad sometimes. Just maybe not carving-Janet Leigh's-terrified-face-into-a-pumpkin mad.
Just when you thought you couldn't see the shower scene from Psycho homaged, ripped off, blatantly copied, or parodied in any possible way it hadn't been done before, an obsessed fan has come along to prove you wrong.
How, you ask? Well, by carving key frames into dozens of pumpkins, turning the lights off, and filming the candlelit pumpkins while overlaying audio from the original shower scene. The result is a combination of bizarre, beautiful, and downright freaky.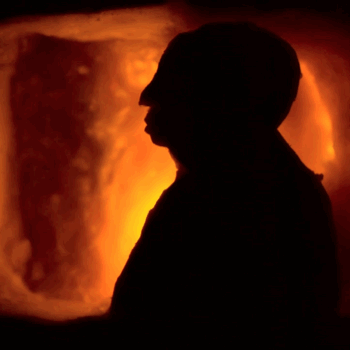 We don't know what's creepier, the actual effect of the shower scene as a pumpkin carving, or the fact someone took time to carve all of these pieces individually into pumpkins to begin with. Really, you don't know the true meaning of horror until you're staring at a backlit pumpkin carving and thinking, Wow, good job carving the blood on that shower curtain!
The deranged pumpkin-carver, Brooklyn artist Yuliya Tsukerman, kindly uploaded stills and other info related to the process of "slashing and stabbing" the scene out of her pumpkin collection. She also shared frame-by-frame comparisons and side-by-side scene viewings, so you can be that much more disturbed, I mean awed, at the accuracy of her carvings.
Since each frame took anywhere from two to six hours to complete, I had plenty of time to catch up on B horror movies. (Witchboard, people!) 
Sounds like a gal who knows her horror tradition. All due respect, but we don't necessarily want to be stuck in a dark room alone with her at night. *shiver*
Photo via Yuliya Tsukerman