On Patreon, you can raise money for anything from independent news coverage to your own music. But one of the highest-earning Patreon accounts is, unsurprisingly, for an adult video game. DarkCookie's NSFW dating sim Summertime Saga hosts over 17,000 patrons with $53,000 earned per month. The game isn't an outlier, either. As any Patreon user will tell you, some of the most popular creators on the service create porn of all kinds, from erotica to games.
Granted, suspensions do target adult artists and performers from time to time, including a wave that hit creators in summer 2018. Patreon's guidelines outright ban real-world sexual content and full-service sex work. But most NSFW illustrators and game developers are generally given a fair pass to do as they please, making the site a relatively safe bet for their fans. If you want to check out some of the best Patreons adult games and artists, here are our picks.
The best Patreon adult artists
1) Sakimi Chan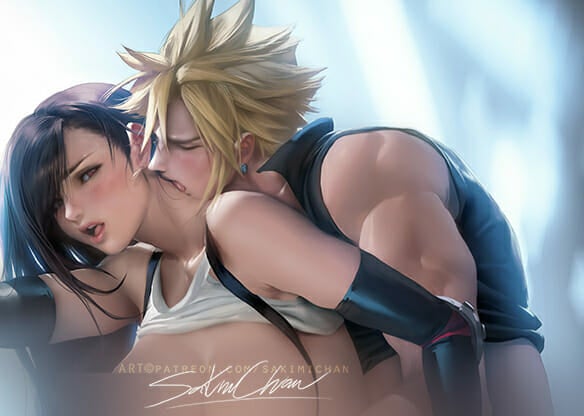 Sakimi Chan is a bit of a household name among Patreon artists. One quick look at her page will tell you why: She creates some of the best tastefully lewd artwork available on the site. And she has the fanbase to prove it, with over 7,600 patrons supporting her art.
For more than a decade, Sakimi Chan has been a popular and visible fandom artist on sites like DeviantArt. She's best known for her mixture of safe-for-work and NSFW digital fanart paintings done in a sultry pinup style. She draws suggestive depictions of men and women as well as yuri, yaoi, and straight ships. Her yuri depiction of Adventure Time's Princess Bubblegum and Marceline the Vampire Queen is a classic example, as well this steamy sex scene with Cloud and Tifa from Final Fantasy VII. On the pinup side of things, Sakimi Chan's "Bunny Mech D.Va" piece shouldn't be missed.
Patrons interested in subscribing to her adult content can check out her NSFW yuri, yaoi, and straight content starting at $7 once per term, or twice per month. For $10 per term, Sakimi Chan will also provide voice-over tutorials and group sessions for critique and feedback. Additional patron tiers—which are currently sold out—include custom prints and dedicated feedback between Sakimi Chan and her patron.
2) ThirtyHelens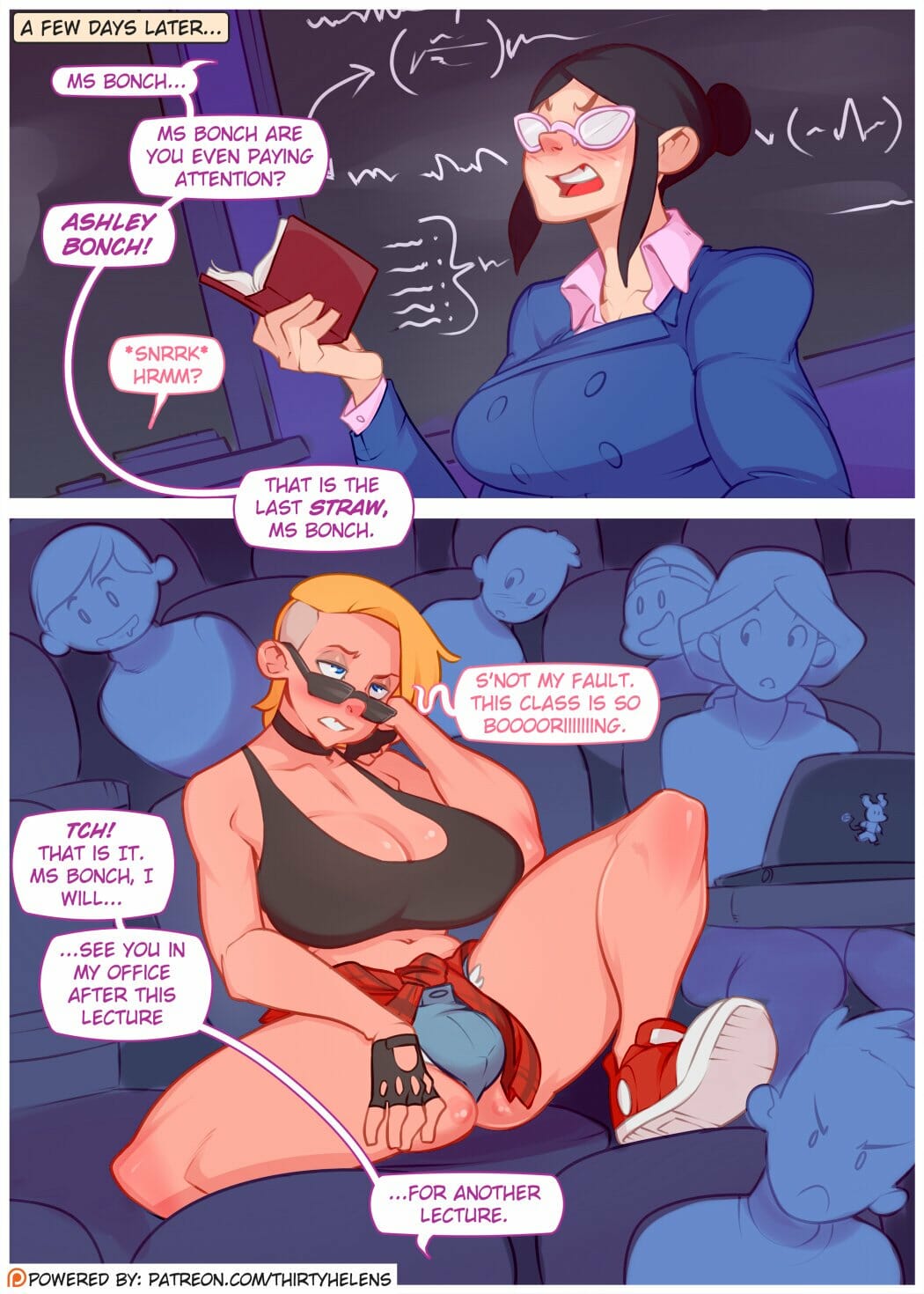 On her Patreon account, ThirtyHelens describes her work as focused "on the steamier side," with "mostly comics about trans women." That's a pretty accurate description of her work. Her comics feature a mix of femboys, trans women, and cis women in all sorts of kinky scenarios—and they're popular with both trans and cis readers. Most of ThirtyHelens' comics veer more toward "futa," or fantastical depictions of women with large, penetrative penises. Her comic Into It, for example, stars a ditzy trans girl college student who bumps into her old high school bully, who is also trans. The two proceed to hook up in an alleyway.
With just over 430 pledges split across four tiers, ThirtyHelen sports a relatively large following on Patreon. Her subscribers receive ongoing comic pages and illustrations regularly posted to her page. These come through frequent, regular updates every few days.
Highlights include the $3 tier, which gives users full resolution images of anything ThirtyHelens posts, plus full-resolution comics one week before publication. The $10 per month reward gives backers a PSD of everything ThirtyHelens does, uploaded "for you to peruse at your leisure."
3) Bramblefix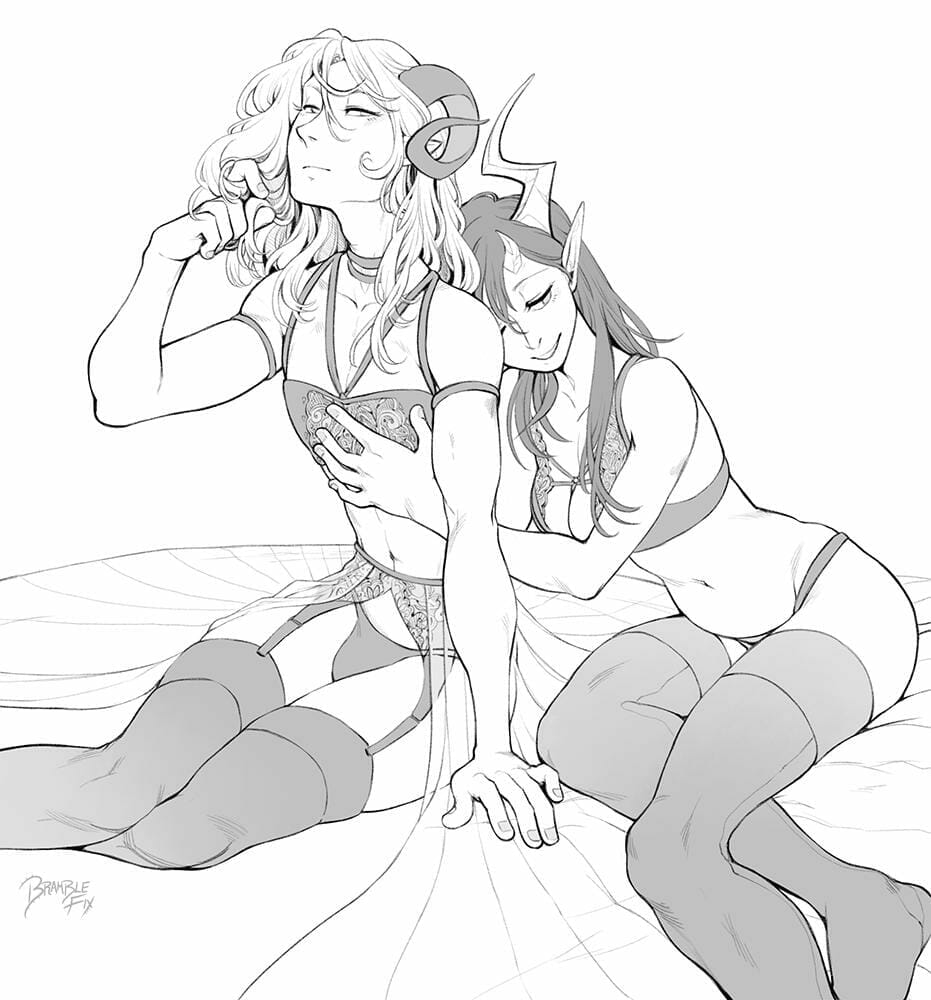 Plenty of queer artists are on Patreon, but few compare to U.K. smut peddler Bramblefix. Interested in "soft, sensual, kinky, and sweet erotica," Bramblefix is a lesbian artist who regularly draws adult illustrations and comics about queer women of all shapes and sizes. Sporting over 150 patrons, posts range from illustrations to comics to sketches, and her artwork features both cis and trans women spending their alone time together. Much of Bramble's artwork features subtle dominant/submissive themes as well as monster girls playing with their human partners, making her a solid choice for patrons interested in touching—but kinky—NSFW content.
Bramble's patron tiers range from $1 to $5, with an $85 option temporarily sold out. On the lowest tier, $1 patrons can access Bramblefix's work early and vote on future ideas. Patrons on the $5 tier, meanwhile, can watch Bramblefix's monthly art streams and get priority on commission requests by sending in their commission ideas one day early.
READ MORE:
The best Patreon adult games
1) Young & Naughty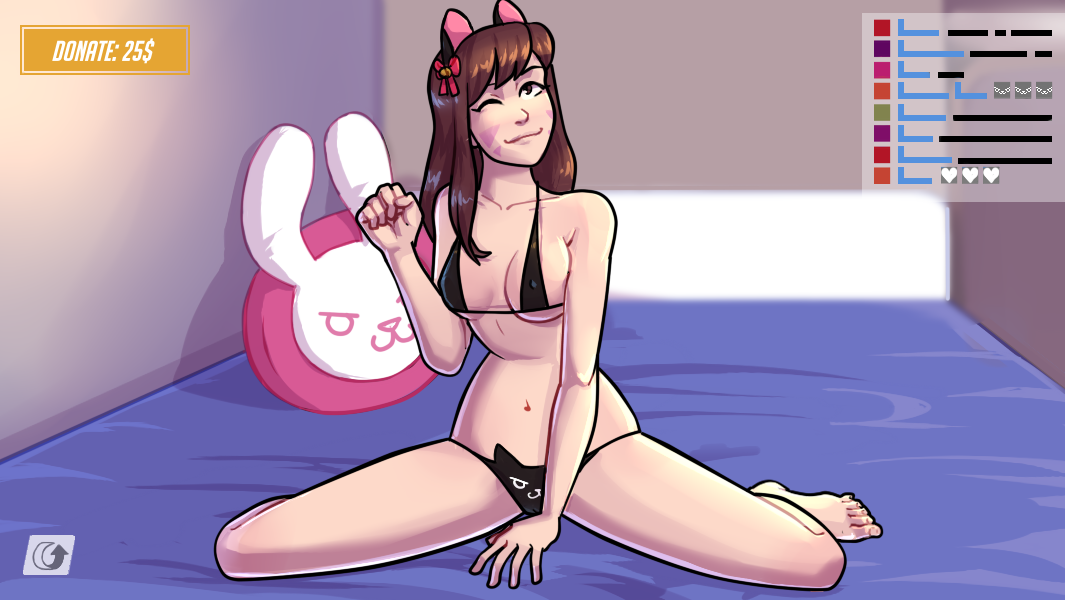 Patreon is the perfect platform for parody porn inspired by the biggest gaming franchises out there. Case in point, Young & Naughty's Academy34 is one of the best available for Overwatch fans.
Academy34 is a mixture of a parody and smutty Overwatch fanfiction. Built in Ren'Py as an adult visual novel, the game casts players as a new cadet to the Overwatch Academy, where they get to meet and hook up with some of their favorite characters from the series, from Sombra to D.Va. The game features a wide range of fetishes including public sex and BDSM, and the team regularly releases public builds of the game for free.
While players can still enjoy Academy34 without subscribing to its Patreon, backers receive a wide range of perks that make the monthly investment worth it. For $1 per month, backers receive the game's builds and updates early. For $5 per month, donors receive access to content spoilers, the group's Discord, and can vote for upcoming content. At $10 per month, patrons can check out Closed Testing builds early, and at $20 per month, players can have their name included in the game's credits. Everyone else can head over to the Young & Naughty team's official website to download early public builds.
2) Team Nimbus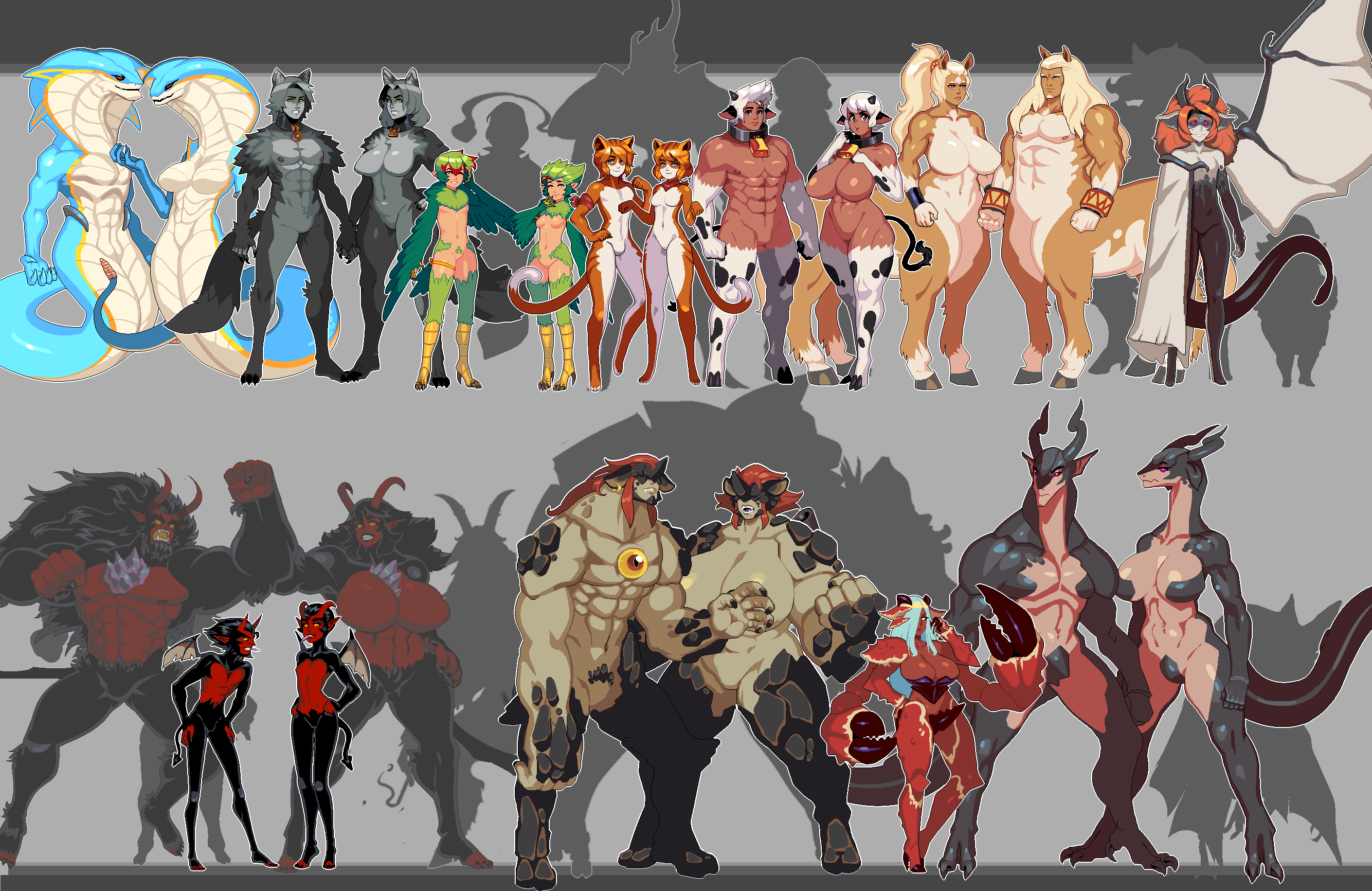 The best Patreon adult games are clever and ambitious, two words that best describe Team Nimbus. The group's upcoming game Cloud Meadow promises to let players "farm, breed, and battle your way through the growing pains of a small farm." Yes, that includes a lot of sex, too.
Cloud Meadow throws players into Cloverton, a frontier town in a world inhabited by both humans and monsters. Players are tasked with restoring the area's farms, which involves growing crops, exploring the nearby world, and caring for the game's monsters. As it turns out, many of these creatures are ridiculously hot, from plant men and women to demons, catgirls, and cowgirls. Players can breed their creatures to form a long-lasting lineage, or they can just have sex with their fully grown monsters (or both!). The game will particularly focus on "monster girls/guys, farm situations, milking, breeding, and a lot of vanilla stuff," with "hot and heavy passionate and consensual stuff involved at every level." And yes, that includes queer pairings too; Team Nimbus assures "every single character is getting an equal number of scenes with both [male and female] versions of the protagonist."
For fans interested in backing, Team Nimbus offers multiple tiers, from $2 per month to $50-plus. Highlights include early access to Cloud Meadow's demos under the $2 pledge, a special poll at $20 for choosing the game's HD and sprite sex scenes, and the ability to submit a new idea for an item each month at $50. For non-backers, Cloud Meadow also features a public build, which can be downloaded from the game's Patreon posts.
3) Project Helius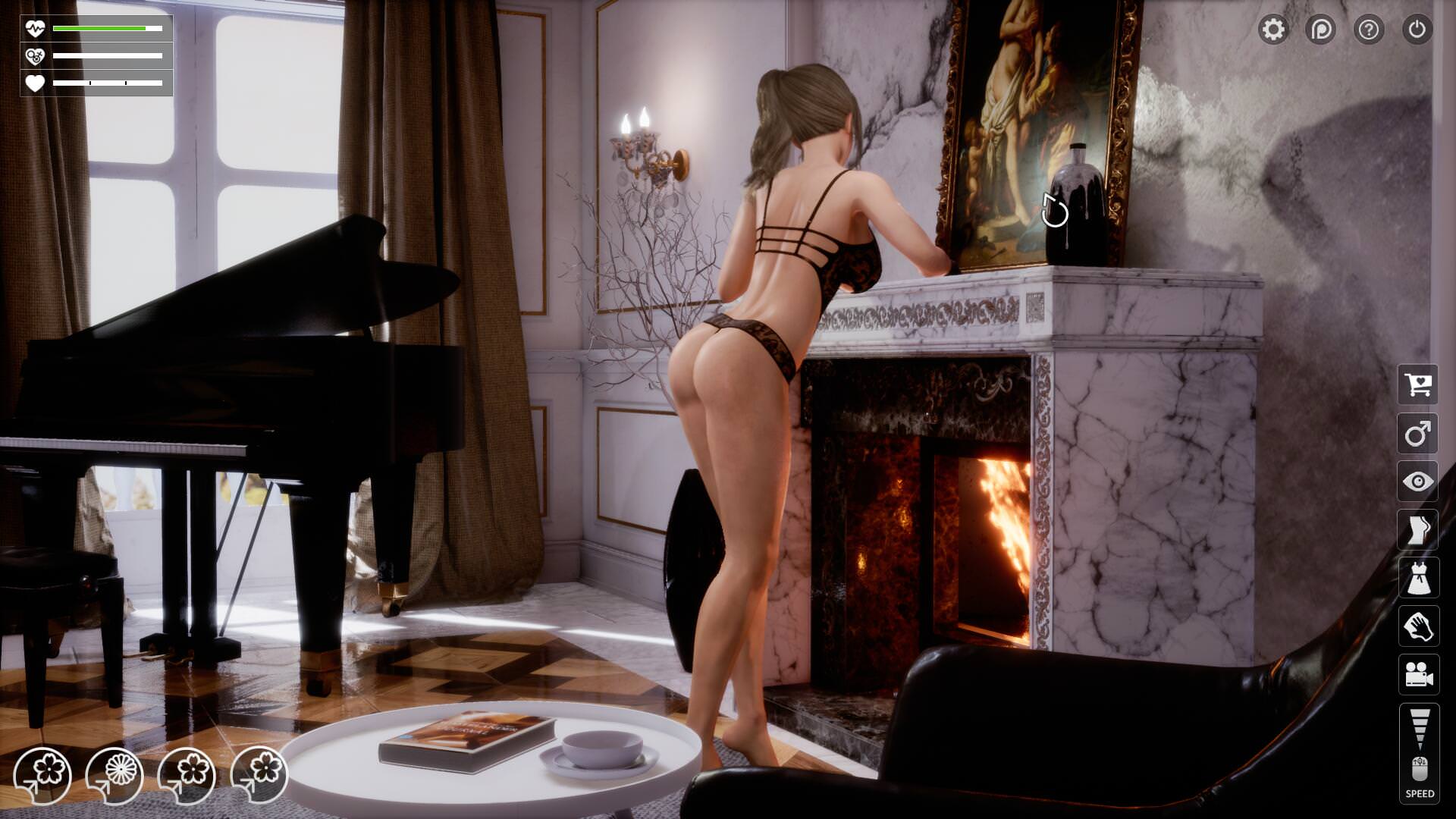 If there's one genre that will make virtual reality mainstream, it's porn. Project Helius' Fallen Doll isn't the first VR adult game to hit Patreon, but it's easily one of the best.
Project Helius is a self-described "real-time next-gen hentai game" with support for HTC Vive, Oculus Touch, and Windows Mixed Reality headsets. The game centers around a "state-of-the-art bionic humanoid robot" called Erika, which is "at your service to fulfill your wildest desire." Fallen Doll lets players interact with Erika in different ways, from modifying her body's breast size to having sex with her in myriad positions. It sports both impressive graphics and realistic physics, as well as a single player mode where users can enhance their doll's skills.
READ MORE:
For the record, the game is very popular. Project Helius sports over 3,500 patrons and has already secured funding for a part-time animator, a male actor, an advanced physics engine for "life-like jiggling and wiggling," and motion capture technology to "greatly improve animation quality."
If you're interested in supporting Fallen Doll's development, there are nine patron tiers available, from a $4-per-month tier to the "Aristocrat" class priced at $295 per month. The latter pledge lets patrons add options to monthly polls, name and customize an "Aristocrat" guest non-player character, receive 30-times voting power, and earn the full uncensored game after development finishes, among other perks. For interested players who don't have hundreds to spare, pledging $24 or more earns backers the full, uncensored version of Fallen Doll after the game finishes production.
Still not sure where to find exactly what you want? Here's your guide to the best porn GIFs, high-quality VR porn, the best porn search engines, everything you need to know about BDSM, and the hottest porn stars you should follow on Instagram. Plus, everything you need to know about watching porn safely in your browser.