The first rule of Clone Club may no longer apply to Orphan Black, one of sci-fi's hottest, critically-acclaimed shows.
But at the Orphan Black Season Two Premiere Fan Screening at the Sunshine Theater in the Lower East Side, it was all hints and secrets from the creators, the stars, and the 300 lucky fans who waited in line for hours and signed non-disclosure agreements (NDAs) in order to watch the season premiere two days before everyone else.
It was kind of like being at the Dyad Institute, the main hub for the Neolutionists who are testing and monitoring clones Sarah Manning, Alison Hendrix, and Cosima Niehaus, or even among the Proletheans, the religious extremists who raised fan favorite Helena. There were even plenty people dressed as their favorite, particularly Cosima.
We had few answers and so many more questions by episode's end. You'll want to watch this one live.
To get an advanced peek at the Season 2 premiere, fans started lining up as early as 11:30pm Wednesday night.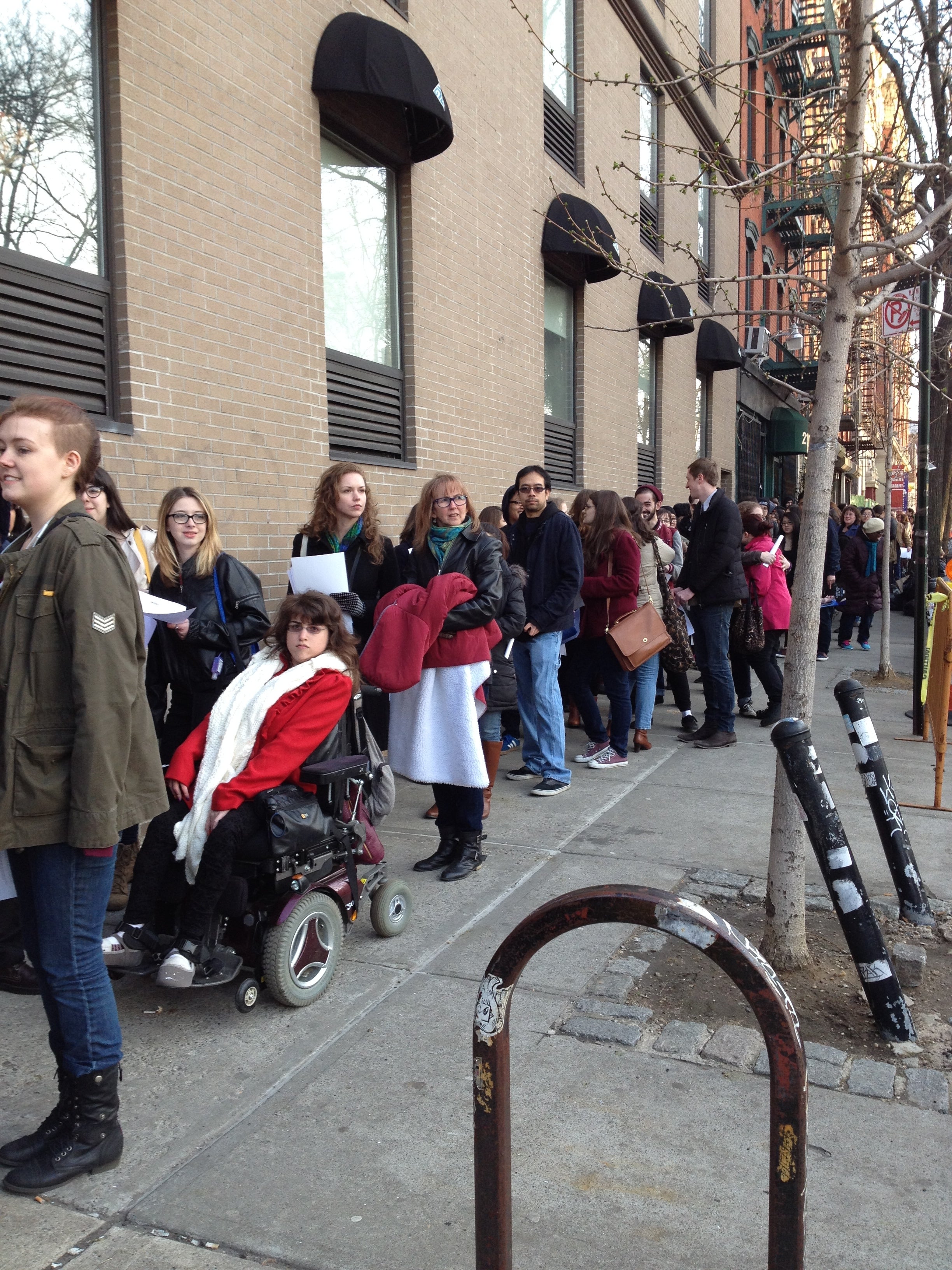 "I want to be surprised," said Jessica Moriarty, a fan who got in line around noon on Thursday.
Fans had already waited months for the new season. Though some just discovered the show on streaming services in just the past few weeks or days. That's how quickly people got hooked.
Last spring, BBC America premiered Orphan Black directly following juggernaut Doctor Who, and almost instantly people were obsessed. What was even more surprising for many is that once Doctor Who ended, people kept watching, and the fan base only grew from there.
"That kind of passion—it floors us," Orphan Black co-creator Graeme Manson told fans prior to the screening, calling the show he made with fellow co-creator John Fawcett a "binge-watching phenomenon."
The female-driven, action-packed sci-fi thriller is loved by many, and not just among women. Led by the insanely talented Tatiana Maslany, she embodies at least a half-dozen clones with full-fleshed personalities, often two or three of them in the same scene, that manage to escape falling into classic tropes. Felix, Sarah's foster brother, and Cosima have been praised for being queer characters whose sexuality wasn't the main focus.
When Maslany was snubbed for an Emmy nomination last year, the Clone Club (as the fans are affectionately called) decided to raise money to give her an award anyway. And Friday on Tumblr, the Clone Club brought on the #Alexandrepocalypse to celebrate the work of one of the hardest-working people on Orphan Black you haven't seen: Kathryn Alexandre, who stands in as Maslany's double in scenes featuring more than one clone.
The stars and creators have embraced the show's enthusiastic and growing online fanbase, especially on the show's official Tumblr, where they've spent just as much time reposting incredible fanart and reaction GIFs as promotion.
Actors Jordan Gavaris, Evelyne Brochu, and Maria Doyle Kennedy showed up at the Sunshine Theater earlier in the day to take selfies with fans and hand out free jello and muffins, both staple foods for Helena.
Jello, muffins & @EvelyneBrochu at the @sunshine_cinema. #CloneClub #OrphanBlack pic.twitter.com/rnfvfZzuIx

— Orphan Black (@OrphanBlack) April 17, 2014
And when the creators and actors sat down to answer the fans' toughest questions regarding their characters and the episode following the screening, they were floored by the support. Many fans praised the creators for making such a progressive show. Gavaris mentioned, when asked about what drew him into Orphan Black, that he was hooked after reading the first five pages of the pilot. Kennedy fell in love with the strong female characters.
Brochu embraced her inner fangirl and called Maslany "the best living actor in the world."
Manson and Fawcett promised that fans would find out more about the clones and go into Mrs. S's past in Season 2, but reminded them to not spoil it for those who saw it.
"Did we sign up to get monitored?" a woman in the audience shouted regarding the NDAs.
"Yes," Fawcett answered.
But with the laughs and cheers coming from the crowd, they didn't seem to mind.
Photos by Michelle Jaworski