It's no secret that the Oatmeal's Matthew Inman is a Nikola Tesla fan. In fact, he's perhaps the most vocal allegiant of the lot. Over the past three years, he's spent countless hours and resources trying to ensure that the inventor's name is remembered. Yesterday, he took another shot.
It was in August 2012 that the Seattle comic first set out to enshrine the Serbian inventor, responsible for such new devices as X-rays, the radio, and alternating currents, with a museum. He created an Indiegogo campaign that ended up raising $1.4 million. The following May, everybody thought that the Tesla museum was a sure thing to happen.
It turns out, however, that the $1.4 million Inman raised was only enough money to purchase the land on which the Tesla museum would eventually stand. Building the Nikola Tesla Science Center would likely cost another $8 million on top of that.
Earlier this week, Inman came forth with another comic, an open letter directed at Elon Musk, the CEO and chief product architect of Tesla Motors, the eye-poppingly advanced automobiles that have recently hit the market, to solicit help raising the necessary $8 million to make the museum a reality.
Inman lists a number of Musk's credentials, including a few generalizations about his wealth and his fascination with both Tesla and other facets of the future, before getting into the South African's willingness to spend money, pointing to the cool million he dropped on a James Bond-anointed submarine car.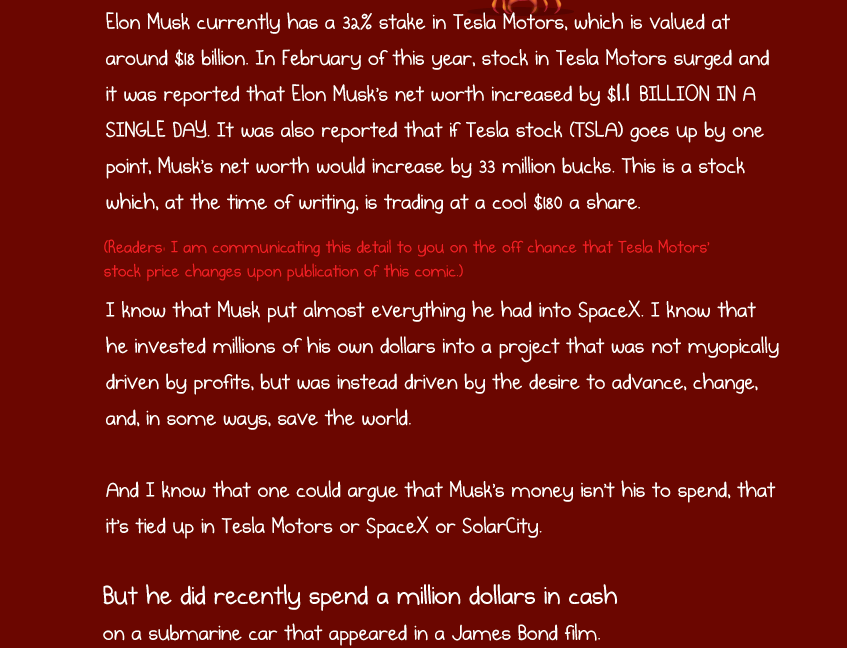 "That was a million dollars spent on what basically amounts to a very expensive toy," Inman wrote. "Albeit a pretty damned awesome one."
He closes by making his pitch for Musk to help support the museum, not just with another $2,500 donation but this time for the full $8 million.
"Tesla Motors, a company now worth billions, is using Nikola Tesla's name and they're using his technology, and all we want is a little bit of help."
Maybe more than a little? Inman continues: "I'm asking you to help finish what we started, and finally, gracefully, and with unfettered awesomeness."
When the comic published on Wednesday, Inman posted a link to Twitter beside a direct plea to Musk's handle. A few hours later, he got good news in response.
"I would be happy to help," Musk wrote.
   How much is unclear, but the Tesla Museum train's rolling. We're confident Inman will find a way to keep Tesla fans tied into it all as he moves forward.
Photo via Nikola Tesla/Facebook