After the huge success of its miniature version of the classic NES console, Nintendo has officially announced it's debuting a mini version of its SNES.
It too will be miniaturized and pre-loaded with 21 classic games, including favorites like The Legend of Zelda: A Link to the Past, Super Mario Kart, and Super Metroid. Fans have speculated about launch of the system almost since Nintendo debuted the NES Classic last year. Though very popular among nostalgic Nintendo fans, many had a hard time getting ahold of the console, especially around the holidays. It's unclear if Nintendo will up production for the SNES Classic.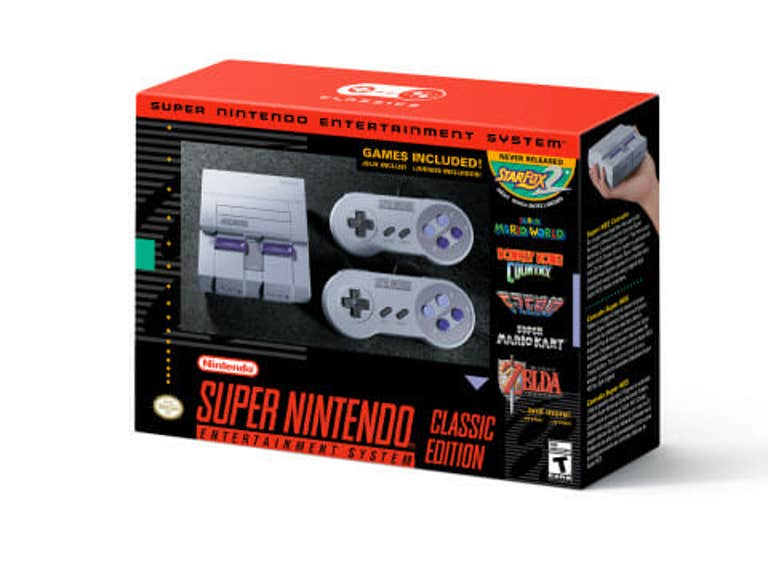 The mini SNES Classic will launch Sept. 29 at the suggested retail price of $79.99. You can see the full list of games included on the system below.
Contra III: The Alien Wars™
Donkey Kong Country™
EarthBound™
Final Fantasy III
F-ZERO™
Kirby™ Super Star
Kirby's Dream Course™
The Legend of Zelda™: A Link to the Past™
Mega Man® X
Secret of Mana
Star Fox™
Star Fox™ 2
Street Fighter® II Turbo: Hyper Fighting
Super Castlevania IV™
Super Ghouls 'n Ghosts®
Super Mario Kart™
Super Mario RPG: Legend of the Seven Stars™
Super Mario World™
Super Metroid™
Super Punch-Out!! ™
Yoshi's Island™
According to Nintendo, fans who complete the original Star Fox will unlock a never-before-released Star Fox 2 game.