Scissor Seven is many things: It's Netflix's first original Chinese animation series, a heartwarming slice-of-life, an action flick with killer fight scenes, and a crass gag-filled comedy that simultaneously embraces everything cliché and dissects everything cliché. Over 14 episodes, Scissor Seven proves that you can have it all. Yes, you can have your wuxia (a Chinese genre of fantasy and martial arts) assassins intermingling with a pirate crew helmed by a leader named "Captain Jack." And yes, you can have a cast of small-town residents going toe-to-toe with light saber wielding-sci-fi villains!
Scissor Seven
RELEASE DATE:
Jan. 10, 2020

CREATOR:
AHA Entertainment

STREAMING:
Netflix

Hair-dresser by day, assassin by night, Seven gets to know his fellow island townspeople by taking on assasination contracts, all the while dealing with his amnesia and mysterious past.
Our main character, Seven, is one of those assassins. Holding the 17,359th place on the assassin ranking list, he's hilariously mediocre at killing and moonlights during the daytime as a hairdresser. Over the course of the main story, Seven gets to know his fellow townspeople by taking on assasination contracts, all while dealing with his amnesia and mysterious past. 
Though Scissor Seven is labeled as a Netflix original, it's a series that Netflix acquired exclusive international distribution rights to. Created by AHA Entertainment, Scissor Seven aired under its original name, Killer 7, earlier last year in China. On Douban, one of China's most widely used review sites, Scissor Seven received a high rating of 9.0 out of 10, proving its popularity.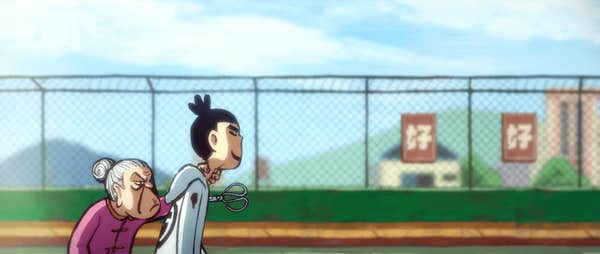 Scissor Seven shares similarities with a few recently released Chinese animated films such as The Legend of Xiao Hei and Ne Zha, both of which achieved high acclaim and warm reception. Like those two films, Scissor Seven borrows elements of Chinese mythology and fantasy, and integrates them into a modern context. (Unlike both of those films, Scissor Seven definitely is for a teen and adult audience rather than children.)
Intriguingly, Scissor Seven not only references familiar Chinese pop culture, it also explores an international lexicon of story and visual references. You can spot mechas, '90s Shojo manga bishonens, old ladies who have mean Hadoukens, inspirations from Chicken Run, scenes that visually borrow from fighting games, and parodies of really dramatic and cliché romantic Chinese dramas. Oh yeah, and there's endless wuxia stuff that's threaded through everything, with the genre making a splashier world-building appearance in the final episodes. For anybody who grew up on Jin Yong classics like Legend of the Condor Heroes and The Return of the Condor Heroes, the wuxia aspects in the series are a real treat.
Scissor Seven's sheer literacy in pop culture, Chinese or otherwise, is incredible. The storytelling is also tight, with multiple characters' stories told both chaotically and coherently. Much like the previously mentioned wuxia classic Legend of the Condor, our main character serves as a vehicle to meet other larger-than-life figures with legendary back stories. Except, rather than super powerful sect leaders, we get introduced to some extremely badass small-town villagers. I won't go into detail about their stories because of spoilers, but just know that grandmas, government officials, talking chickens, and more, all make appearances. It's a delight to see middle-aged ladies pulling some killer moves in fight scenes and beating Seven for all that he's worth.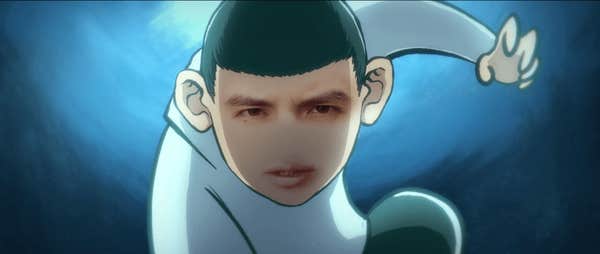 But I think what's truly incredible is that though Scissor Seven could easily descend into a predictable and boring gag following gag format, the series retains a true heart and soul. Sure in the beginning, a gag here or there seems misplaced or unnecessary. But by the end of the series, we end up genuinely caring about the characters involved in all of Seven's assasination contracts. We're weirdly moved by how Seven may suck at everything, but at the end of the day, he always tries to be a good person. You get the sense that Seven as he is now—bumbling and kind of useless but kind and surrounded by people he's connected with—is way happier and living a better life than his mysterious past. Scissor 7 has it all: genre-leaping comedy, a genuine love for its outrageous characters, and a reverence for world-building. 
Still not sure what to watch tonight? Here are our guides for the absolute best movies on Netflix, must-see Netflix original series, documentaries, docuseries, and movies. 
Looking for something more specific? Here are our Netflix guides for the best war movies, documentaries, anime, indie flicks, true crime, food shows, rom-coms, LGBT movies, alien movies, gangster movies, Westerns, film noir, and movies based on true stories streaming right now. There are also sad movies guaranteed to make you cry, weird movies to melt your brain, old movies when you need something classic, and standup specials when you really need to laugh. Or check out Flixable, a search engine for Netflix.