Nerdfighters all over the world are celebrating the third annual Esther Day by letting their IRL and Internet friends and family know that they are loved.
Considered to be the most important holiday in Nerdfighteria, Esther Day was originally started by the vlogbrothers to mark Esther Earl's birthday on Aug. 3, 2010. Earl was a Nerdfighter and massive Harry Potter fan who was diagnosed with metastasized papillary thyroid cancer in November 2006. During her many treatments, she made YouTube videos, was active on Twitter and Formspring, and helped run the blog effyeahnerdfighters. She was also one of the forces that helped the Harry Potter Alliance win a $250,000 grant in 2010.
As part of her Make-a-Wish, vlogbrother John Green and many of her friends flew up to visit her in Boston to hang out with her, and while he was there, Green promised Earl that he and his brother Hank would make videos on whatever she wanted on her birthday every year as long as the Vlogbrothers kept making videos.
"[Esther] waited a couple weeks before getting back to me," Green wrote on his blog. "She finally decided she wanted it to be a day that celebrated love in families and among friends.
"I think of Esther Day as a kind of Valentine's Day for all the other kinds of love."
Later that month, John Green made a video blog to announce that Earl had lost her battle with thyroid cancer at 16.
Since her death, Earl became a hero in the Nerdfighter community. Her parents started the charity, This Star Won't Go Out, to help other families of children living with cancer to pay medical bills, and they have raised thousands of dollars for families since 2011. The Harry Potter convention LeakyCon named their annual ball the Esther Earl Rocking Charity Ball after her, and she inspired Green to finish The Fault in Our Stars, which he dedicated to her.
"Esther has become a hero in our community," John Green wrote.
And every year Nerdfighteria comes together to celebrate Esther Day—and every year they get more creative.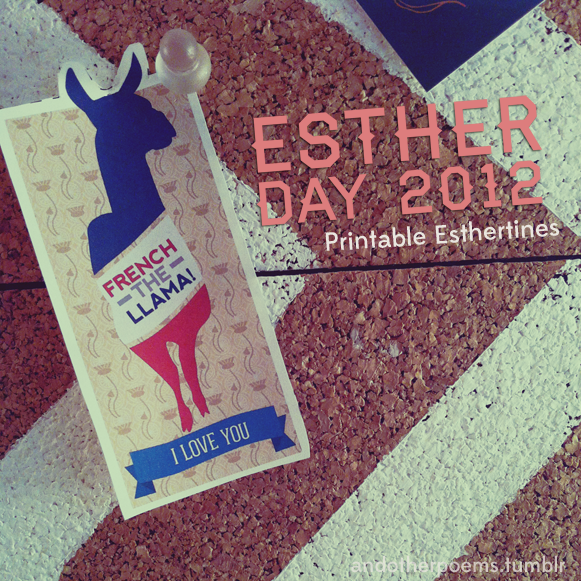 For this Esther Day, which marks Earl's 18th birthday, Joviana, a graphic designer from San Francisco, created free-to-download Esthertines.
"Like their Valentines counterparts, these are designed for you to print out and give to someone you love," Joviana wrote. "Feel free to write lovely things about them on the back! Esthertines don't have to be nerdfighter themed (but these ones just happen to be)." Since then, her post has received 2,899 notes.
Nerdfighters have also gone to Tumblr, YouTube, and Twitter to mark Esther Day and let people know they love them. Hundreds of people have mentioned Esther or used hashtag #EstherDay in the past day alone, according to Topsy.com, a social media analysis website. Lori Earl, Esther's mother, is hosting Esther Day in Quincy, Mass., where people and sing and dance, listen to stories and celebrate love. Nearly 170 people are confirmed to attend this evening.
Hank Green covers Esther Day in his most recent video and encourages viewers to say "I love you" to their family and friends.
"Remember that the value you bring to the world largely comes with what you love and who loves you," Hank Green said.
Photo via Tumblr