Inception is one of those movies that feels both unique and referential, taking inspiration from a long lineage of other films. Writer and director Christopher Nolan used a heist movie structure to tell a story about love and the fallibility of memory, with action scenes that felt like the next stage of evolution after The Matrix.
With that background in mind, we put together a list of recommendations for movies like Inception for fans. They range from cult classics to sci-fi blockbusters, calling back to different elements of Inception's genius.
Movies like Inception to add to your watch list
1) Paprika
This 2006 anime movie is often credited as a direct inspiration for Inception, featuring a similar dream-sharing technology. The main character is a therapist who enters people's dreams using an alter-ego named Paprika and becomes embroiled in a surreal, chaotic dream adventure. Unlike Nolan's sterile, meticulously organized vision of the human mind, Paprika is intensely weird and visually imaginative, replicating the illogical thought processes of a real dream.
2) Dunkirk
Is it cheating to recommend another movie by the same director? Possibly. But for obvious reasons, much of Nolan's filmography overlaps with the concepts and techniques we saw in Inception.
Memento may seem like the obvious choice for movies like Inception, but we chose Dunkirk due to its structure. As well as being one of the best war movies ever made, Dunkirk was praised for its unusual timeline. Nolan tells the story of the Dunkirk landings over three overlapping time periods: an hour, a day, and a week. It's an impressive technical feat that feels like a direct progression from Inception, whose final sequence took place over three interlocking setpieces moving at different speeds.
READ MORE:
3) Dark City
Directed by Alex Proyas (The Crow), this 1998 sci-fi noir stars Rufus Sewell as an amnesiac who finds himself accused of a series of murders. Fleeing the police and a mysterious group of entities known as the Strangers, he discovers that the city around him is far from normal. For one thing, it's always nighttime. Every day at midnight, everyone falls asleep and the Strangers rearrange people's lives and memories, depicted in a way that connects the human mind with our physical surroundings.
As you can probably tell from that summary, Dark City is a little hard to explain. Fortunately, it's easy to follow when you actually watch the movie. With a cast including William Hurt, Kiefer Sutherland, Jennifer Connelly, and The Rocky Horror Picture Show's Richard O'Brien, it's got plenty of star power beneath its creepy surface. Reminiscent of Terry Gilliam's Brazil, it's also a direct precursor to The Matrix. Every frame is beautiful, with a pre-CGI feel that you rarely see in contemporary sci-fi movies.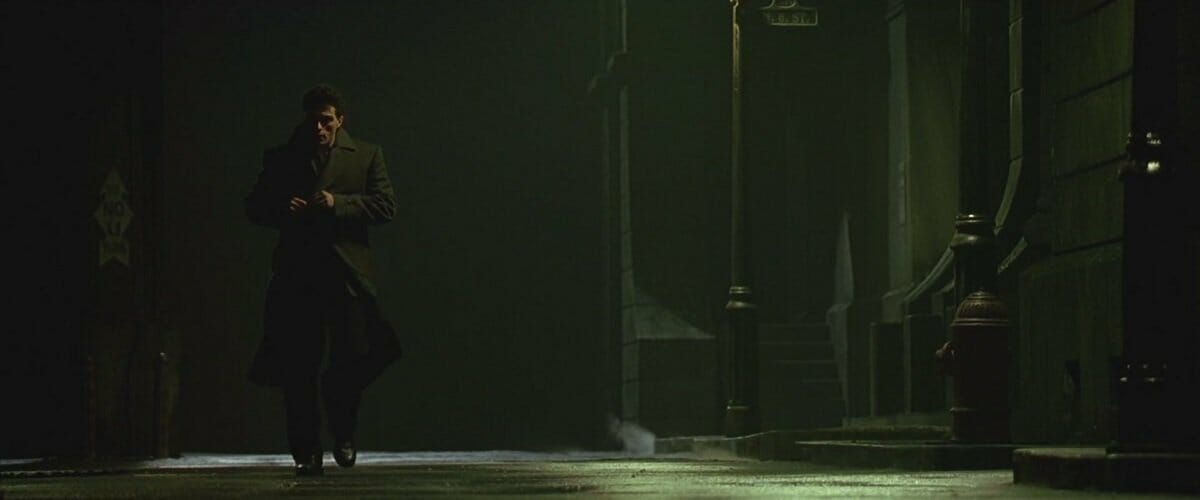 4) Eternal Sunshine of the Spotless Mind
If Leonardo DiCaprio and Marion Cotillard's conflicted love story was your favorite part of Inception, this movie should be next on your viewing list. Directed by Michel Gondry, this romantic sci-fi drama stars Kate Winslet and Jim Carrey as a pair of ex-lovers who went through a procedure to erase their memories of the relationship. The story mainly takes place inside their minds, using clever practical effects to illustrate a journey through their disintegrating memories. Eternal Sunshine won the Oscar for Best Original Screenplay in 2005 and is regarded as one of Jim Carrey's best dramatic roles.
READ MORE:
5) The Matrix
If you haven't seen The Matrix yet, what are you waiting for? Come on.
6) The Sting
Ocean's 11 is probably the most famous heist movie for contemporary audiences, but The Sting defined the genre as we know it. Starring Paul Newman and Robert Redford at their peak 1970s handsomeness, it's a crime caper about two professional grifters in 1936.
While Inception is more of a thriller than a comedy-drama like The Sting, it follows a similar framework of complicated confidence tricks and sly reveals. As Newman and Redford assemble their team and pull off a high-stakes con, you'll see exactly how brilliant the heist genre can be.
READ MORE:
7) Looper
Starring Inception alum Joseph Gordon Levitt, Looper will appeal to fans of Inception's brain-teasing structure. Levitt and Bruce Willis play the same character—a hitman who uses time travel technology to kill people sent back from the future—at different periods in his life. Known as loopers, these assassins always end their career by killing their older selves, thus completing their contract with their future criminal employers. Looper's intricate sci-fi worldbuilding likely contributed to director Rian Johnson being hired to make The Last Jedi.
Editor's note: This article is regularly updated for relevance.