The Glorious Leader is coming to a computer screen near you. In a side-scrolling indie game developed by Moneyhorse Games, Kim Jong-un saves the world. Riding his steed of illustrious victory, the tyrannical dictator brings totalitarianism to pixel art graphics. While the App Store is still not available in Pyongyang, users will soon be able to download the seven-level game after it's first released on PC.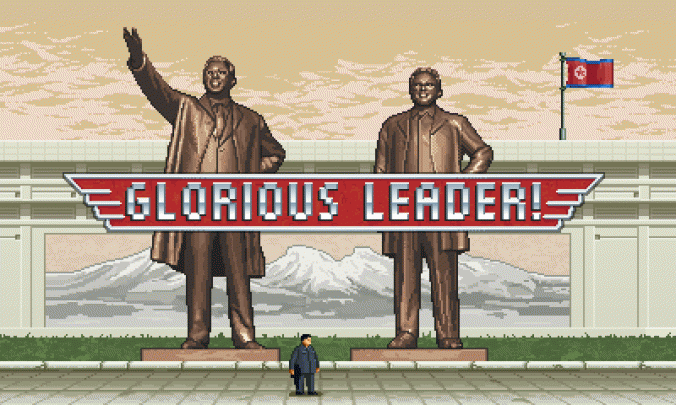 While new to developing small indie games, Moneyhorse informed the Daily Dot their team is well experienced in game development. They claim in their email that they were entrusted "with the great honour of creating such an important game."
Absolutely insisting this is not a PR stunt, the anonymous spokesperson confirmed they "did not choose to make a project about North Korea, we were chosen," stating that it was the "chance of a lifetime to bring light to the West from his Holiness' eternal flame."
The release date may be unclear, but in the teasers and screenshots given by the developers, it is already clear that Dennis Rodman makes an appearance in a plot that seems to revolve around a future U.S. invasion of North Korea.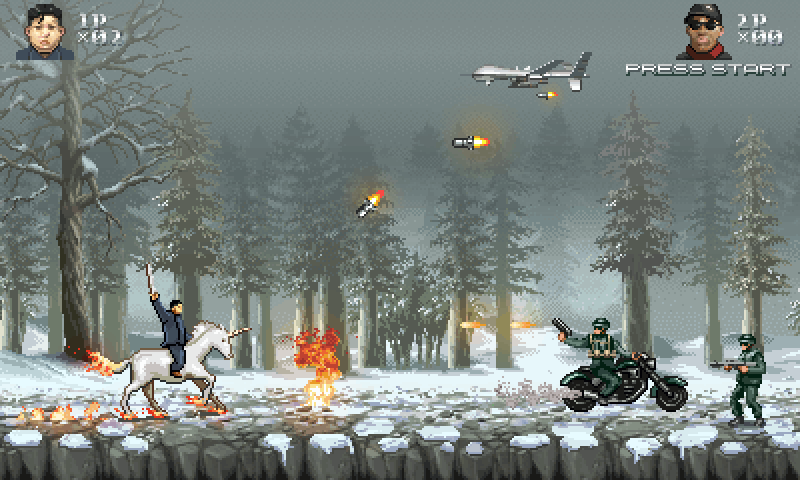 When pressed on the possibilities of a sequel in the World's Worst Leaders series, they hinted that "Vladimir Putin has already expressed interest in having Moneyhorse tell his remarkable tale."
Considering North Korea's history in "selecting" talent to make creative projects, there could very well be a kidnapped AAA game development team behind this obvious masterpiece.
Screenshots via Moneyhorse Games