In the world of figure skating, celebrity is often judged more by personality than by competitive success.
Adelina Sotnikova may have won gold in the women's competition at Sochi, but silver medalist Kim Yuna is still being hailed as "Yuna Queen." Despite pulling out of the Olympics altogether, Russian superstar Evgeni Plushenko is still hogging the spotlight. And while the men's event was dramatic enough in its own right, the skater whose every move is now being GIF'd on Tumblr isn't one of the winners, but the guy who came in 17th.
Uzbekistani champion Misha Ge is one of those Olympic athletes who knew they probably wouldn't be getting a medal this time around, and decided that the next-best thing was to have as much fun as humanly possible. While most skaters tend to perform a relatively classical program for the Olympics, Misha Ge danced the Mashed Potato on ice, and played air guitar while waiting for his results in the Kiss 'n' Cry.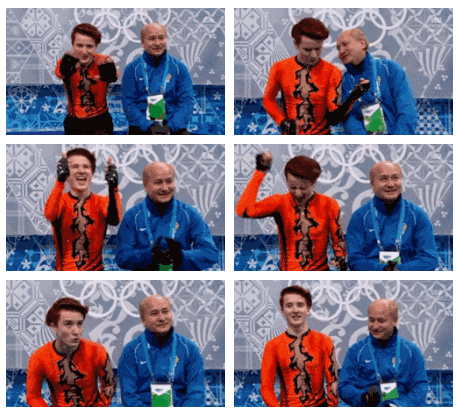 GIFs via askatingurl/Tumblr
He also flouted a rule that even the most inexperienced viewer would be able to spot: the ban on skating to music with lyrics. This rule will actually be relaxed next season, but for now, competitors are still expected to skate to strictly instrumental music. Too bad Misha Ge's long program involved dyeing his hair pink to match his costume, flirting with the judges, and skating to an electro-swing mashup that ended with Little Richard's "Tutti Frutti."
Basically, Misha Ge is not your traditional figure skating champion. Sure, he's skated to classical music like "The Swan" in the past, but since he stopped training with star coach Frank Carroll (previous pupils: pretty much everyone who ever won a medal, it feels like) and started training with his parents again, he's been more comfortable with music like "Gangnam Style." 
But that's not the only reason why he's the new No. 1 crush in figure skating fandom.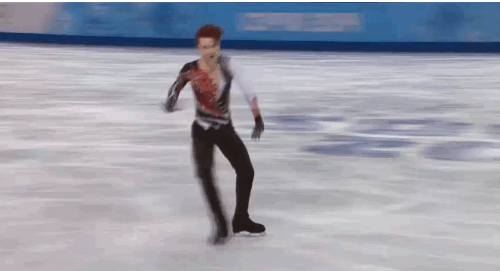 GIF via multiple-ectoplasms/Tumblr
1) He's a total fanboy
When he wasn't on the ice, Misha Ge was livetweeting his own event. Most Olympic athletes manage to feign a certain amount of "I hope everyone does well" sportsmanship, but Ge gives every impression of genuinely rooting for people who are technically his competitors.
Daisuke 4T,3A(sad), but its was The Most Elegant Skate in Competition! He really skate, and skate with soul. #Touching #Elegant #Beautiful

— Misha Ge (@Sk8Prince) February 14, 2014
To prove that he really is just like the rest of us, he's a Kim Yuna fanboy, and spent the latter half of the men's competition freaking out over whether Yuzuru Hanyu or Patrick Chan would manage to get the gold.
After FP on valentines day i had flowers after performance i gift it to one person and thanks that she took them : Yuna Queen ;) #GoYuna !

— Misha Ge (@Sk8Prince) February 17, 2014
Yuzu VS Patrick ? So intrigue !?!? Who ? Hard to Say , Very Hard to say , everyone is waiting .

— Misha Ge (@Sk8Prince) February 14, 2014
It's no surprise that his Twitter follower count doubled over the course of the Olympics. His English may be a little dodgy, but he makes up for it in adorability (and the fact that he's fluent in Russian and Chinese). 
Misha Ge's fanboyism doesn't just extend to figure skating, though. He's also a huge K-pop fan, to the extent that he actually auditioned for a realty TV show called K-pop Idol. Which brings us to…
2) His YouTube channel
Misha Ge isn't IRL-famous enough to have a publicist monitoring his social media accounts, so his YouTube account is a 50-50 split between inspirational playlists and selfie videos of his dance routines. We're particularly fond of his self-choreographed version of Korean boy band SHINee's Sherlock song. He performs it in front of a bunch of wind turbines, while wearing a sparkly gold jacket. This dude is a YouTube hero.
3) His awesome Instagram
Talk about the Selfie Olympics. Misha Ge's Olympic Village mission seemed to be to take photos of every figure skater he can get his hands on, from Charlie White to the entire Japanese men's team posing like a boy band. He even caught Johnny Weir, back in the day.
This one is probably the biggest case of Tumblr catnip, though: a photo with teen gold-medalist Yuzuru Hanyu, with Ge and Hanyu's names switched around:
Misha Ge is a perfect example of the crossover point between figure skating as a sport and figure skating as a One Direction–esque Internet fandom. He may not be a major player on the international circuit (yet), but his combination of showmanship and social media charm mean that he's probably going to end up with more fans than some Olympic champions have at the peak of their career.
Photo via mishageeze/Tumblr