Minecraft has inspired a large, dedicated fanbase over the years, but there's one group of fans that turned their love of the video game into a popular online community that's popular all its own.
In October 2010 Jason, known as Guude, created the MindCrack server where he and his friends could play the game with each other. Four years later, the MindCrack community has grown to include 25 members who play Minecraft together and enjoy in unique events on YouTube. Their videos earn hundreds of thousands of views each week and have a devoted group of fans.
Guude and seven other members of MindCrack spoke on a panel at PAX East on Saturday. Since getting started, some have been able to turn their obsession with the game into a career, thanks to YouTube.
According to Guude, it's community interaction—from the fanart to the Reddit comments—that fuels the success of MindCrack, especially the response to the video series MindCrack Ultra Hardcore. The group said they welcome all kinds of feedback from their YouTube viewers.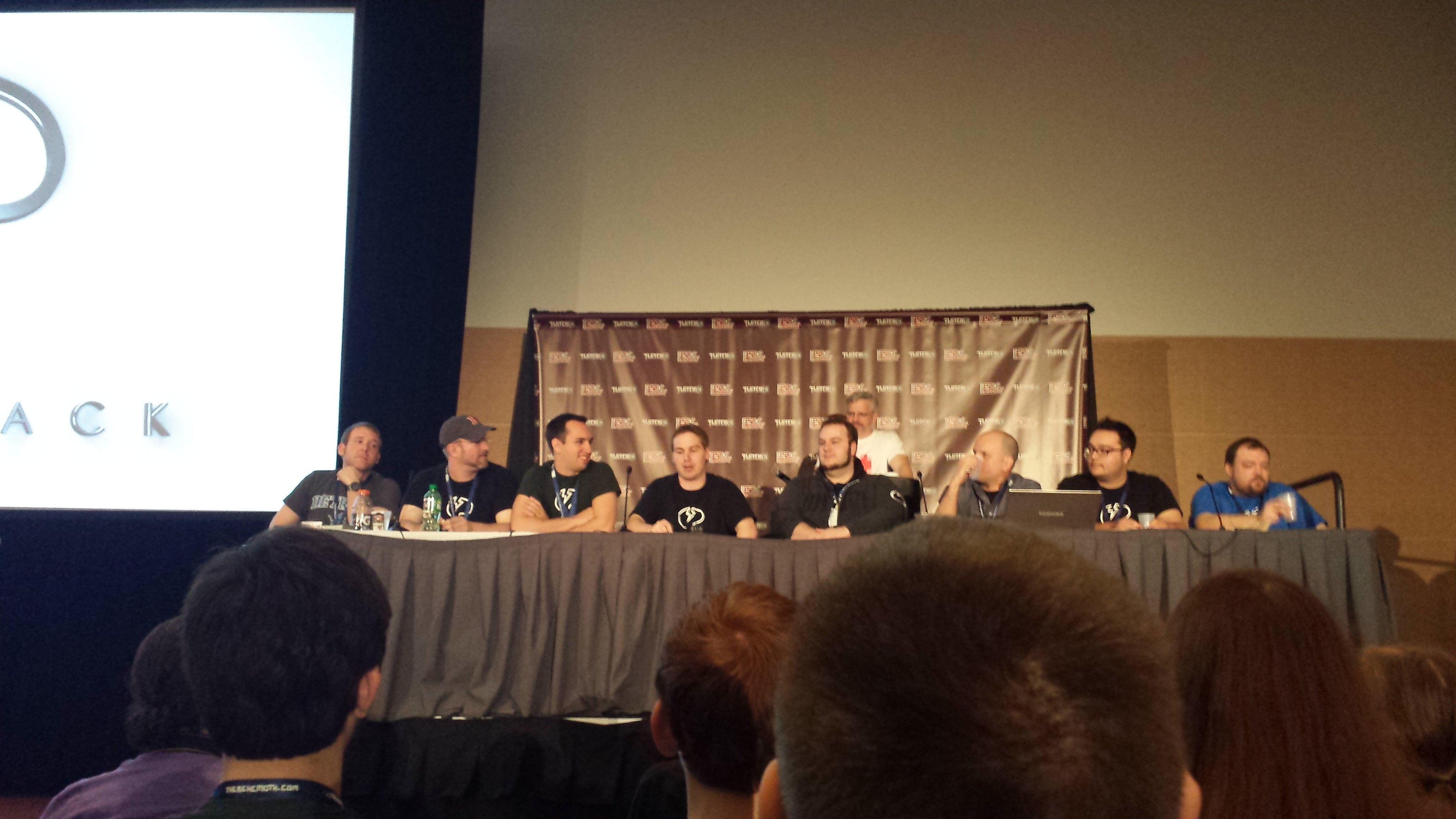 Photo by Lisa Granshaw
"If you like the video and [want to] say it's cool or give feedback…leave a comment, knock yourself out! It's always nice to see that sort of stuff," said BTC.
MindCrack has even inspired fanart, every piece of which Guude saves on his computer. BTC said he keeps every piece of fan mail he receives and every craft given to him by fans at conventions. MindCrack's popularity seems to be bolstered by this fan appreciation, and by the group's dynamics. For panel attendee Mike, who's been watching MindCrack videos for the last two years, that's what he enjoys most.
"I love their interactions with each other, they're all a bunch of fun people," he told the Daily Dot.
As for what inspires such dedication to Minecraft, it might have something to do with how the game never gets boring, even when you're watching someone else play.
"Minecraft has a really large replay value so you can play it like a thousand times and still enjoy doing it," Mike said.
Fellow panel attendee Kelsey agreed. "There are different play styles so a lot of people play differently and you see that on the MindCrack server, that people play different than their other members," she said.
Anyone else interested in creating a community like MindCrack might want to keep the emphasis on fan interaction in mind. Otherwise, Guude has just one piece of advice: "Don't be like anyone else, just be yourselves."
Money can't be your only goal. It's important to remember to have fun with the game. "The reason we are what we are is we're doing something that we love and that's how you do it," Martin said.
Learn more about MindCrack on their website.

Screenshot via GuudeBoulderfist/YouTube