We've seen some innovative and unique puzzle games in the past, but none that messes with our perceived fabric of reality.
Miegakure, a new puzzle game, has players shifting between the third and fourth spatial dimensions to solve puzzles.
Developer Marc Ten Bosch just put out a new trailer demonstrating how the game works. 
You probably remember from math class that the first dimension would be a dot on a piece of paper. The second dimension is illustrated by sidescrolling games like Mario. The third dimension is what we're now used to in games, from things like Call of Duty or Grand Theft Auto. The fourth dimension would be something beyond that. 
It's rather hard to explain. The following GIF can help us perceive fourth-dimensional space more easily.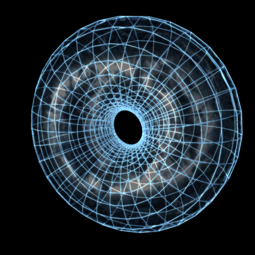 If you've ever played FEZ or Paper Mario and the Thousand Year Door, you'll have some experience with multi-dimensional gameplay. Using the advantages and limitations of each dimension to your advantage, players can cross gaps and reach destinations that would be otherwise impossible. Miegakure really forces us to think in the abstract by using this design.
For example, say you need to jump from one ledge to the other, but the distance is too great in the third dimension. There could be a platform in the middle in the fourth dimension that's part of a whole other world altogether. So mid jump, you switch from third to fourth, landing it. In the third dimensional world, you're only half way across the chasm. So from the fourth dimension, you continue making the jump, and mid-jump you switch back to the third dimension, successfully crossing the gap.
If that didn't make any sense, that's ok. It's not the easiest thing to pick up. Here's a GIF from Miegakure that may help.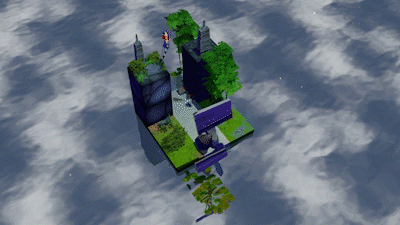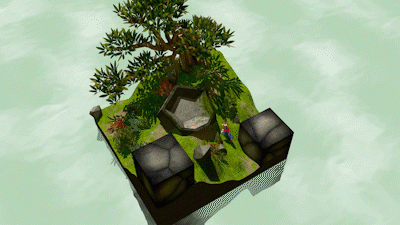 Miegakure has been in development for quite some time and updates have been incredibly sparse. There's no word yet on when it may be released. The last accolade the game received was during Indiecade 2010.
Image and GIF's via Miegakure GIF vita JoyReactor | GIF via Equanomics