A pay-to-win controversy in Minecraft has ensnared beloved Swedish game developer Markus "Notch" Persson in conflict with fans of the game and a veteran member of the press. 
Pay-to-win is usually a phenomena associated with free-to-play games that have traditional, player-versus-player modes. The idea is that one player can spend real-world money to purchase items in-game that give them a competitive advantage over other players. It's not something that you would typically associate with Minecraft, a relatively friendly game full of super-creative de facto Lego builders. 
Minecraft on the PC, however, allows players to host their own servers. In other words, users can create Minecraft worlds for whomever the server administrators want to jump in. Minecraft is a game that's all about customization and adaptation. Viewed in that light, it makes sense that companies would eventually create their own Minecraft servers and charge for access—especially if those companies are hiring professional coders to design unique aspects for these pay-to-play servers.
One of the base settings for Minecraft is whether or not other players may do harm to one another. In a game where you're constantly swinging pick axes around to mine rocks, this setting can be really important. Online Minecraft servers may effectively become player-versus-player environments if the "player harm" setting is switched on. That's the root of the pay-to-win problem in Minecraft.
Here's how it plays out hypothetically: Player A spends real-world money to get a full suit of diamond armor and a diamond sword, the best quality armor and sword available in the game. Player B would rather take the time to mine for enough diamonds to make their diamond armor and sword, rather than buying the items outright. Finding enough diamonds to make the items by hand takes a while. Player A is therefore going to have a huge advantage over player B if and when they go head-to-head and fight. In a game like Minecraft, where dying means your character drops everything in their inventory, such that another player can steal everything you had on your person after they kill you, that's a problem. 
The End User License Agreement (EULA) for Minecraft states that third parties may not profit from Minecraft in any fashion of which Mojang, the studio founded by Notch, does not approve. And it turns out that Notch does not approve of this sort of pay-to-win activity on Minecraft servers, and Mojang is threatening to enforce the EULA. That could mean altering how paid Minecraft servers work, or shutting them down altogether.
The companies who provide those servers are understandably upset over this proposition. Opponents of the philosophy say that players are being bilked out of their money, but that's a paternalistic criticism. No one is forced to play on these paid Minecraft servers that allow players to buy items, so who's to tell someone else how they may or may not spend their money?
Polygon recently questioned Notch about the companies whose economic prospects would be affected by enforcement of the Minecraft EULA. The queries were pointed but fair. Notch answered all five questions with a total of nine words—and proudly so. He shared the interaction on Twitter.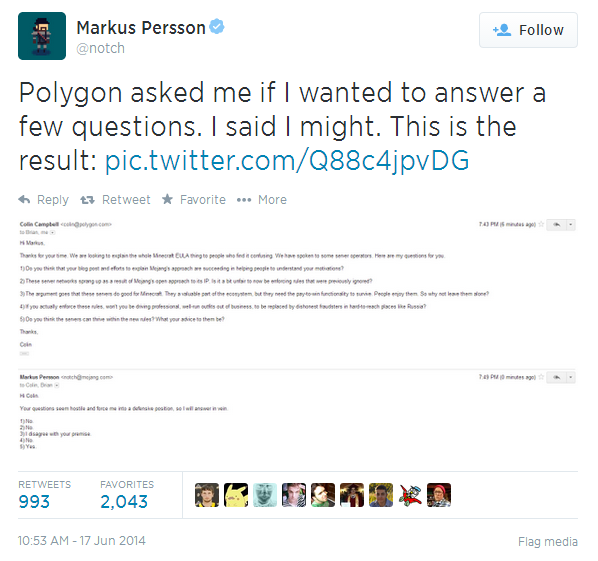 And so began another round in the pay-to-win argument that's been an issue in the video game industry ever since free-to-play games rose to such prominence. Notch, who is usually a paragon of the anti-establishment, indie game movement, was suddenly being called "worse than EA," or Electronic Arts. EA is the poster child for "the establishment" in the video game industry, a company that knowingly releases buggy or incomplete games. 
Notch has since clarified his initial answers to Polygon, but he hasn't commented on whether and when he's going to take specific action against any of the offending Minecraft servers.