Marvel faced a shocking and entirely unforeseen controversy this weekend. Unbeknownst to its writer or editor, the comic X-Men: Gold #1 includes hidden references to a religious conflict in Indonesia, urging Muslims to avoid trusting Christians or Jews.
The reference appeared on a character's t-shirt and was subtle enough that most readers would never notice. But some Indonesian fans spotted it right away and started a Reddit thread suggesting that the artist, Ardian Syaf, was using the comic "as a tool to spread religious bigotry."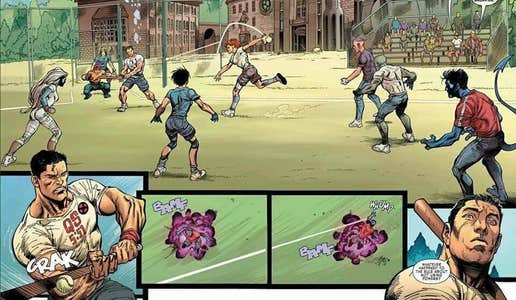 Unfortunately, that verse is popularly known by its less charitable translation. And it ties into Indonesian politics due to the backlash against Jakarta's first Christian governor, Basuki Purnama Tjahaja, aka "Ahok."
Ahok received a lot of pushback from conservative Muslim leaders in Indonesia, but things really came to a head when he accused his opponents of using verse 5:51 to deceive their followers. He claimed the verse was used to turn Muslim voters against him, an accusation that led to him to be put on trial for blasphemy. On Dec. 2 last year, an estimated 150,000 Muslims protested him in the streets. Ardian Syaf was among them.
And December 2? That's another code that wound up in the background of X-Men: Gold #1, in the form of a sign reading "212." The same panel also includes some coded antisemitic subtext, because Syaf wrote the "212" beside Kitty Pryde, a prominent Jewish character. She's standing in front of a jewelry store whose sign places the word "Jew" beside her head.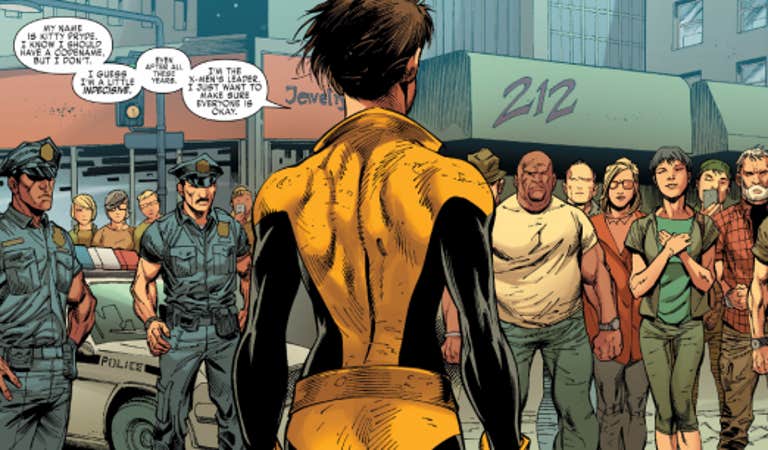 "These implied references do not reflect the views of the writer, editors or anyone else at Marvel and are in direct opposition of the inclusiveness of Marvel Comics and what the X-Men have stood for since their creation. This artwork will be removed from subsequent printings, digital versions, and trade paperbacks and disciplinary action is being taken."
Ardian Syaf responded on Facebook, although according to fan translations, he was not particularly apologetic, and pledged support for the 212 protests. His Facebook page is no longer online.
Comics are drawn several months in advance, and Syaf is already credited on issues #2 and #3 of X-Men: Gold. However, it's hard to imagine him being allowed to stay on after this. Someone at Marvel is probably going over his next two issues with a fine-tooth comb, and we can expect him to be replaced by a different artist for the rest of the series.