Marvel is perhaps feeling confident enough in its announcement of a Carol Danvers movie to just own up to artist Milo Manara's hilariously objectified variant Spider-Woman cover. 
The company is going ahead and printing the cover, which drew outrage from everyone ever because of the preposterous ass-over-end pose of Spidey-turned-Escher Girl, Jessica Drew. We're not sure what Marvel was thinking, but it appears to be something along the lines of, "Welp, maybe no one will notice if we strategically cover up the controversial part!"

Photo via Bleeding Cool
Hint to Marvel: putting that logo there is the opposite of "maybe no one will notice."
The cover, which Manara very plainly copied from an earlier erotic cover he'd done featuring a nude woman prostrated before a gang of men, spawned an appropriate surge of ridicule, along with a hilarious meme from the Mary Sue that poked fun at the ridiculous pose.
Because this is apparently just what happens when women call out things that objectify them, professional artist Vasilis Lolos came along and started a comment fight with the Mary Sue writers about taking issue with the art. The Mary Sue eventually banned him for trolling, after Lolos insisted that the Mary Sue's staff of female writers was just interrogating the giant heart-shaped ass from the wrong perspective.
Incidentally, the Daily Dot Tumblr took a stab at the Mary Sue meme when it was making the rounds. We think Domo-kun could have saved the day.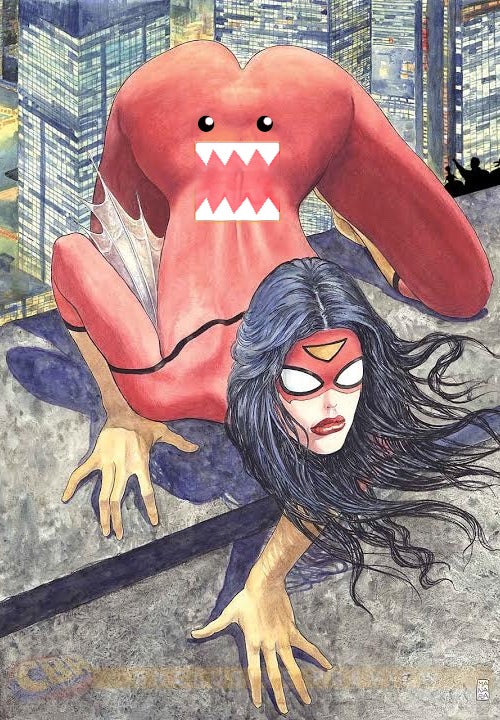 Photo via dailydot/Tumblr
The variant cover of Spider-Woman #1 is out tomorrow, and it will probably inspire a fresh new wave of ridicule from everyone who thinks the placement of that logo is as hilarious as we do. 
Mark this moment, guys. If you look closer, you'll discover that the Spider-Woman logo is actually an ambigram. Hold it up to a mirror, and it reads: This is why we can't have nice things.
Correction: The artist banned for trolling the comments of the Mary Sue was incorrectly identified in an earlier version of this story.
H/T Bleeding Cool | Photo via Tumblr