There was a period in the mid-2000s when new Harry Potter books supposedly kept "leaking" online. Fans would guiltily download them, only to realize that the file was just fanfiction. Somehow, in the year 2017, this is still happening.
Twitter user Shelley Zhang discovered this when a friend started messaging her about weird stuff he read in Harry Potter and the Order of the Phoenix. Stuff like teen sex scenes, Dudley Dursley jumping off a building, and necrophilia. Those Harry Potter books get pretty mature, right?
Friend is reading Harry Potter for the first time. He suddenly realizes he's read a fanfiction Order of the Phoenix instead of the real one. pic.twitter.com/tKNgT6usi6

— Shelley Zhang (@shelzhang) July 10, 2017
Their text thread is painfully hilarious. The poor guy just straightforwardly accepted a novel-length fanfic as the real thing, complete with a Ginny/Draco romance subplot and child torture scenes. No, Harry doesn't transform into a flying lion, and no, he doesn't have a pet snake who can see into the future. How did he not realize this himself?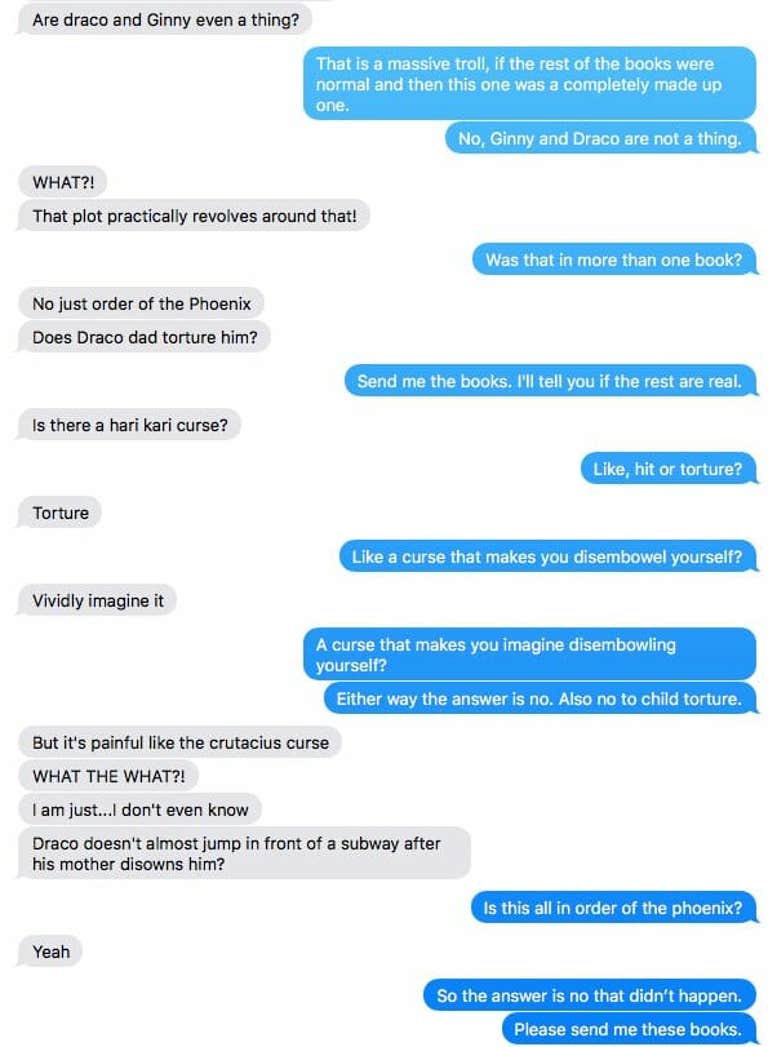 It looks like Order of the Phoenix is the only fake book he read, so now he'll have the fun experience of going back and reading the real version instead. In a way, this reflects what Harry Potter fandom was like during the wait for Order of the Phoenix to come out.
Fans produced a ton of fic between the release of Goblet of Fire and Order of the Phoenix, a period known as the Three-Year Summer. That's when several Harry Potter fandom classics were posted, including the epic trilogy that preceded Cassandra Clare's career as a bestselling fantasy author. There's a good chance that this particular fanfic came out around the same time, imagining what the future of the series would look like.
Hopefully, if the author of this fic ever comes across that Twitter thread, they won't be too offended. Their fanfic had plenty of tropes that would've been popular during the peak years of Potter fandom, including a Snape redemption arc and an angsty role for teenage Draco. But fanfic readers have different expectations for fic versus canon, making this a truly wild ride for someone expecting the real book.