A major report about the villains in the new Star Wars movie is getting a lot of attention. But fans should approach the rumor skeptically—it's most likely wrong.
Entertainment website Latino Review was the first to report that Star Wars: Episode VII's major antagonists would be the Imperial Inquisitors, a group that we already know will feature prominently in the upcoming Disney TV series Star Wars Rebels.
"The Inquisitors are defenders of the Sith Order and they've been around for a long time," the site wrote. "Just how long is what turns Episode VII's story on it's head."
When our hero(es) find Luke and the Inquisitors are revealed.Luke's explanation on the history of this order is going to trigger a flashback to explain that the Inquisitors have been tied into the Sith all along."
The report cited no sources, and Latino Review as a whole has a mixed reputation, though it been correct on some film news scoops in the past.
It was enough for the online Star Wars community to explode.
The as-yet-unnamed Imperial Inquisitor who will appear in Star Wars Rebels represents one of the first high-profile examples of the canonical universe borrowing elements from the Expanded Universe, the collection of tie-in material published since the late 1970s to supplement George Lucas' films.
The Expanded Universe introduced the Inquisitorius, an elite division of the Empire's intelligence service, in a series of young-reader novels back in 1996. Since then, they have been explored in novels, comics, and roleplaying game supplements, which have added to their mystique and appeal by painting them as fearsome agents tracking down Jedi who went into hiding in the aftermath of the Jedi Order's collapse.
With the establishment of a Story Group within Lucasfilm to coordinate storytelling across different media, fans have long been expecting to see some kind of connection between Rebels and Episode VII, the first two major Star Wars projects from Disney. The alien Inquisitor in Star Wars Rebels will be the main opponent of a band of rebels that features one such reclusive Jedi, Kanan Jarrus. If the Inquisitors were confirmed to feature in Episode VII, it would raise many questions about other specific connections between the series and the film, including whether the Rebels Inquisitor himself would appear in the movie.
Badass Digest, another entertainment site, was ready to jump on Latino Review's report with further clarification. It claimed—again, without citing any sources—that the main Inquisitor villain had already been partially revealed to the public: His was the robot hand featured in a recent tweet by director J.J. Abrams. Badass Digest also said of this character, "He wears a black robe. His eyes are deep red. And half of his face is metal. He's a cyborg."
Then the website Indie Revolver delivered concept art of the supposed Inquisitor, setting the stage for several days of breathless speculation about what kind of villain the Episode VII Inquisitor would be.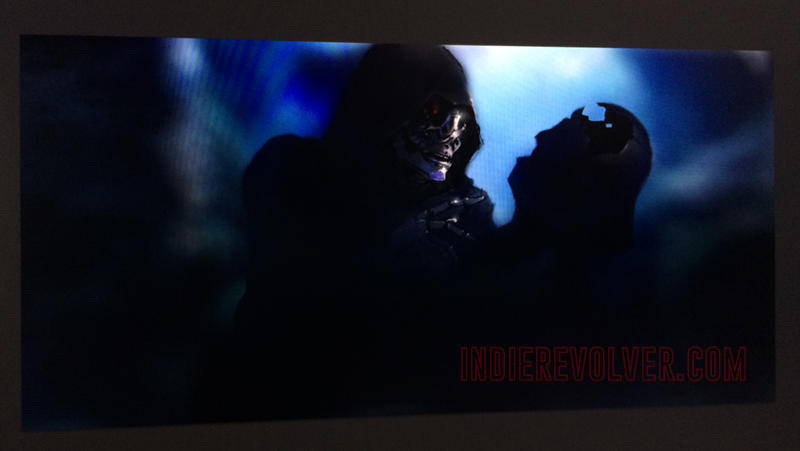 Image via Indie Revolver
Like most of the information that has been posted about Star Wars: Episode VII, however, it appears that talk of the film's main antagonist has been exaggerated. The website This Is Infamous weighed in a few days later to debunk what the other sites had reported.
"I have been told there are NO Inquisitors in the film at all," wrote Billy Donnelly from This Is Infamous. Donnelly has a pretty good track record himself, particularly with Disney movies. He's broken news about both Captain America: The Winter Soldier and Guardians of the Galaxy.
"No one on set has used the term 'Inquisitors,'" Donnelly writes, "and whatever evil forces are at play in this galaxy far, far away, they will be called something else, but definitely not Inquisitors."
Regarding Indie Revolver's concept art, Donnelly wrote: "My intel coming in is that this main villain character does not look like this one bit. At one point, it was an idea being tossed around, and this depiction is early concept art as to what the character's appearance could be. However, that was scrapped for something very different."
And then, regarding that J.J. Abrams robot-hand tweet: "In talking over details over the character, which have been hard to come by, it was stressed to me that one of the things I could be told safely was that he is NOT robotic in nature at all."
So sure, this kind of synergy between Disney's first Star Wars film and its first Star Wars TV show would be exciting. But it's pretty safe to say you won't be seeing Inquisitors in Episode VII.
Image via Thomas S./Flickr (CC BY-SA 2.0)