A couple years back, Netflix rocked fans' socks by announcing it was reviving The Magic School Bus, the beloved '90s children's educational cartoon starring an eccentric and caring teacher, her curious classroom of students, and the world's coolest school bus.
Now we're finally starting to get some details about the reboot, dubbed Magic School Bus Rides Again (after Netflix decided to ditch the previously announced title The Magic School Bus 360°).
So what do we know?
Magic School Bus reboot
The magic school bus seemed like it could do or transform into almost everything at the whim of Ms. Frizzle, but the new show is getting an upgrade. According to the New York Times in 2014, Magic School Bus Rides Again will feature an updated bus and newer scientific tools for the students to use like robots or a smart suit. And even the look of the show will get an upgrade with computer-generated animation.
It'll still contain the same lessons that made the show beloved by fans and educators alike, as Netflix chief content officer Ted Sarantos at the time called the revival "even more relevant and entertaining for today's kids."
READ MORE:
Magic School Bus Rides Again kids
Netflix has yet to announce most of the cast for the reboot, but the people who voiced the students could be coming back for more.
In January, TMZ interviewed Stu Stone, who voiced Ralphie Tennelli in the original series, and while he remained mum on most details regarding Magic School Bus Rides Again, he divulged what little he could.
Stone revealed some of the student voice actors from the '90s series will be involved—and there seems to be no shortage of actors interested in the project.
"There are tons of cameos planned. I know that there are big stars who want to be involved in this," Stone told TMZ. "And there's a whole generation of people who grew up on this series that want to be a part of it now that it's back."
As for who Stone is playing? While he couldn't say if he was returning to Ms. Frizzle's class, he did confirm that he is in the classroom at some point.
Magic School Bus Rides Again cast
Netflix announced on Feb. 7 that Saturday Night Live star Kate McKinnon will take the wheel of the magic bus as the voice of Ms. Frizzle. (Though we now know she plays the old Ms. Frizzle's sister, Fiona Felicity Frizzle.)
From what we can gather from Stone, it sounds like some of the student roles may be voiced by younger actors, some of whom he ran into when he came in for his recording session.
Magic School Bus Ride Again is shrouded in secrecy, which Stone noticed when he came in to record dialogue, noting "they don't tell you anything."
"The kids, none of them can say anything," he explained. "They're very, very—it's a top-secret field trip that Ms. Frizzle is taking the kids on."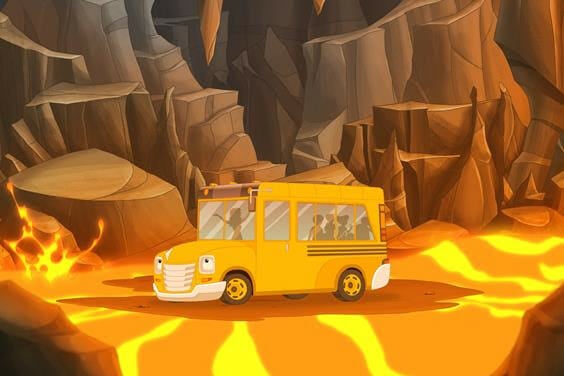 Magic School Bus Rides Again release date
Magic School Bus Rides Again was originally set to premiere 26 half-hour episodes worldwide in 2016. Season 1 of Magic School Bus Rides Again is officially premiering Sept. 29.
Until then, you can start binging all four seasons, which are available on Netflix streaming.
Still not sure what to watch tonight? Here are our Netflix guides for the best war movies, documentaries, anime, indie flicks, and movies based on true stories streaming right now.
Editor's note: This article is regularly updated for relevance.