A pair of young boys are at each other's throats, the misunderstanding of a frightened cop quickly mutates into tragedy, and a family is left shattered, driven from the only place they've ever called home.
It took roughly 30 minutes for Life Is Strange 2's first episode to elicit a genuine "oh, shit!" reaction from me, not just for the violence on display, but also the reveal of its true themes. It's not the budding LGBT romance sequel we may have hoped for, but it does champion its own kind of socially progressive teenage angst-filled drama. The femininity may be gone, but the heart and West Coast vibes are still there.
About 400 miles from the fictional Arcadia Bay, Oregon, in the overcast (and beautifully rendered) wooded suburbs of Seattle, Sean and Daniel Diaz are two brothers doing typical brotherly things. The 16-year-old Sean's sole concern is impressing the cute girl from school at an upcoming party, going so far as to meekly shove a couple condoms into his backpack, sighing at the futility of the thought. The 9-year-old (and far more precious) Daniel is busy making his Halloween costume and flirting with Sean's lady friends the only way a kid can.
The glue holding things together is their father, a warm and loving guy who enjoys working on cars but doesn't care what his kids do with their lives, as long as they're happy and looking out for each other. This earnest family unit is shattered when a confrontation with a bully neighbor goes awry, a cop mistakes Daniel's Halloween paint for blood, and, much like the first Life Is Strange, a mysterious supernatural ability is revealed. Only instead of saving a life, we end up with a pile of dead bodies and two fatherless brothers on the run.
It's a scene that will shake you emotionally, have you pissed off at trigger-happy law enforcement, and make you gasp at how quickly a life can be dramatically altered or ended. This is the first instance where Life Is Strange 2 (thus far) shows you what it's really about: People of color fighting for their lives in the Trump era.
There is talk of a wall, there are astonished and upset texts from election night between Sean and a friend, and there is always the undercurrent of racism that pervades day-to-day life for so many people of color in America. Life Is Strange's sequel has traded a sexually discriminated group for a racially discriminated one, and like its predecessor, it doesn't ever beat you over the head with this message, instead allowing it to peek through the character building and soft moments.
Make no mistake, the writing can occasionally be just as cringeworthy as Chloe's "hella!" from the first game. Daniel is a repeat offender of the cute little brother stereotypes—innocent enough to make puppies pale in comparison, but smart enough to really nail his brother where it hurts when the plot calls for it. That said, enough care is given to their dialogue to make them feel like relatively genuine kids, including references to Airbnb and The Last of Us, of all things.
But it works, in its own way. The choice-based narrative gameplay that Telltale's The Walking Dead (RIP) and Life Is Strange helped revitalize is consistently present in meaningful ways. You will be forced to look out for Daniel's best interests, sometimes at the expense of his attitude with you, and Life Is Strange 2 gives you plenty of opportunities to sweat like a single parent or guardian. Do you treat yourself to a hot meal to lift your spirits, save your money up for a sleeping bag, or do you risk everything to steal something that could mean the difference between surviving and freezing to death?
If you enjoyed how the prequel series Life Is Strange: Before the Storm explored how we sometimes protect our loved ones by lying to them, then you'll doubly enjoy the delicate nature of Sean and Daniel's relationship. The game reminds you to be mindful of Daniel's frail nature as he slips over a log or struggles with sleeping. Life Is Strange 2 clearly wants to put you in some positions where there isn't a right answer, but there is a choice between caring for yourself, looking out for those less privileged, or shielding them from a harsh reality.
That's the political angle in a nutshell, really. Like "pro-life" activists who don't even blink at immigrant children being held in cages, we're presented with a choice: stay shielded by our privilege or share it with those who don't have such luck. There's a side character players will hopefully meet about two-thirds of the way through (who I dare not spoil beyond the basics) who manages to evoke those principles of empathy in such a stunningly real and affectionate manner, I found myself hoping for an entire game focused on him. It's clear to see that not only will Sean and Daniel have to contend with their sibling's capacity for kindness, but also that of strangers in a harsh world, making this tale just as much about fictional characters as it is about us.
It's difficult to say how this will turn out after only the first episode. For all I know, perhaps the political subtext will be dropped as we witness Sean and Daniel's relationship evolve. The way this cruel world either brings them together or rips them apart, however, will likely continue to dictate where we go from here.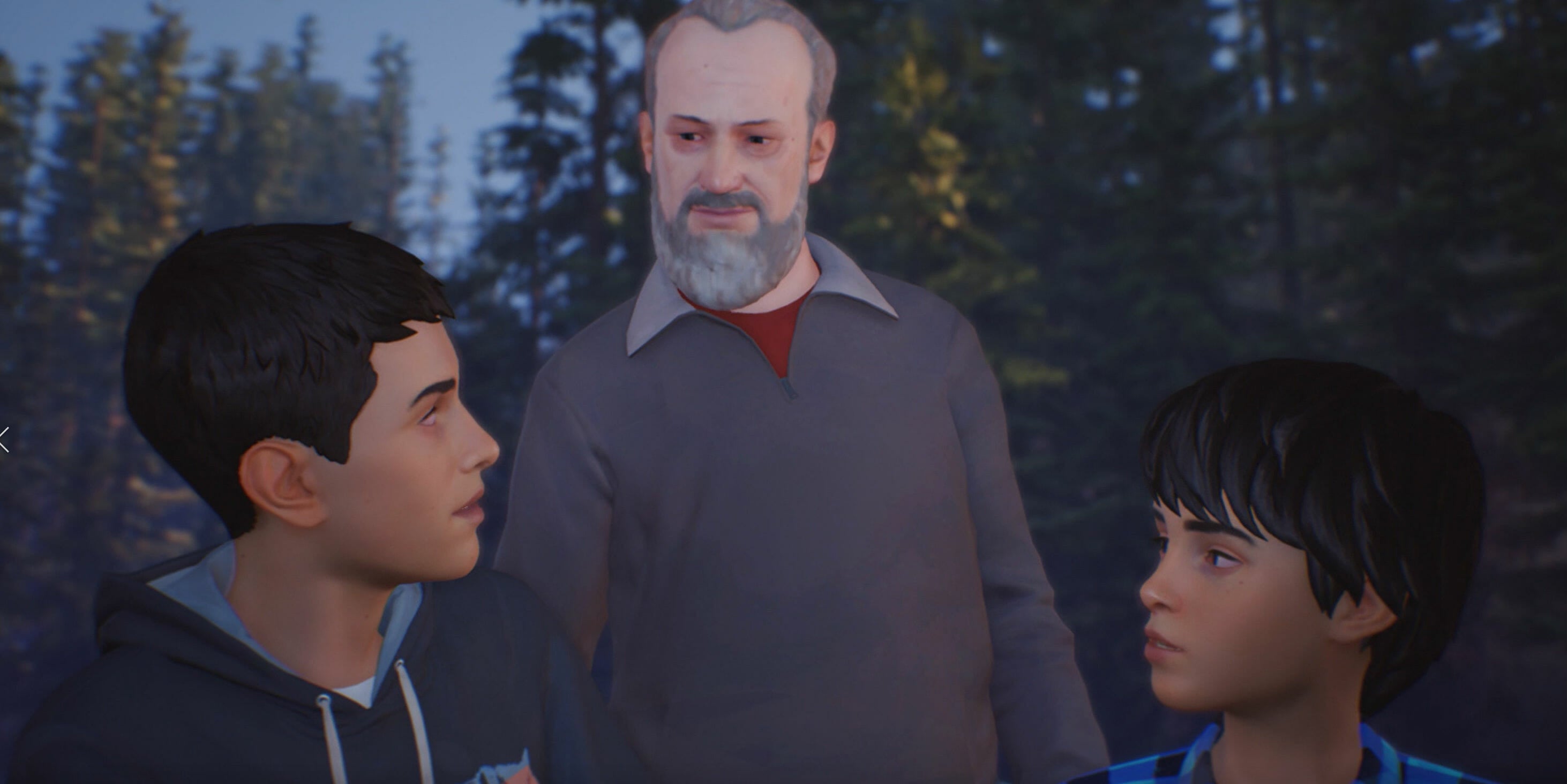 It's understandable if fans of the original Life Is Strange feel left out. After all, it's not every day that we get not one, but two seasons of adolescent LGBT self-discovery. It's impossible to understate how much that meant for members of that community. Like the butterfly iconography that riddled it, Life Is Strange's exploration of LGBT adolescence surprised us by emerging, beautiful and proud, from a cocoon of our preconceptions.
Chloe, Max, and Rachel's stories are over, we must assume, but not at any point along the journey with Sean and Daniel did I ever doubt I was inhabiting the same world, with the same lovingly cringeworthy kids, and with the same beating heart that only the Pacific Northwest can provide. Already, the same fears and preconceptions I had about this season are washing away, and I can just begin to see the same charm and beauty emerging once again.
Score: 4/5
Life Is Strange 2 was reviewed using a PS4 code of the game provided by the publisher. Life Is Strange 2 is available Sept. 27, 2018 on PS4, Xbox One, and PC.