"What would this website do if Leonardo DiCaprio actually won an Oscar?"
Your question is an urgent and important one, useyourcontextclues. While Tumblr has had a few heroes in its time, none of them have loomed as large over the landscape as has Leonardo DiCaprio, the fair-haired, doe-eyed prince of our childhoods.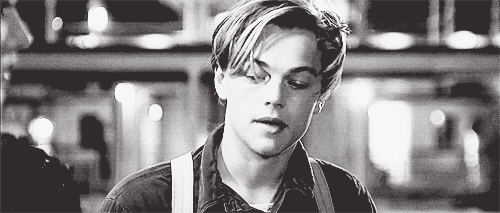 GIF via yin-meets-yang
But in the Game of Awards, Leo is Stannis Baratheon: underappreciated, dismissed, and unloved except for a silent army of loyal and devoted followers who wait faithfully for him to nab the crown.
It'll probably happen like this:
Screengrab via the-iou-apple; GIF by gentlementleman
No, seriously, I don't think you guys understand how much Tumblr wants Leo to win an Oscar.
Maybe it won't happen this year—although he is nominated for his role in Wolf of Wall Street—but when it does, we'll be ready. We've even made fan videos.
How did it all come to this?
Here's the story.
Leo vs. the Oscars: The early years
Demanding Oscar justice for Leo is not a new pastime. In 1998, Siskel, Ebert, and millions of sobbing teenagers all declared that he was robbed of a nomination for Titanic. Even Celine Dion opined on the fracas: "To me, he's James Dean. He's wonderful—I can't believe he's not nominated!"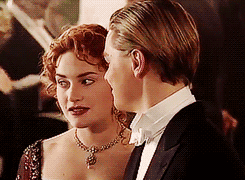 GIF via keatonsaysmeow
But that was 15 years ago, and fans have gotten impatient. Most of those fans are now on Tumblr, where routine fandom enthusiasm has joined with what appears to be the collective belief that when your resume includes things like The Basketball Diaries, Romeo + Juliet, Inception, and The Departed, it should probably include an Oscar as well.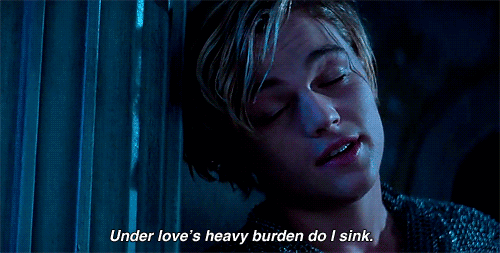 GIF via themontaguepride
The Middle Years: still no Oscar.
DiCaprio knows a thing or two about Oscar snubs. After doing three films (now five) with the legendary Martin Scorsese, in 2007 Leo took the stage at a Tokyo press conference to promote The Departed. The Academy had denied Scorsese the prize for so long, he said, that it was "almost a practical joke" at this point.
You don't say. The Departed went on to earn four Oscars, including Best Director. For Scorsese, the seventh time was the charm. Does this mean Leo will have to be nominated three more times (not counting his current nomination as producer of Wolf of Wall Street) before he can win?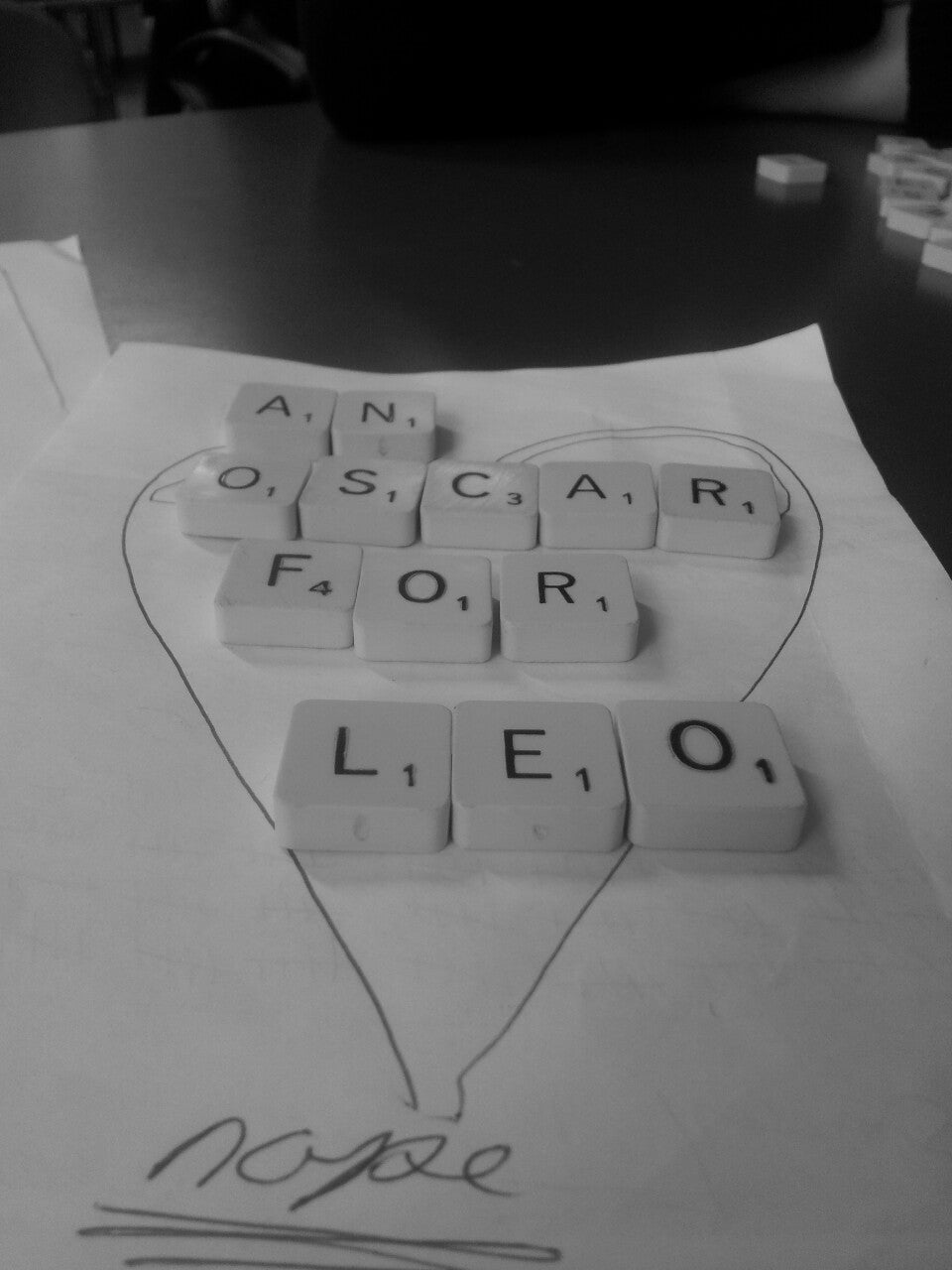 Photo via just-your-average-psychopath
By 2011, fans were asking themselves incredulously why Leo hadn't yet won.
Leo will get snubbed, he always does :( #giveleoanoscar RT @eonline: Who'll Get Nominated—and Snubbed—by the Oscars? http://eonli.ne/eTPEXL

— Claudia Titolo (@Clouds1) January 24, 2011
mrgolightly:

Exhibit A: What's Eating Gilbert Grape?

Exhibit B: Titanic

Exhibit C: The Aviator

Exhibit D: Revolutionary Road

Exhibit E: Shutter Island

Exhibit F: His motherfucking face.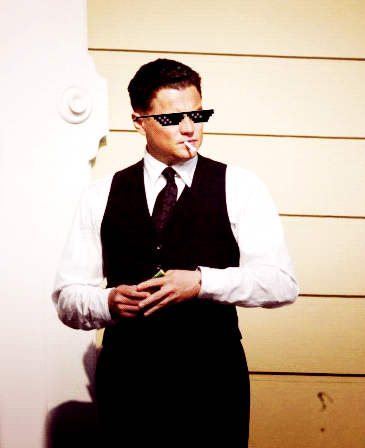 GIF via melisandre
"[S]ometimes I think that, at this point, the Academy not giving Leo an oscar is just like a running joke for them now," wrote darrenisms in August.
By early 2012, as Di Caprio faced an Oscar snub for his leading role in J. Edgar, the refrain, "where is Leo's Oscar?" became more and more frequent. Thanks largely to the antics of Tumblr user whereismyoscar, the tag started to circulate, as did images of Leo weeping for his lost love: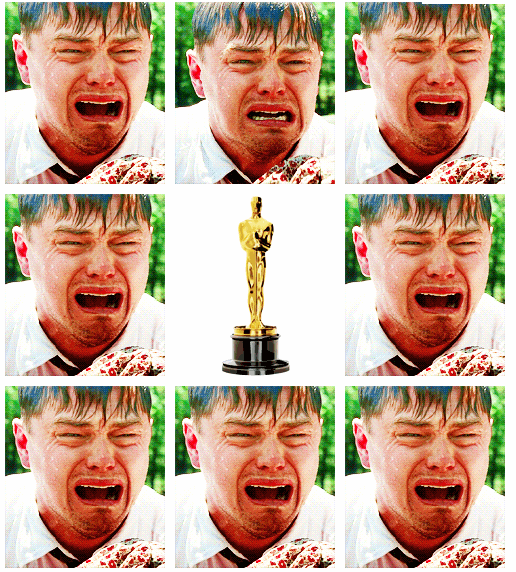 GIFs by whereismyoscar
Then came the first glimpse of Leo's legendary Awards Night sad face.
January 15, 2012: The Golden Globes—Part one
You all know it by now: Leo's tragic expression as he realizes that his award dreams have been caught on camera: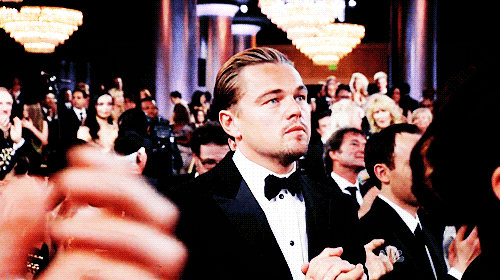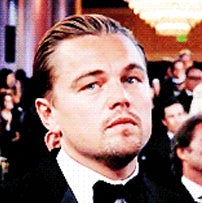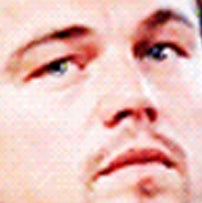 With all the hype about Leo not winning the Oscar, it's important to remember that the Internet remains obsessed with him outside of awards season. In any corner of social media, images of DiCaprio on the red carpet show up far more often than any other male actor. Sometimes he's mentioned in a celebration of his friendship with Titanic co-star Kate Winslet, but mostly he just appears looking like the suave but gentlemanly A-lister he is. Despite the media's occasional attempts to paint him as a Gatsby-esque caricature, Leo is still the wide-eyed teenager who amused us on Growing Pains, surprised us (and the Academy) in What's Eating Gilbert Grape, and then made us fall in love during Titanic and Romeo + Juliet.
Although the shot of Leo looking forlornly at the camera was what the Internet took away from the 2012 Golden Globes, it's worth noting that NBC kept cutting to DiCaprio for various reaction shots throughout the night, so it was kind of impossible for anyone who was liveblogging to forget that, oh, yeah, Leo still hasn't won an Oscar—oh, yeah, and he was snubbed for a Golden Globe for his role as J. Edgar, too.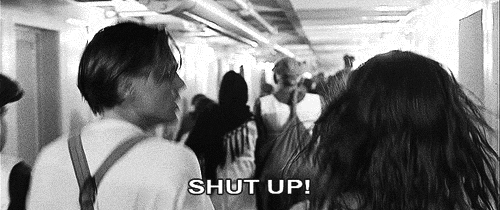 GIF via occo1996
At any given moment during the airing of the 2012 Golden Globes, Tumblr could be found commiserating with Leo.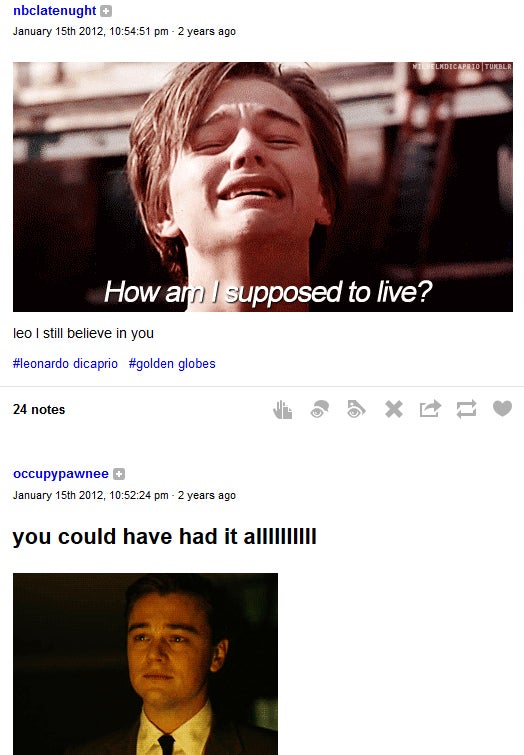 Screengrab via Tumblr
The Sad Leo GIF sealed Leo's fate as a meme, for better or for worse, and by the following awards season, with Leo up for a Golden Globe again for Django Unchained, we all knew what to do.
January 15, 2013: The Golden Globes—Part two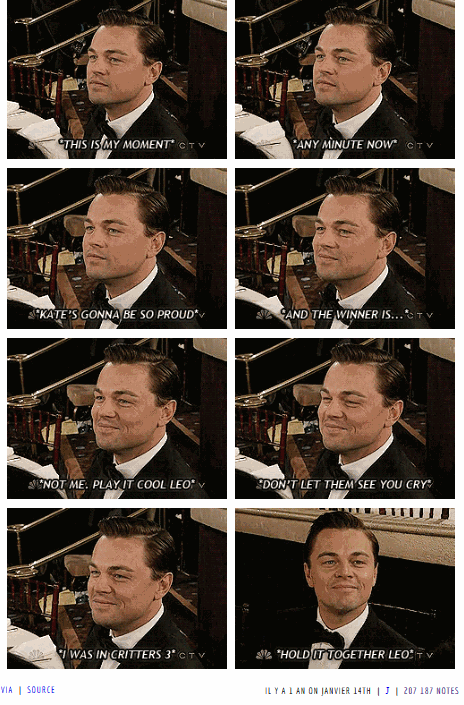 GIFs by victorianhooker
"I feel like tumblr has adopted leonardo dicaprio," wrote qreocity shortly afterwards.
That same week, with no Oscar nomination in sight, Leo took a brief hiatus from acting, sending Tumblr into a giant collective panic attack:
Screengrab via spiritofgracekelly
As a consolation, Tumblr user leonardoshiatus started a mini-trend of fans making consolation Oscars for Leo (some better than others):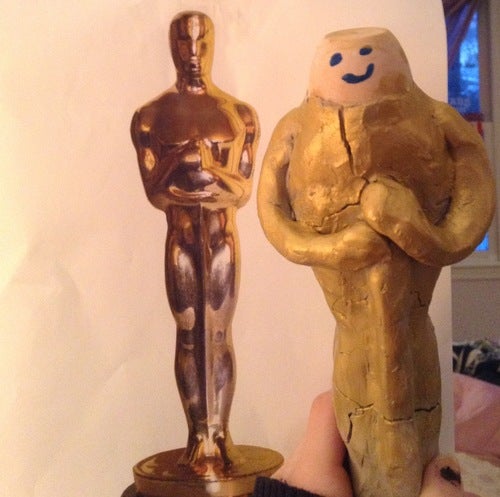 Photo via Daily Dot
And still the jokes poured in: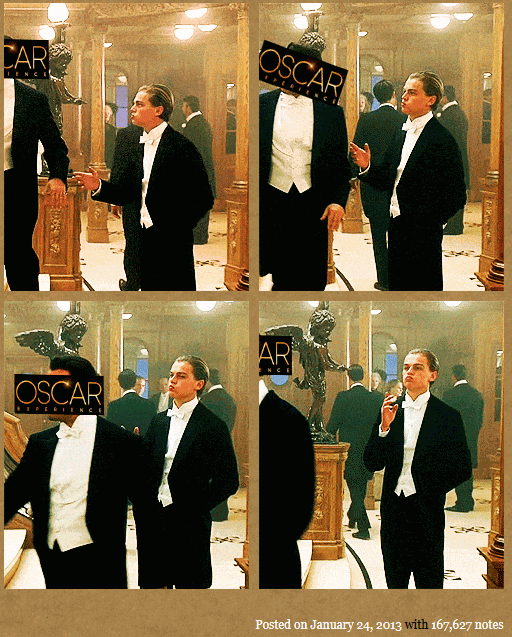 GIF by looking-westward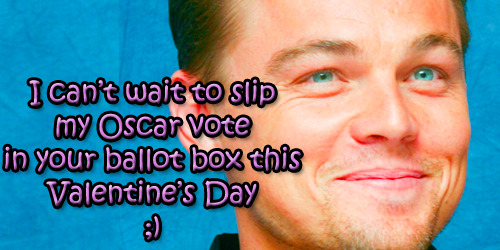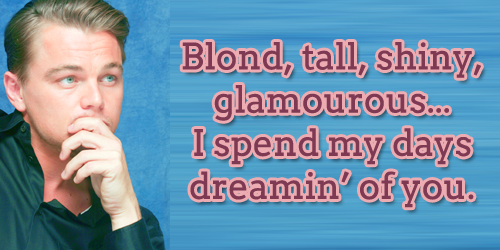 Illustrations via rehumanized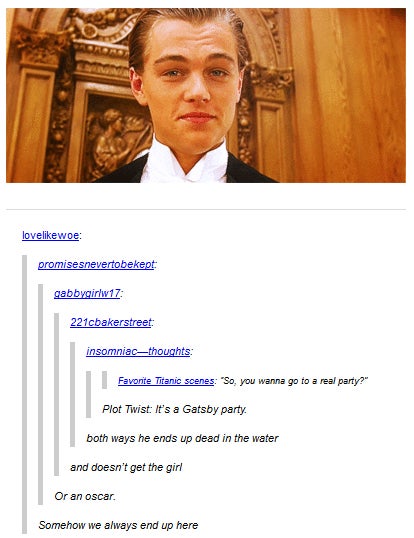 Screengrab via poor-leo
Screengrab via pocketfullofpocky
January 12, 2014: The Golden Globes—Part three
This year, to everyone's surprise, DiCaprio was nominated for Best Actor under the Musical or Comedy category, because no one can figure out whether Wolf of Wall Street is a satire or not. Although he'd won a Golden Globe once before out of 10 nominations, for The Aviator, his win this time sent Tumblr into a frenzy of celebration.
And while many naysayers pointed out that he'd already won once, and that a Golden Globe was, sorry, no Oscar, the loyalists were quick to point out that this victory was still sweet: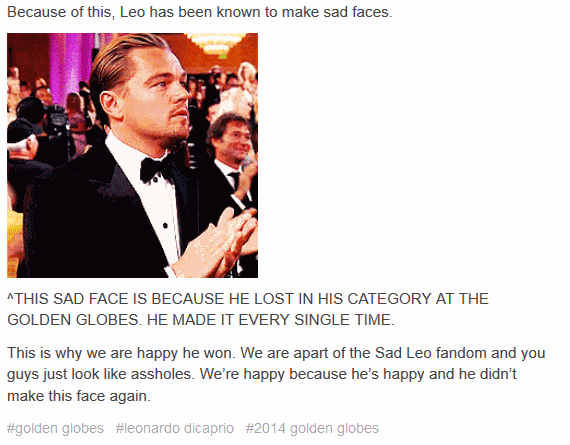 Screengrab via kaylapedia
You heard it here, folks: Sad Leo is no longer just a meme. Leo/Oscar has become a fandom all by itself.
Today
In 2014, the rest of the Internet seems to be catching on in a big way to the Leo/Oscars meme. Iterations of the meme have been on Reddit for a while, but lately cry to #GiveLeoAnOscar has been spreading to other social networks like Imgur, Facebook, Pinterest, and even Etsy: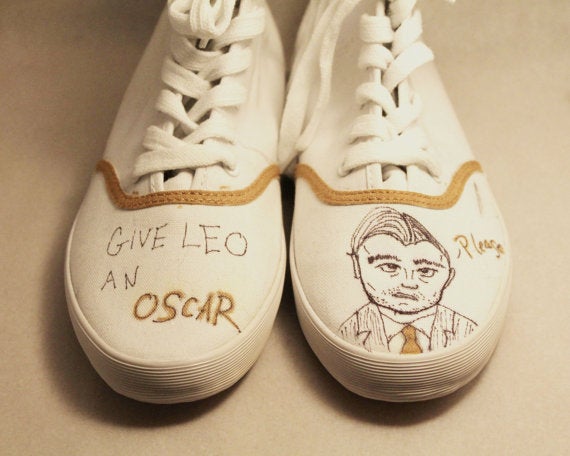 Photo via Etsy
Even Wikipedia is keeping track of Leo's wins and losses: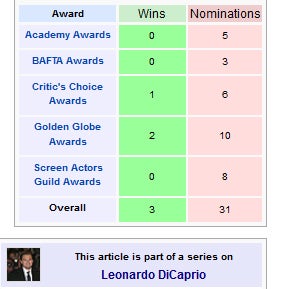 Screengrab via Wikipedia
Mainstream press has started to notice that Leo/Oscar is the Internet's tragic hateship OTP. And some of them are serious. "If not now, when?" asked Time earlier this week in a solemn analysis of Leo's lack of Academy Awards.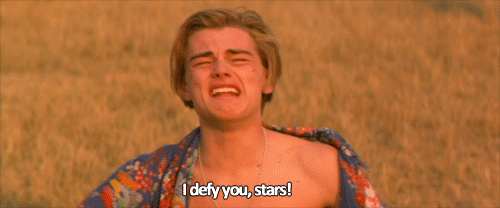 GIF via lost-in-a-blonde-mane
But can Tumblr's love propel Leo to an Oscar win? Maybe not, but that clearly won't stop Tumblr from rooting for him. According to a recent interview at the Oscars luncheon, where DiCaprio was given a place setting with a list of his five nominations and zero wins, he's taking the pressure in stride:
"People think I feel I'm overdue for something …but the truth is every year is unique and everyone is just going to vote for who they think is worthy."
Don't worry, Leo. You've won the Academy Awards where it really matters—on the Internet. And in all of our hearts.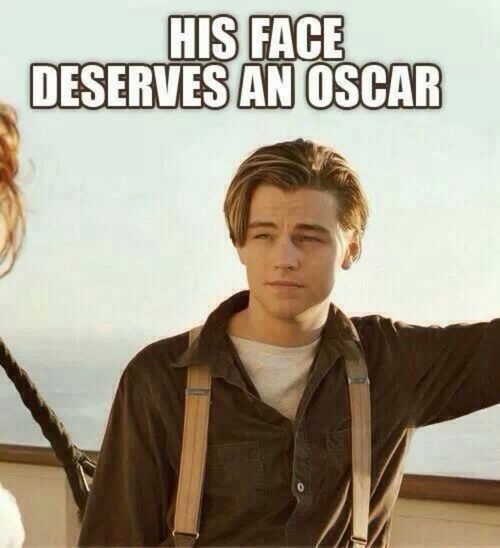 Photo via weheartit
Photo via just-your-average-psychopath