Most shows would not reveal a major spoiler in a mere teaser trailer. But Legion rarely provides any easy answers, and it's hard to "spoil" a show with such an amorphous style of storytelling.
A teaser for next week's episode seemingly revealed the identity of the so-called Yellow-Eyed Devil, David Haller's psychic parasite and the show's main villain. Listed as an "alternate" promo to the official Chapter 7 teaser, it includes a scene where Oliver Bird (Jemaine Clement) refers to the parasite as the Shadow King, a supervillain from Marvel comics.
https://www.youtube.com/watch?v=2Aws9xuOQRs
The promo appears to be recorded from TV, and it isn't listed on FX's official YouTube channel. It could be an elaborate hoax, but that doesn't seem likely because it's full of new footage from the show.
The Yellow-Eyed Devil has been a menacing presence throughout the series, appearing as an obese, monstrous figure in ragged clothing. This hallucination was later explained as a symptom of the parasite living in David's mind and slowly taking control of his powers—and, apparently, that parasite is the Shadow King, Amahl Farouk.
In the X-Men comics, Farouk is an old and terrifyingly powerful mutant who exists on the astral plane and possesses the bodies of mutants and humans. If a mutant isn't powerful enough to hold him, he'll just burn through their life-force. In other words, the same process as David's parasite in Legion, which has been thriving off his psychic powers since childhood.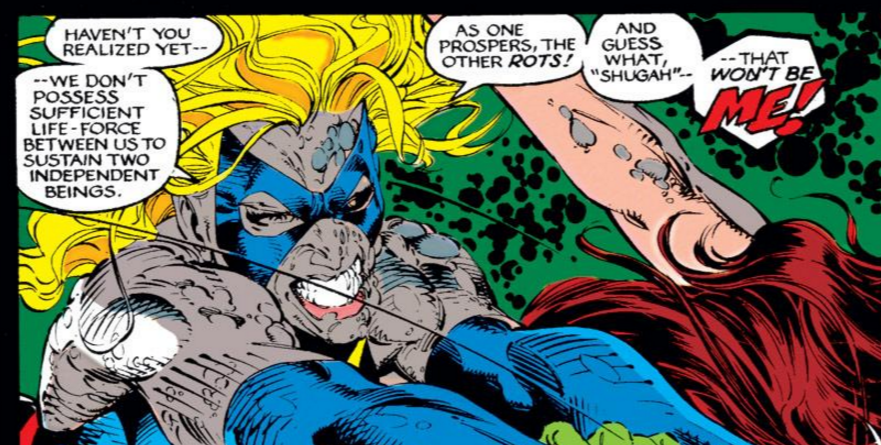 So far, Legion has avoided making too many overt references to the comics. Most of the main characters are original, and the show has only vaguely alluded to David Haller's secret backstory as Professor Xavier's biological son. That's likely to change in the last two episodes of the season, especially after Chapter 6 hinted that Xavier put David up for adoption to hide him from the Shadow King.
In the comics (Uncanny X-Men #280), the Shadow King does indeed possess David's body, feeding off his psychic energy and taunting Professor X and the X-Men.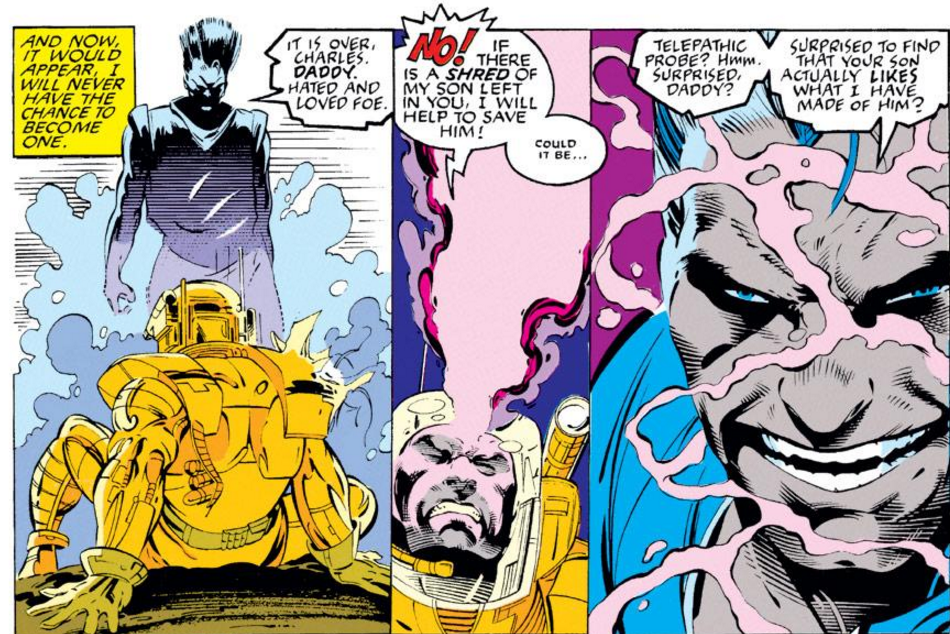 This results in a classic hero/villain showdown, with Professor X and the Shadow King duking it on the astral plane. Legion, however, is unlikely to go that route. It's not exactly an action show, and we'd be very surprised if Professor X shows up onscreen this season. The astral plane will probably play a major role in the finale, but it's foolish to try and predict anything more specific about the most unpredictable show on TV.
Previous Legion recaps can be found here.