"The behavior of being attracted to intelligence."
"What is JeopardyHotties?"
Actually, the answer is "What is sapiosexuality?" but we'll accept JeopardyHotties, too, since the Tumblr has been making waves all month. Currently, college tournament championship finalist Ben Juster is all over the Tumblr, but there's also plenty of idol-worship for past faves like Marika Kuspa and Damian Henri.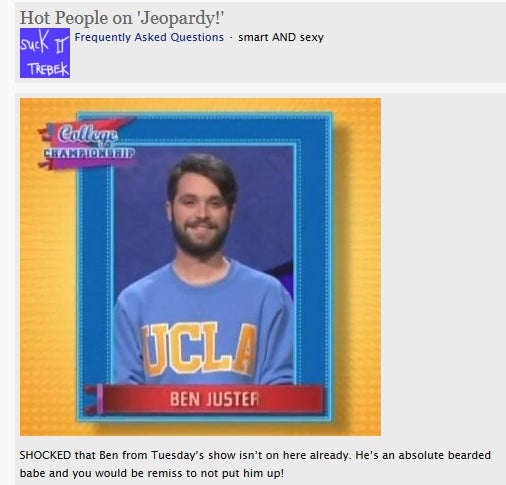 Screengrab via jeopardyhotties
"She's reading Game of Thrones… in Russian," swooned one of the mods over Samantha Nataro last fall. We feel you, mods. And so, apparently, do the thousands of fans who've discovered the Tumblr.
Jeopardy fandom is huge and obsessive, and people get really, really into it, whether it's making an Internet hero out of last year's teen champion, Leonard Cooper, or shipping the contestants:
Hey @Jeopardy tell @PopeT_7 and @thisbennypoo I'm writing jeopardy fandom erotica and I'm totally shipping the two of them. It will be hot.

— Randy Bush (@RandyBushE) February 21, 2014
But wait, don't laugh. You know who else wrote Jeopardy fanfic? David Foster Wallace. Talk about your hotties. The point is, people really, really, really love Jeopardy:
THERE IS NOTHING BETTER THAN THIS BLOG! NO BLOG GREATER IMO! TEARS OF JOY FILL MY EYES WHEN I SCROLL DOWN PAGE AND SEE ARROW LEADING ME TO YET ANOTHER PAGE! YES JEOPARDYHOTTIES! FUCKIN YES! LONG LIVE YOUR DEDICATION MAY THE HOTTIES NEVER EVER END!!! FUCK YES ALEX TREBEK YOU BRILLIANT SAINT GOD HAVE MERCY ON US ALL
You speak for all of us, Anonymous Jeopardy fan.  When you're a jeopardy hottie, you're a winner even if you're a loser—at least in the eyes of the Internet.
Photo via cjjuster/Twitter