Jurassic World brought new life into a beloved franchise with a brand new park and an even bigger dinosaur threat, but now one of the original's stars is finally returning to the island.
The Hollywood Reporter is reporting that Jeff Goldblum, whose turn as mathematician Ian Malcolm in Jurassic Park is still adored by fans today, will return in the Jurassic World sequel. Goldblum's role in the film is unknown, although he certainly knows a thing or two about how to process surviving rogue dinosaurs, something Owen (Chris Pratt) and Claire (Bryce Dallas Howard) recently went through.
However, we have a slight idea about where Malcolm has been since his last Jurassic theatrical appearance in 1997's The Lost World, where he played more of a skeptic. He's written a number of books including God Creates Dinosaurs, which Claire's assistant Zara is seen reading.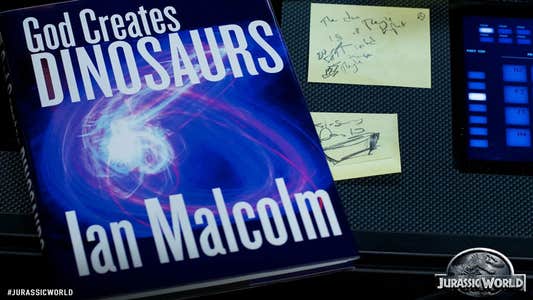 Everyone needs a little chaos in their lives. #JurassicWorld is in theaters now: http://t.co/By621D2Vya pic.twitter.com/ZNe30SA09s

— Jurassic World (@JurassicWorld) June 29, 2015
The title is a direct reference to an exchange Malcolm has with Ellie Sattler (Laura Dern) in the original, and who certainly could be another character who returns to the park one day.
The Jurassic World sequel is filming and will debut in theaters June 22, 2018.