Vanity Fair debuted an expansive new feature on Star Wars: The Rise of Skywalker Wednesday, including some gorgeous photography by Annie Leibovitz of the production design, like costumes, props, and sets. While the visuals are a buffet of world-building nuggets that eager fans will almost certainly lap up and overanalyze for days, one character in particular has stuck out: a new ally to the remaining Resistance members, a Black woman named Jannah seen riding horse-like creatures alongside John Boyega.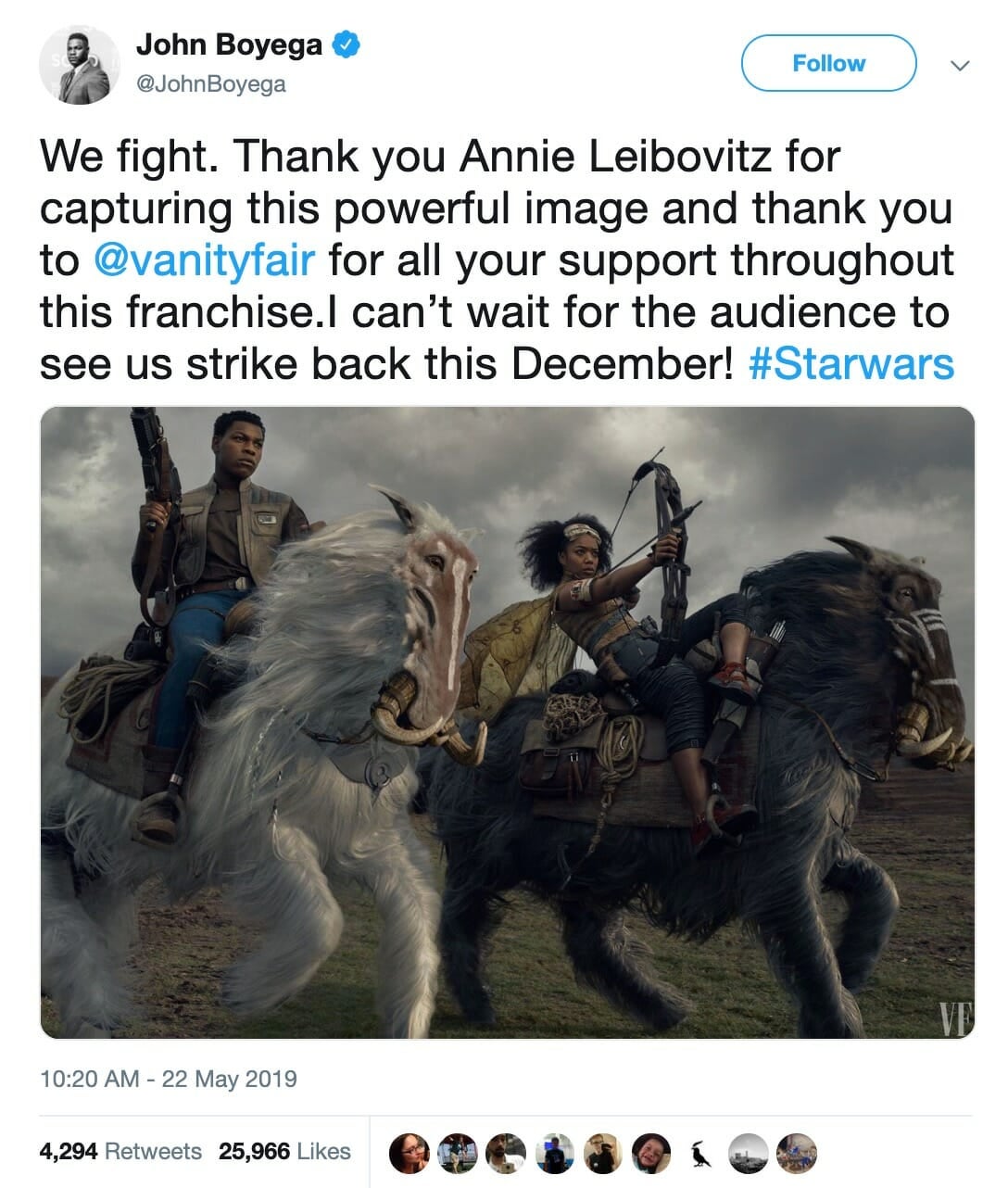 Look at my Black space cowboys! Some of y'all will never understand. I saw my baby brother retire a favorite pair of red cowboy boot at 7 because school kids told him cowboys couldn't be Black. Now they're in #StarWars!! I'm so happy. 😭 pic.twitter.com/7oQQJz51qt

— Joelle Monique ✍🏾 (@JoelleMonique) May 22, 2019
This picture paid off my student loans, signed me up for a doctors appointment, did my taxes and added 5 years to my life span pic.twitter.com/kO0GsgCOev

— Tarik. (@TrixGoings) May 22, 2019
Who plays Jannah in Star Wars: The Rise of Skywalker?
Jannah is played by British actress Naomi Ackie, who has previously starred in 2016's Lady Macbeth, Hulu's The Bisexual, The Five, and one episode of Doctor Who. Like many of her co-stars, The Rise of Skywalker is far and away the biggest, most publicly prominent role of her career to date.
Who is Jannah in Star Wars: The Rise of Skywalker?
To no one's surprise, Vanity Fair says that Ackie has been instructed by PR handlers to avoid divulging any details about her character or her role in the story. Ackie did share some thoughts on the process of filming The Rise of Skywalker, however.
"It feels very grounded," says Ackie. "There's the kind of spectacular-ness, and the supernatural move-things-with-your-mind magic stuff, but then there's also this really grounded, rugged nature where everything is distressed and old and kind of worn out and lived-in. And I think playing with those two ideas means that you get this feeling that it could almost be real. Like, in a galaxy far away, it could almost be the case that you could have this."
Of course, a dearth of confirmed information can't stop us from inferring as much as possible about Jannah and what she'll do alongside Finn, Poe, and Rey.
Judging from the Vanity Fair images, Jannah may be a native of whatever planet Finn, Poe, and Rey find themselves on when they find the Death Star wreckage. The image of Jannah and Finn riding horse-like alien creatures features an overcast, grassy region. Thus far, we've seen our heroes primarily running around a desert. Considering most Star Wars planets are a single biome, I'm willing to bet she may live on this overcast planet, unless she somehow meets the crew on the desert planet and tags along as the film continues.
Okay but I need Naomi Ackie aka Jannah's shoes! pic.twitter.com/PeqJlFXEFG

— Kayla: The Clone Wars Cat (@KaylaOfWendt) May 22, 2019
A caption for that image describes Jannah as a "new ally" and describes the creatures Finn and her are riding as "hardy orbaks," and says that they're leading a charge against the First Order. According to Wookiepedia (so not entirely verifiable), orbaks are a native species of the desert planet Pasaana. The Aki-Aki, the tendril-mouthed aliens seen in another image from Vanity Fair, are also inhabitants of Pasaana, so perhaps it is possible that Jannah calls the desert her home and that Rey and company have just traveled far enough away from sand and sun to a different biome. Or perhaps they just took some orbaks with them in case they needed to lead a cavalry charge. Who knows?
It's worth noting that Jannah was actually first revealed at the 2019 Star Wars Celebration event in Chicago. While there, she hung out on stage with Oscar Isaac and answered some questions about her experience filming The Rise of Skywalker.
Most notably, Isaac actually describes how Ackie's first day was a particularly hard one for the actress.
"She had a difficult thing to do in front of all of us," Isaac said. "It was a very precise thing. She's a badass in this movie."
the picture of john boyega and naomi ackie from the star wars photoshoot reminded me of something pic.twitter.com/3Z189wjvyq

— yalitza apariciosus (@dunevillenuve) May 22, 2019
READ MORE:
Is Jannah the daughter of Lando Calrissian?
There's no way to know yet, but when asked about the possibility of Jannah being Lando's daughter, Ackie told GameSpot,"Lando is a very charming man, he could have children all over the universe."
Actor Billy Dee Williams is, of course, returning to the Star Wars universe in The Rise of Skywalker, so there's a possibility the two could interact.
Thus far, that's all we know about Jannah. Make sure to check back as more details come out about The Rise of Skywalker.