Dinosaurs. Pigeons. Disembodied heads. These days there's a dating sim for everything, and apparently that includes ISIS terrorists.
In The Super Patriotic Dating Simulator, you play as a sexy 19-year-old CIA agent tasked with seducing members of ISIS. Raising funds on Kickstarter, it was created by Cards Against Humanity's Karlee Esmailli. It's meant to satirize the absurdity of the dating sim genre, but it's also very literally a game about horny terrorists with ripped abs.
If you're at all familiar with dating sims, you'll recognize the format: The protagonist, Elodie, is a cute anime girl; you guide her actions through a series of choose-your-own-adventure menu screens, encountering cute guys and (in theory) finding love. Except, in this case, you're also trying to kill them because you're in the CIA.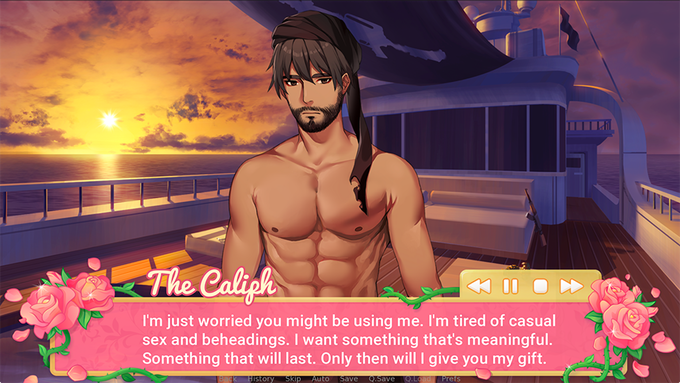 This may sound like needlessly controversial edgelord humor, and hey, maybe it is. But as Esmailli explains on the game's Kickstarter page, The Super Patriotic Dating Simulator was inspired by her experiences as an Iranian-American woman. Part of the satire is aimed at white people's assumptions about Islam and the Middle East, and Esmailli has some deep thoughts on dating sims as a cultural phenomenon.
"Dating SIMs, as a genre, have strong roots in the expression of sexuality. Female characters in many dating SIMs are built as sexual objects for heterosexual male players. I wanted to contribute a grounded, accurate, female perspective to this genre typically dominated by the male gaze. The protagonist's story arc in the game centers around the questions that I asked myself as a young woman. Elodie, the main character, wonders: Why am I not orgasming from just penetration? How do I orgasm? Am I gay or straight? Does my virginity matter? Why didn't anyone tell me about this?"
All that being said, this is pretty clearly a comedy game. The trailer is relentlessly perky, with a ditzy voiceover from its unlikely heroine.
The Kickstarter campaign promises to deliver the game in December 2019, at a price of $15. For $5,000, creators will design an in-game character based on you, to be rescued heroically by Elodie. What a way to immortalize your legacy!