At first glance, Avenue 5 has all of the makings of your standard workplace comedy. You have the unlikely crew—from the billionaire owner who has no idea how his company operates to the leader in over his head—barely keeping afloat. There are a number of increasingly absurd situations. And we also meet irritating customers who make an impression along the way. It's mostly set in a single location.
Avenue 5
RELEASE DATE: 1/19/2020
CREATOR: Armando Iannucci
STREAMING: HBO
The crew of a luxury cruise spaceship has to maneuver restless passengers, rising complications, and major incompetence among the crew on their course back to Earth .
Two things set Avenue 5 apart. The workplace at the center of HBO's sci-fi comedy is a luxury cruise spaceship in a future where space travel has become a privatized commodity for the rich, which ups the stakes when things start to go off the rails. And it's from Veep and The Thick of It creator Armando Iannucci, who has a long history of offering biting commentary about the world and the kinds of people who inhabit it. While Avenue 5 has plenty of thoughts to convey about maintaining an image, the lies we tell ourselves, and the complete disconnect of the extremely wealthy, its delivery in the first four episodes is far from smooth sailing.
We've all seen more than our fair share of cruise ship horror stories over the years, so it's not all too surprising that even in space, just about anything that can go wrong does go wrong on the titular luxury cruise spaceship Avenue 5—often to humorous effect. But for the thousands of people on the ship, both the passengers and the crew, it's a shock; up until then, it'd all been smooth sailing. Taking place around 40 years in the future, the series launches four weeks into an eight-week trip around Saturn.
Right away, we're introduced to the faces of the crew, whose personalities begin to clash almost immediately. Captain Ryan Clark (Hugh Laurie) is able to assure the passengers with little more than his charm or a pep talk to the crew on the bridge—but behind closed doors, the mask begins to slip. Hired as the captain, he soon finds himself tackling a different job entirely—one that allows Laurie to wield his many, many comedic chops and accents with aplomb.
Herman Judd (Josh Gad), the manchild head of the Judd Corporation, a.k.a. the company behind Avenue 5, evokes a bit of Elon Musk but is almost cartoonishly out-of-touch with just about every aspect of normal life; he times out hugs with passengers at three seconds during one interaction. It's pretty much up to his right-hand woman and assistant Iris Kimura (Suzy Nakamura) to stop him from getting in everyone else's way at all times. Billie McEvoy (Lenora Crichlow) is one of several engineers tasked with keeping Avenue 5 from breaking, even when other members of the crew offer ill-planned solutions and gimmicks that are much more palatable to sell.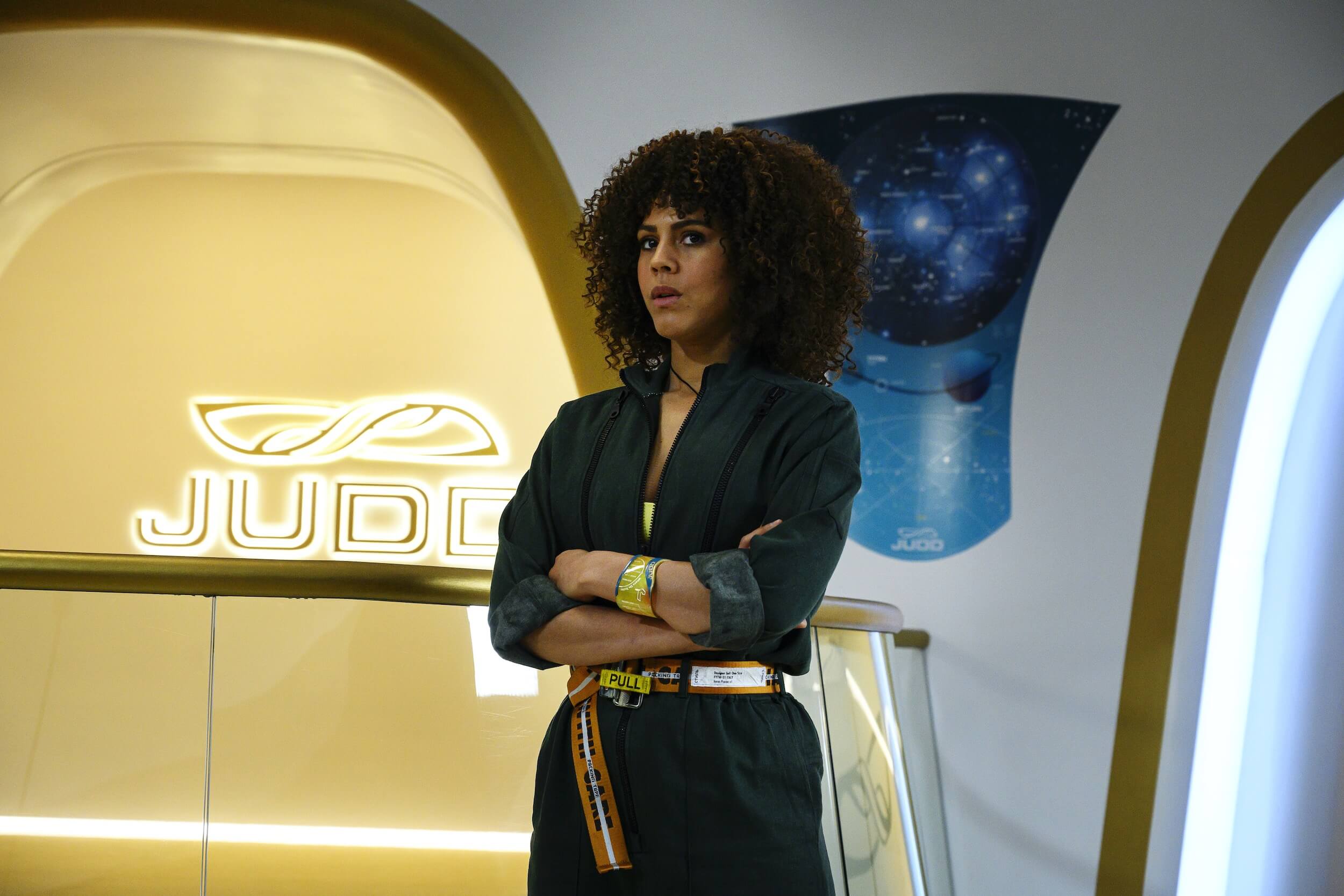 The incompetence of those in power is in high supply on Avenue 5, although instead of the White House setting of Veep, it's mostly restricted to the ship itself. The crew is wholly unprepared for what they face, and their attempts to keep the passengers out of the loop are wholly unsuccessful. Matt Spencer (Zach Woods), the head of passenger services, barely bothers to hide his ill-contempt for the other passengers who test his patience on an hourly basis—and there are several of them who seemed designed specifically to push the buttons of everyone on board.
Among the passengers we get to know are a constantly bickering couple (Jessica St. Clair and Kyle Bornheimer) on the verge of divorce whose arguments are so loud that people can hear them from the room down the hall; a stowaway (Rebecca Front) with real "I need to speak with the manager" vibes—and yes, her name is actually Karen—who weasels her way into the ship's inner circle; and an aging astronaut (Ethan Phillips) who tries to impress fellow passengers with stories of his glory days.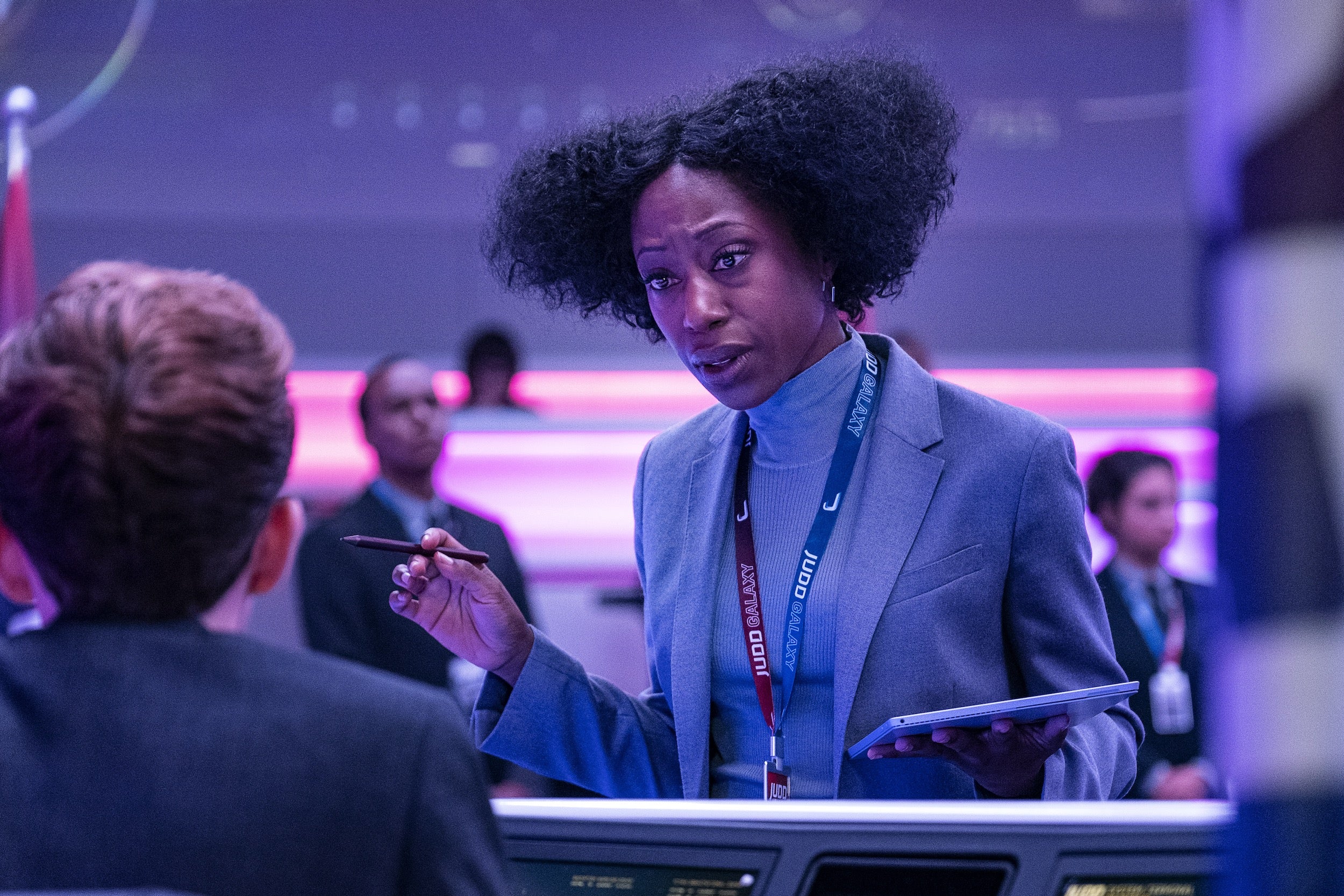 Avenue 5's first four episodes balance the crises the crew of Avenue 5 faces along with the sheer incapability of the crew to handle anything remotely substantial; a recurring gag in which Avenue 5 and the Judd Corporation's Mission Control—largely with Mission Control head Rav Mulcair (Nikki Amuka-Bird), who has to convince NASA to help them—talk over each other because they keep forgetting that there's a time-delay gets old quickly, and most of the characters are stale.
But there's some promise within the inner belly of Avenue 5. The ship has its own gravitational pull, resulting in a number of items that should've been launched into space orbiting the ship instead. One ship malfunction involves feces spewing outward, and the gravity can shift at any moment. And there is enough potential intrigue below the surface that could shape it into something more.
Still not sure what to watch on HBO? Here are the best movies on HBO, the best HBO documentaries, and what's new on HBO Go this month.