Harry Potter and the Philosopher's Stone was published 20 years ago today, and the internet is in full celebration mode.
Although Harry didn't make his U.S. debut until more than a year later, the publication of Philosopher's Stone (known as Sorcerer's Stone in the U.S.) became a cultural benchmark that snowballed into the global phenomenon it is today. An entire generation of fans grew up with the boy wizard as he went through Hogwarts. It encouraged people to read—and even attend midnight release parties for a book. Harry's story, told in seven books published over the next 10 years, launched multibillion dollar franchise, a theme park, a play, and online communities that continue to thrive to this day.
J.K. Rowling marked the occasion on Twitter by thanking her fans for everything, and she said of the experience, "It's been wonderful."
20 years ago today a world that I had lived in alone was suddenly open to others. It's been wonderful. Thank you.#HarryPotter20

— J.K. Rowling (@jk_rowling) June 26, 2017
Bloomsbury, the U.K. publisher of the Harry Potter books, marked the event with a video showcasing some of the most memorable moments from the series and some fun facts about the series.
https://twitter.com/BloomsburyBooks/status/879285632866156545
The cast of Harry Potter and the Cursed Child posed with copies of Philosopher's Stone (different colors to correspond with the Hogwarts houses) on the stage.
The #CursedChild cast celebrate #HarryPotter20! The #PhilosophersStone was first published on this day 20 years ago. pic.twitter.com/3QqNRRXbwO

— Harry Potter and the Cursed Child (@CursedChildLDN) June 26, 2017
Facebook released an Easter egg that will bold and color the words "Harry Potter" and the Hogwarts houses—Gryffindor, Hufflepuff, Ravenclaw, and Slytherin—when you include them in a post. When you click on them, a wand will appear and wave across your screen.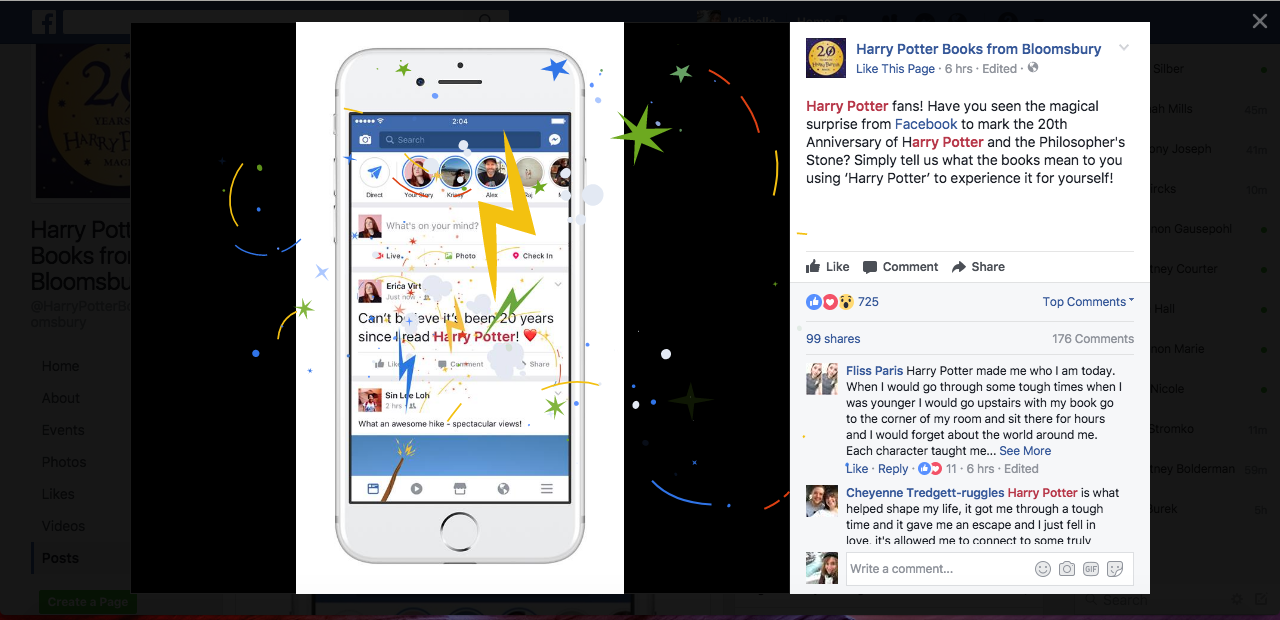 Harry Potter fans have been sharing their memories of the series all day using the hashtag #HarryPotter20, which has its own customized emoji of a lightning bolt scar and round glasses. According to Pottermore, some fans will have their stories displayed at King's Cross Station, which contains the entrance to Platform 9 3/4 and the train to Hogwarts.
Celebrate 20 years of magic with us today! Use #HarryPotter20 and your tweet could be displayed in King's Cross: https://t.co/jS7KtSjUtE pic.twitter.com/V7zZmmHwPH

— Wizarding World (@wizardingworld) June 26, 2017
Be smart as Hermione, funny as Ron, warrior as Harry ❤ @pottermore #HarryPotter20 pic.twitter.com/HR5gBRuTy3

— bea (@hamiltoonx) June 26, 2017
20 years ago a little boy has changed everything. He taught us how to love, to be a loyal friend and more. Thank you, J.K! #HarryPotter20 pic.twitter.com/SjS4uoRTic

— Thiego Novais (@thiegonovais) June 26, 2017
https://twitter.com/RomanRoadMusic/status/879305335961419776
https://twitter.com/abbeysy/status/879304055205502976
A first edition Harry Potter and the Philosopher's Stone book with J.K. Rowling's notes. #20YearsOfHarryPotter #HarryPotter20 pic.twitter.com/t3QBeGKThf

— Harry Potter World (@PotterWorldUK) June 26, 2017
Although fans celebrate today, they've got a couple of other important dates to celebrate this year. July 21, 2017, marks the 10-year anniversary of Deathly Hallows, and Sept. 1, 2017, marks Albus Potter's first day at Hogwarts, which is shown both in the Deathly Hallows epilogue and at the beginning of Cursed Child.