The Han Solo movie is the second Star Wars anthology film, following the standalone prequel Rogue One: A Star Wars Story. Taking place between Episode III and IV, it introduces us to a younger version of Han Solo, before he met Luke and Leia.
A brand new trailer arrived on April 8, revealing a lot more about Solo and it's characters. For instance, did you know that Chewie is 190 years old? You can definitely get a hint of the movie's comedic vibe, especially from Phoebe Waller-Bridge's droid character.
The new trailer also seems to have digitally added Chewbacca to certain scenes we saw before. (Either that, or he was digitally removed from the initial teaser.) This raises questions about the reshoots, and whether the alterations reflect a change within the film itself.
Noticing that they have since ADDED Chewie to a few scenes is interesting. #SoloAStarWarsStory pic.twitter.com/88l5XSonSc

— James Baney (@Mirahtrunks) April 9, 2018
Here's everything you need to know about Solo.
Solo news
Directors Phil Lord and Chris Miller (The Lego Movie) began filming on Jan. 30, 2017, but they left the project in June due to creative differences. LucasFilm president Kathleen Kennedy announced the news on June 20, quickly followed by reports that the directors were fired. It's basically unheard-of for directors to leave this late in the process, a worrying sign for such an anticipated movie.
Lord and  Miller will also no longer receive a director credit, a move that they imply was their own decision. "In light of the creative differences, we elected to take an executive producer credit," said Miller, speaking at an animated movie festival in March.
On June 22, Lucasfilm announced award-winning director Ron Howard would complete the project. He'll be credited as the director.
On Sept. 20, Howard's set photo teased a momentous scene in the Millennium Falcon's history. Fans are speculating the "spicey" caption refers to the Kessel Run, the hyperspace route that Han and Chewie famously completed in "less than 12 parsecs," proving their impressive navigating skills. They were smuggling spice at the time, harvested from mines on the planet Kessel. Could this photo show a mineshaft in a Kessel spice facility?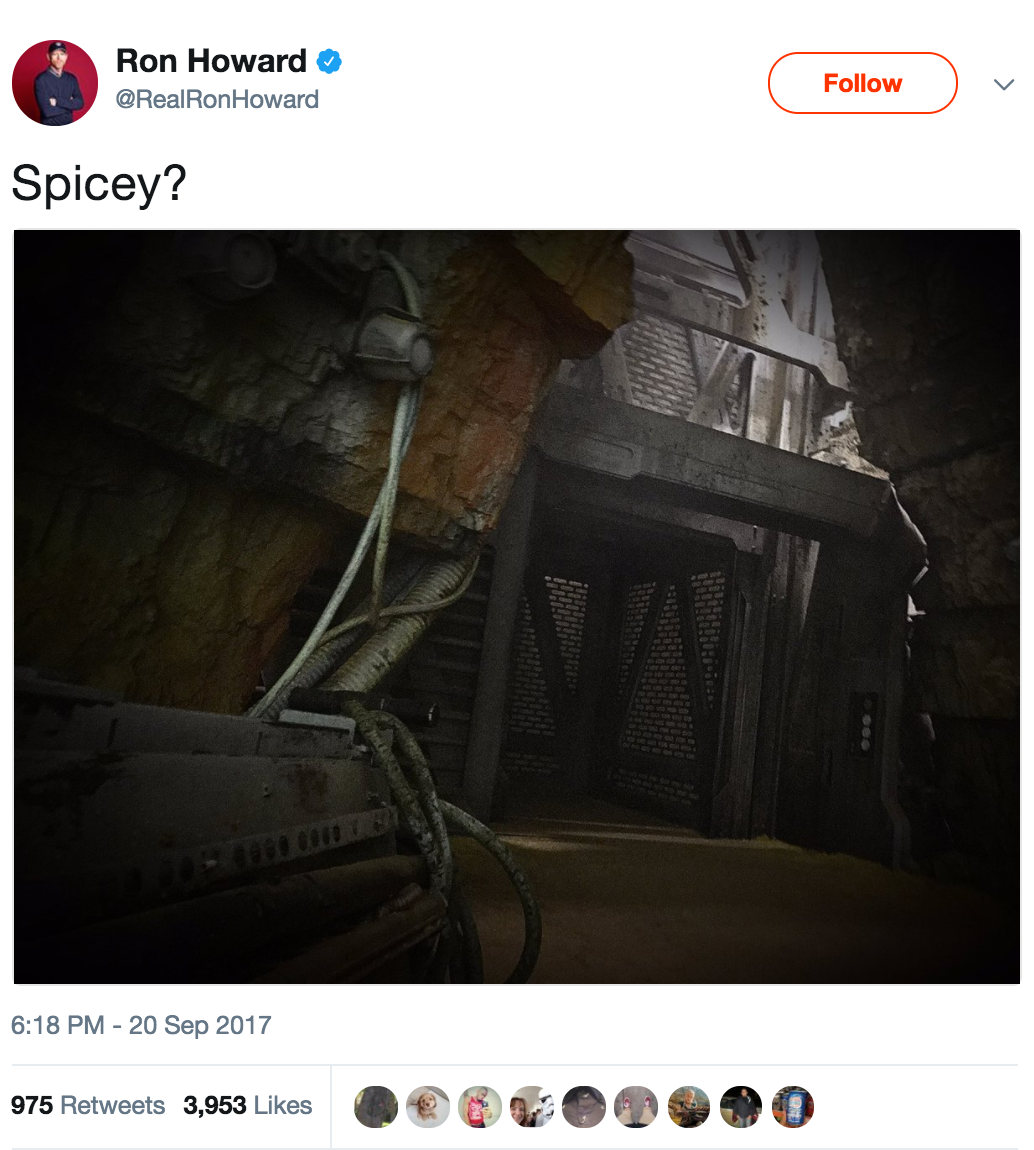 The film "Han Solo" is the second film in a series of pictures about various heroes and events of the universe Star Wars after "Rogue One A Star Wars Story", not directly related to the action of the legendary space Sagas.

 

Han Solo is an exciting story about intergalactic adventures, in which tells about the adventures of young Han Solo, about how he got into difficult situations and found an outlet from them, as he became the same a smuggler, a rebel, a bully, a hero, whom we all know and love.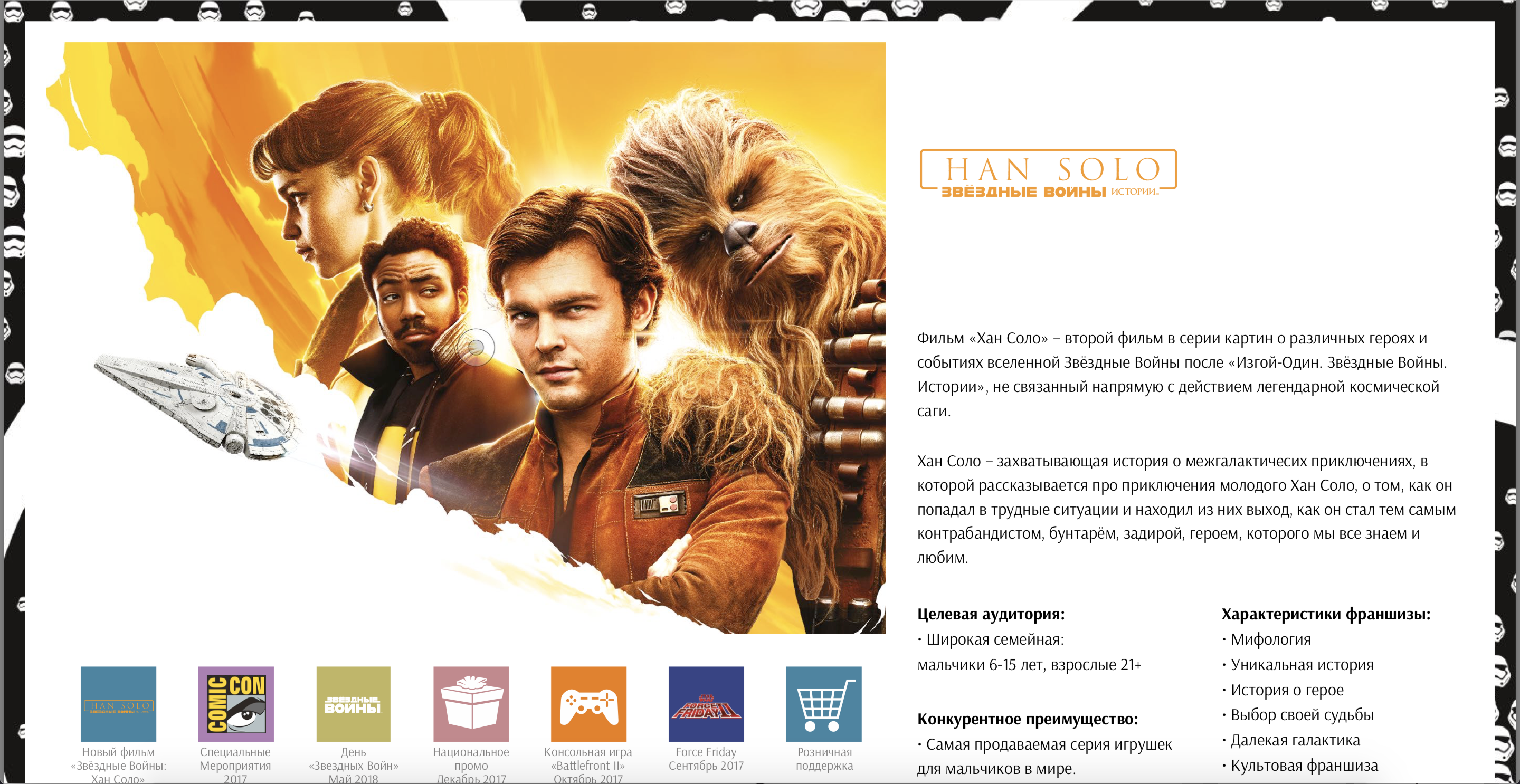 On Jan. 16, Lucasfilm released the official synopsis for Solo: A Star Wars Story on StarWars.com, which revealed that the movie will show how Han Solo met Chewbacca and Lando Calrissian in the midst of "a series of daring escapades within a dark and dangerous criminal underworld."
Board the Millennium Falcon and journey to a galaxy far, far away in Solo: A Star Wars Story, an all-new adventure with the most beloved scoundrel in the galaxy. Through a series of daring escapades deep within a dark and dangerous criminal underworld, Han Solo meets his mighty future copilot Chewbacca and encounters the notorious gambler Lando Calrissian, in a journey that will set the course of one of the Star Wars saga's most unlikely heroes.
Two international posters for Solo: A Star Wars Story have apparently leaked online, which give us our first glimpse at a younger Han Solo, Lando Calrissian, Chewbacca, and the mysterious character played by Clarke, alongside a newer and sleek Millennium Falcon. There aren't any capes to be seen, but collars feature prominently in the costumes of all three human characters; Clarke's collar looks like it's lined with fur. However, Disney and LucasFilm have both denied creating the art.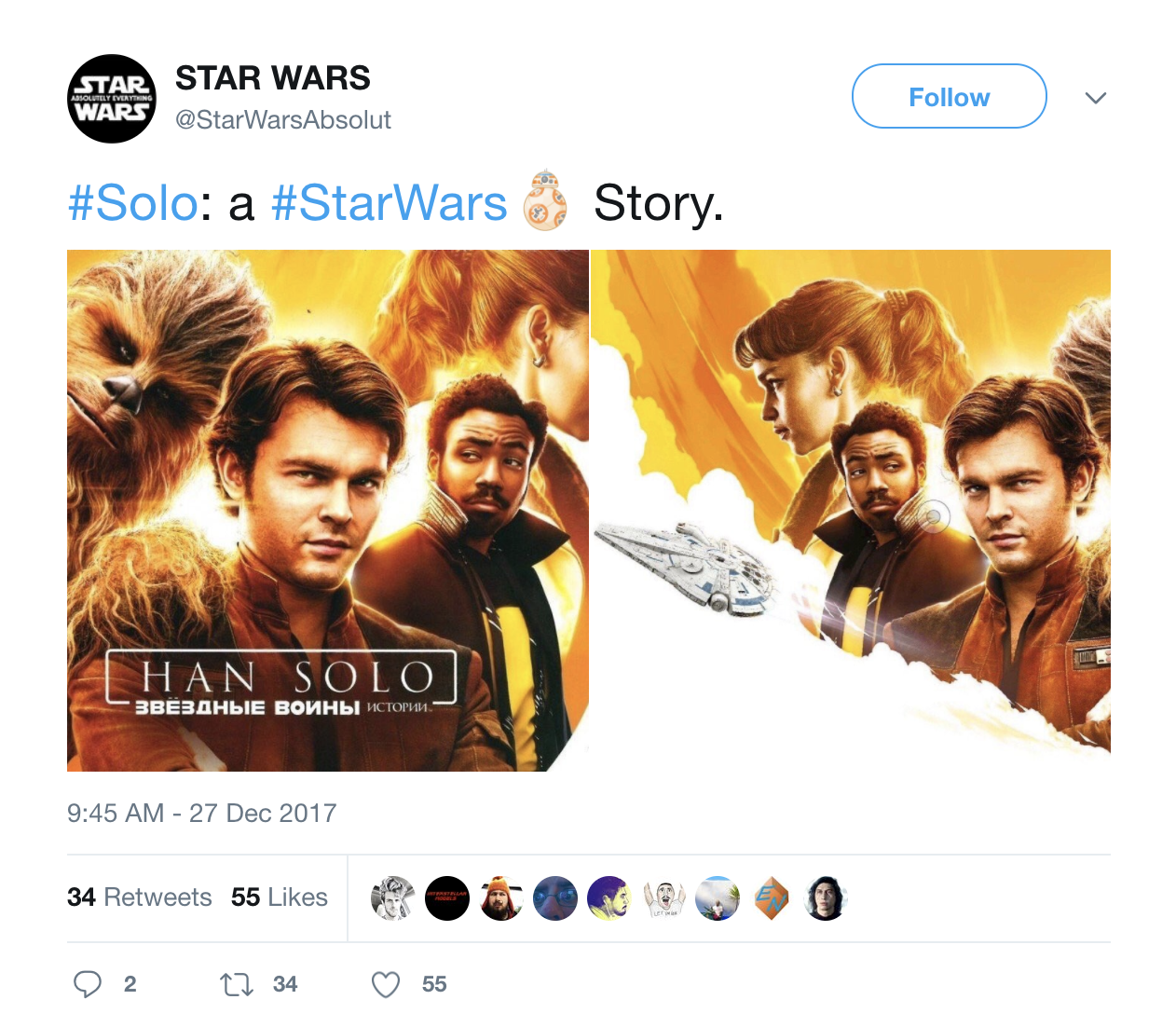 Following the release of the first Solo teaser trailer, Lucasfilm revealed the first character posters for the movie. The posters give us a better look at Han Solo, Chewbacca, Lando Calrissian, and Qi'ra—the mysterious character being played by Clarke—against different backdrops seen from the teaser trailer.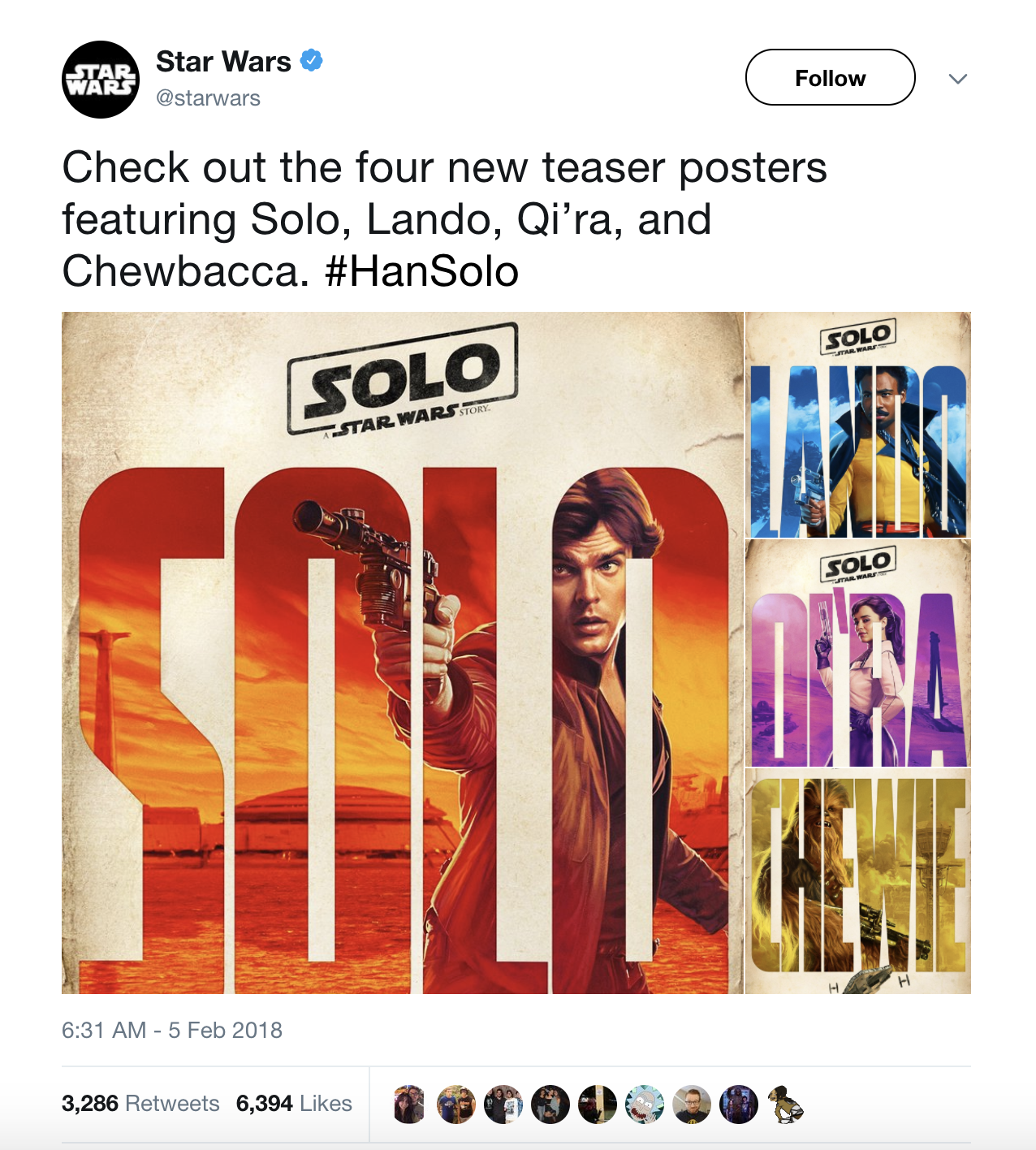 Ehrenreich's pose with his blaster invokes a Han we're well familiar with, although he seems more hesitant than the version of Han we met in A New Hope. Glover wears Lando's signature cape well, and the bright colors will surely stand out while other characters' wardrobes are more muted. And Clarke embodies confidence on Qi'ra's poster with a smirk that doesn't give fans any indication of just whose side she's on.
Responding to rumors that Solo was still unfinished, Ron Howard confirmed on March 31 that the final edit is "locked" and the score has been completed "right on schedule." He's now putting the finishing touches on the film's visual effects. This is well within the bounds of normalcy for a movie of this size, so while there was some chaos behind the scenes last year, fans shouldn't be too worried.
#May25. Edit is locked Score done. Right on schedule Hope you check #Solo out and find it fun. https://t.co/7eqpvoQhnN

— Ron Howard (@RealRonHoward) March 31, 2018
In a surprise move, Solo will premiere at the Cannes Film Festival on May 15. This won't be the first time a Star Wars movie screened at Cannes, as Episode II and III screened at the festival in 2002 and 2005. Make of that what you will.
Hot on the heels of the Solo premiere on May 10, a new Wall Street Journal report confirms what we already suspected. Ron Howard reshot a full 70 percent of the film's runtime, which explains why Lord and Miller didn't fight for a directorial credit. According to the WSJ's source, "Ron wanted to go back to the spirit of the original trilogy, while Phil and Chris were looking forward to something new, more like Guardians Of The Galaxy."
Solo cast
Alden Ehrenreich will star as Han Solo, following an extensive search for the ideal actor. He's joined by Donald Glover as Lando Calrissian, Woody Harrelson  as Han's criminal mentor Tobias Beckett, and Game of Thrones' Emilia Clarke as a new character named Q'ira. Howard announced in an Instagram post on Sept. 24 that Clarke had finished principal photography for the Han Solo movie and that she's "off on her next adventure." Clarke will soon film the eighth and final seasonof Game of Thrones, and she already dyed her hair platinum blonde for it, so Howard's photo was probably taken while Clarke was still filming the movie.
Westworld's Thandie Newton is playing a character named Val, while English actress Phoebe Waller-Bridge plays a CGI droid named L3-37. You can catch her in the trailer, piloting the Falcon alongside Lando.
On April 16, StarWars.com released some official bios for Solo's main cast. Some of it we already inferred (Val is "a crack shot with a blaster rifle," which you can easily glean from the trailer), while other parts are more revealing. For instance, 31-year-old Emilia Clarke is apparently playing a teenager. Qi'ra is described as 18 years old, and currently working for a gang on Corellia. Since she and Han are meant to be childhood friends, this could mean that Han is younger than the mid-20s age he appears to be.
Lando's droid sidekick L3-37 may have the most intriguing bio. The site refers to her as a "self-made droid" built from recycled parts of astromechs and protocol droids, and she "cares deeply about droid rights." The Star Wars movies generally avoid this topic, because depending on the scenario, droids are treated like friends, pets, tools, or slaves. They're portrayed as sentient, but it's unclear if they have any rights at all.
Joonas Suotama will take over as Chewbacca, after splitting the role with Peter Mayhew in The Force Awakens and The Last Jedi. Suotama wrote a personal note to Star Wars fans after his casting was confirmed, acknowledging how much the role meant to him.
On Feb. 21, 2017, the cast piled into the cockpit of the Millennium Falcon for the first official photo from Han Solo.
Westworld's Thandie Newton, whose exact role has not yet been revealed, is the only member of the main cast missing from the photo, a fact she poked fun at on Twitter.
English actress Phoebe Waller-Bridge has also signed on to play a CGI character—possibly the franchise's first female droid in a lead role.
In late August, The Wire star Michael K. Williams revealed that he been cut from the movie, removing a character that he described as "half-human, half-animal." Speaking to Deadline, Williams said he was unable to return for reshoots due to scheduling clashes with another project filming in Africa. He said he enjoyed working on the Han Solo movie with the previous two directors, but if Ron Howard wanted him back for more scenes, he would have had to wait until November. On Sept. 1, Howard revealed that Williams would be replaced by Paul Bettany, a very late addition to the cast. Since Howard has already been filming for two months—about half the time it takes to shoot an entire film of this size—this confirms that the reshoots are unusually extensive.
READ MORE:
Bettany finished filming his role on Sept. 16, and Ron Howard posted a set photo to celebrate. It confirms that Bettany's character will not be CGI, since he's wearing a costume instead of a motion-capture suit, and looks like a regular old human. You can also see some cool Star Wars props in the background, including some Mandalorian armor (which could belong to Boba Fett, but probably just means there's another Mandalorian in the movie).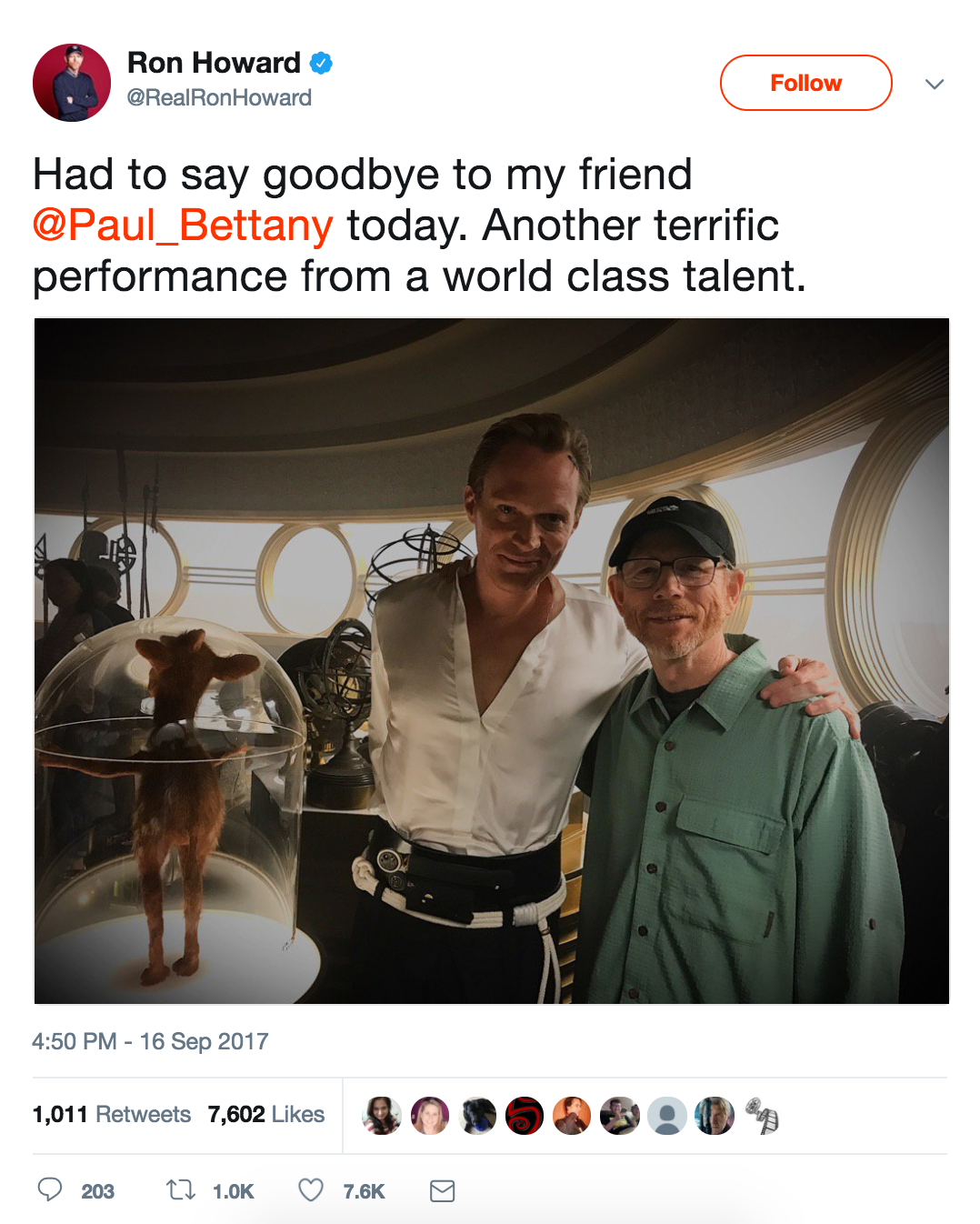 "[Howard's] staging ability is so fucking brilliant," Bettany said. "I think he went in and he was like a laser, working out what needed to be done when he looked at the footage. And then, as things moved on, everybody felt so secure with him. And they gave him more. He reshot a lot more than was originally intended."
With just a few months to go until release day, we're still hearing new casting updates for Solo. Ron Howard tweeted on Feb. 14 that actor/director Jon Favreau has a role in the movie, playing "a very cool and important alien."
Wondering why we r all together? @Jon_Favreau is voicing a very cool & important alien character for #HanSolo Flattered & fortunate I could pull him away from his #LionKing directing duties https://t.co/W5N7YoAlq6

— Ron Howard (@RealRonHoward) February 14, 2018
Solo's place in the Star Wars franchise
Disney CEO Bob Iger revealed on March 23 that the Han Solo film would follow Han from ages 18 to 24, during which time he'll meet Chewie and find his beloved Millennium Falcon, according to the Hollywood Reporter. 
At 27, Alden Ehrenreich is seven years younger than Harrison Ford was when he filmed A New Hope, although canonically, Han Solo was meant to be 29 at the time.
The script was co-written by Lawrence and Jon Kasdan. Lawrence Kasdan is a familiar name to Star Wars fans, with writing credits on beloved Star Wars films including The Empire Strikes Back, Return of the Jedi, and Rogue One. His son, Jon, is also a writer and director, most recently on the Showtime series Roadies.
READ MORE:

Solo trailer
After teasing viewers during the Super Bowl, the official Solo: A Star Wars full-length trailer premiered during Good Morning America. It's our first chance to see Alden Ehrenreih's Han, but most of the attention has been directed toward Donald Glover's young Lando Calrissian.
Solo release date
Solo is slated for release on May 25, 2018.
READ MORE:
Of all the iconic Star Wars characters, Han Solo is the least viable for a prequel. His evolution begins when he meets Luke Skywalker, making him unavoidably static in his younger years. As a result, Solo feels unnecessary, despite a strong performance from Alden Ehrenreich. Gone are the sweeping mysticism of the Jedi and the creeping tendrils of the Empire's backstory; instead, viewers get a competently made blockbuster with nothing at its core. Solo lacks the energy of action/heist movies like the Fast & Furious franchise, and it fails to become something deeper than an appeal to nostalgia like Rogue One did. Ultimately, Solo offers little new insight into the Star Wars universe. —Gavia Baker-Whitelaw