Guardians of the Galaxy Vol. 2 is the first Marvel Cinematic Universe movie of 2017, a hotly anticipated sequel to the 2014 hit Guardians of the Galaxy. Writer/director James Gunn returns to helm the next installment of the sci-fi comedy franchise, in which the Guardians travel across the galaxy and meet the mysterious alien father of Peter Quill (Chris Pratt).
Instead of saving that reveal for the movie, Gunn decided to show fans that critical meeting between father and son in a new trailer debuted Feb. 28 (along with some hints at what we can expect in the movie).
Here's everything else we know about Guardians of the Galaxy Vol. 2.
Guardians of the Galaxy Vol. 2 casting
The original five Guardians will reprise their roles, along with Michael Rooker as Peter Quill's space pirate mentor Yondu Udonta, and Karen Gillan as Nebula.
The two most significant new cast members are Pom Klementieff as the Guardians' new team member Mantis, and The Man from U.N.C.L.E.'s Elizabeth Debicki as the alien monarch Ayesha. However, the supporting cast features some A-list heavy-hitters in the form of Sylvester Stallone as a member of the Nova Corps, and Kurt Russell as Peter Quills's father, the cosmic entity known as Ego.
Guardians of the Galaxy Vol. 2 trailers
Marvel has already released several trailers and TV spots for Guardians of the Galaxy Vol. 2, rightfully assuming that fans are hyped to see more of the team—especially Baby Groot.
The first teaser posted in October 2016:
https://www.youtube.com/watch?v=AaY5r-L_gok
The extended Super Bowl TV spot introduced the new villain Ayesha.
Guardians of the Galaxy Vol. 2 soundtrack
Music played a huge role in the first film's popularity, and the final scenes teased a second volume of Star-Lord's "Awesome Mix." Director James Gunn decided to use a "more diverse" range of classic rock and pop music for Vol. 2, with two tracks already confirmed: "Come A Little Bit Closer" by Jay and the Americans, and "The Chain" by Fleetwood Mac.
Marvel revealed the full soundtrack listing on April 19, with a release date set for April 21. But listen at your own peril, because this may be the one movie where "soundtrack spoilers" are a thing!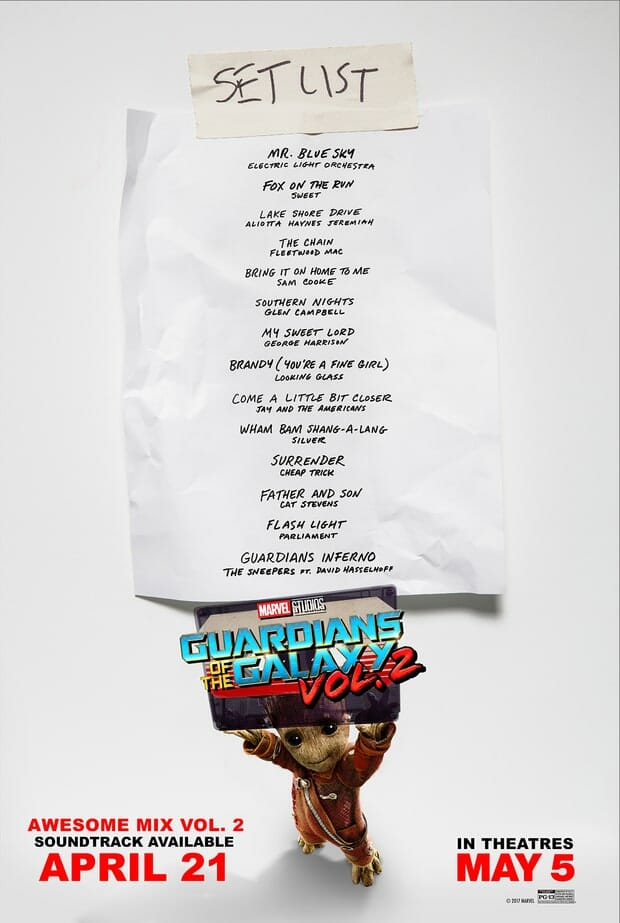 Gunn also posted a clip of an orchestra recording some of the score at Abbey Road Studios in late January.
Guardians of the Galaxy Vol. 2 release date
Guardians of the Galaxy Vol. 2 comes out in the U.S. on May 5. According to a tweet from James Gunn, the cinematic release includes a record-breaking five post-credits scenes. So, as always, make sure you stick around to the very end of the credits!
https://twitter.com/JamesGunn/status/854214331730407427