Before Amazon's adaptation of Good Omens was even released, fans of the book by Terry Pratchett and Neil Gaiman were clamoring for a second season.
Teasers for the first season—full of witty angels and dastardly charming demons—had viewers familiar with the material (as well as those new to the story) eagerly anticipating its release. And now positive reviews are starting to roll in, people want to know: Will there be a Good Omens season 2? Here's everything we know so far.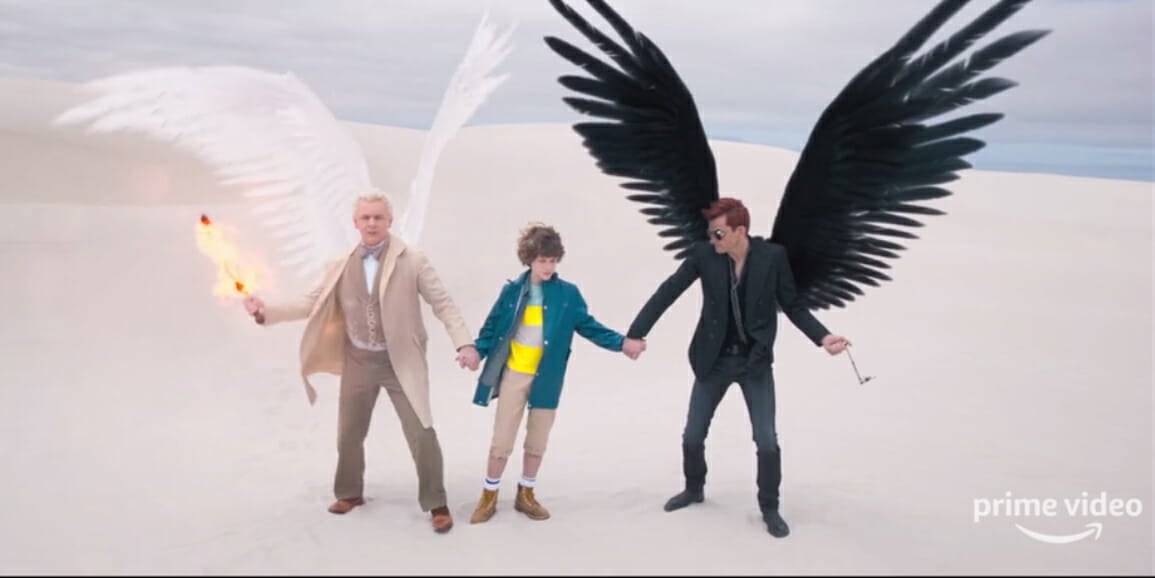 Will Good Omens have a season 2?
In 2018, Gaiman answered the season 2 question quite definitively. According to Elite Daily, the 58-year-old author said the project wouldn't really work beyond a single season. "Good Omens has a beginning, a middle, and an end…and then some more end," Gaiman said. In an interview, he noted that the story made sense to fit into about 6 chapters. The first season is six episodes long, and Gaiman has made it clear that he thinks that's enough.
Gaiman reasserted the sentiment at SXSW 2019 in Austin, Texas. After joining fans in viewing a 20-minute teaser for the series, Gaiman explained that the story is already complete. "Season 1 of Good Omens is Good Omens. It's brilliant. It finishes. You have six episodes and we're done. We won't try to build in all these things to try to let it continue indefinitely."
Considering how many people wish other shows—looking at you Game of Thrones—had quit while they were ahead, maybe Gaiman has the right idea.
Why there may still be hope for a Good Omens season 2
While most interviews with Gaiman leave little room to wonder about season 2, there is still a glimmer of hope. In a 2018 interview with Digital Spy, Gaiman indicated that a second season may be possible. Gaiman explained that the series pulls from Good Omens: The Nice and Accurate Prophecies of Agnes Nutter, Witch as well as a planned, but unpublished, second book. "We have Jon Hamm as the angel Gabriel, and Gabriel is not in the book, but he and the other angels, and a bunch of the other demons, come from all the conversations Terry Pratchett and I had about what we would do in a second book," Gaiman said.
READ MORE:
Many hopeful fans have noted that the television adaptation of American Gods—another Neil Gaiman standalone—has stretched into multiple seasons. When asked about it, Gaiman gave a fleeting hope to fans wishing for more Good Omens. 
"If people love this enough, and if the time and the will is there, we could absolutely go back and do a lot more," he said. Unfortunately, moments later he strongly indicated that the possibility was quite slim. "But we're not building it to do more," he said. "We are building this to be itself. At the end of six episodes, it's done."
For now, at least, fans will have to be satisfied with the six episodes we've already been given.